Bourse de recherche : Danemark 2018 – Danish Diabetes Academy
---
Type de bourse
Bourse de Recheche Pays
Danemark Niveau d'études
Doctorat Date fin de candidature
08 août 2018
---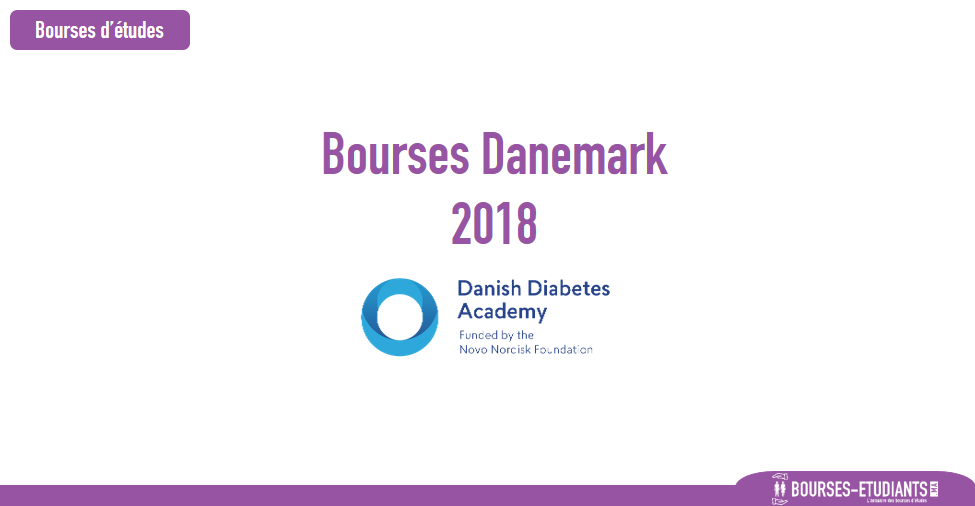 ---
Bourse de recherche : Danemark 2018 – Danish Diabetes Academy
Call for applications
The Danish Diabetes Academy (DDA) invites applications for 12 co-financed (2/3) PhD scholarships. Each scholarship is of 1,100,000 DKK (covering salary and tuition fee) over a period of two years.
The scholarships should be within diabetes and metabolism. Applications supporting the three major strategic areas of the DDA (internationalization, interdisciplinarity and collaboration across sectors) will be prioritized.
Expected date of reply is early December 2018.
Who can apply?
In order to apply for a co-financed (2/3) PhD scholarship, the following requirements must be fulfilled:
Already enrolled PhD students cannot apply or obtain funding from the DDA. Only PhD candidates may apply for a PhD scholarships (i.e. supervisors may not apply).
How to apply
Applications must be written in English and submitted via our online application form.
Please note that you must have a user login to the DDA's website before you are able to submit an application.
Use the numbered order specified below for your submission. You may choose to upload in one single file or as separate files. The application must include the following (required format: PDF):
1. Project description including:
Specific aims
Background and significance of the project to the research area
Preliminary studies (if applicable)
Research design and methods
Literature cited
Page limit for the research plan is 5 pages (font size 12, single spacing), including figures and tables, but excluding references. Applications with research plans exceeding the page limit will not be considered.
2. Motivation letter (max 1 page) including:
An explanation of why you are the right candidate to complete the project
Information about current position, place of work and name of principal supervisor.
3. Detailed time schedule for the course of study (including documentation for agreements regarding change of research environment and/or studies abroad (e-mail correspondence is sufficient documentation))
4. Your Curriculum Vitae (including documentation of research experience e.g. experience with working in a research laboratory, pre-graduate research, participation in research conferences/meetings, studies abroad, etc.) (max 2 pages)
5. Your publication list including journal impact factor
6. Recommendation letter from the principal supervisor including:
If available, a signed statement from the principal supervisor and head of department concerning expected or already granted funding of the remaining 1/3 financing of the scholarship (including 1-year tuition fee to the university)
Description of the scientific environment where the PhD project will be carried out, including confirmation that the PhD project can be carried out at the department where the principal supervisor is employed.
7. Short CV of the principal supervisor (max 2 pages)
8. Copy of your Master's degree certificate (including grades (from both BA and Master))
9. Collaboration agreement with other research groups nationally or internationally
10. Other relevant documents (e.g. grant letter confirming funding of the remaining 1/3 financing of the scholarship (if available), recommendations, IELTS certificate (international standardized certificate of English proficiency))
After submitting your application you will receive an e-mail acknowledging receipt of your application – if you do not receive this email, please contact the DDA Executive Management ouh.dda@rsyd.dk to make sure that your application has been successfully submitted.
Evaluation procedure and selection process 

The DDA Executive Management Team will process all incoming applications. Applications not fulfilling the technical requirements will be discarded and regarded as not qualified.
All qualified applications will be submitted to the DDA's Committee for Talent Development for a scientific evaluation. For further information about the evaluation procedure, selection process and evaluation criteria (including the DDA major strategic areas), we refer to the 
DDA guidelines
The selected candidates and their principal supervisor will be informed about the decision by the DDA. The principal supervisor is expected to assist the PhD candidate when submitting her/his application for enrolment at the relevant university.
Applicants have to be aware of the fact that specific requirements can vary from one university to another e.g. required research experience and publication of articles in peer-reviewed journals.
Place of enrolment and employment
Enrolment and employment will take place at a university in Denmark. Employment will last for three years and take place at the institution where the PhD project will be carried out.
If the PhD project includes close research collaborations between two universities (one Danish university and one university abroad), it is possible to obtain a joint or double PhD degree (according to the rules in force), but enrolment must take place at one of the Danish universities (home university). For further information, the PhD candidate should contact the institution where she/he will be enrolled.
Terms of employment are according to the agreement between the Danish Confederation of Professional Associations and the Ministry of Finance.
PhD programme
The PhD programme must be completed in accordance with:
The Ministerial Order on the PhD Programme at the Universities (PhD Order) of the Ministry of Science, Technology and Innovation
The regulations and guidelines defined by the university where employment will take place
DDA membership
Selected PhD candidates are expected to sign up as a member of the DDA and to participate in the activities and PhD courses offered by the DDA, including reporting of activities to the DDA Executive Management Team biannually.
Full financing for three years is a prerequisite for being enrolled as a PhD student at a Danish university. Accordingly, DDA grants 2/3 PhD scholarships provided that funding for the remaining 1/3 financing (including tuition fee to the university) is assured. If a submitted application does not include documentation of the remaining 1/3 financing in terms of a grant letter or the like (e.g. signed guarantee from main supervisor and head of department), the 2/3 PhD scholarship will be paid out, when the DDA Executive Management Team has received documentation of the remaining 1/3 financing at the latest six months after receiving the grant notification letter. Otherwise, the scholarship grant will be withdrawn.
Please notice that the DDA is not able to cover any operating expenses.
Further information
For further information about the PhD scholarships, please contact Managing Director Tore Christiansen: tore.christiansen@rsyd.dk.
Dossier de candidature
---
Informations de contact
---
Organismes proposant la bourse
Danish Diabetes Academy Danish Diabetes Academy (DDA) constitutes an original networking platform for a national diabetes research strategy that is rational and science-based, and which will strengthen both basic and clinical research in diabetes. DDA is ...