Bourse de recherches États Unis 2020 : Bourse Post-doctorale / Earth Institute Columbia University
---
Type de bourse
Bourse de Recheche Pays
États-unis Niveau d'études
Doctorat Date fin de candidature
30 oct. 2019
---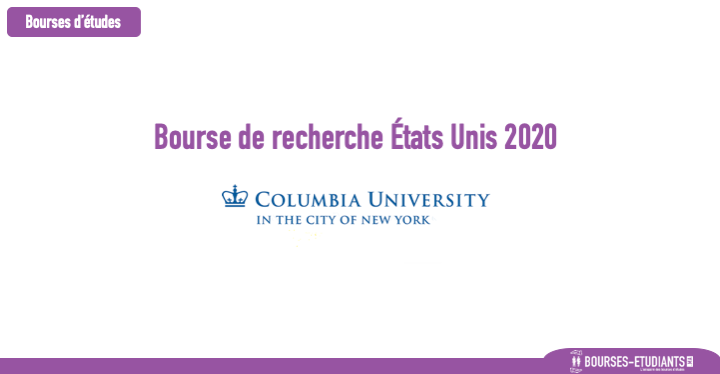 ---
Bourse de recherches États Unis 2020 : Bourse Post-doctorale / Earth Institute Columbia University
The Earth Institute Postdoctoral Research program is the premier program in the world for those dedicated to a better understanding of critical scientific and social issues in global sustainable development. Earth Institute Postdoctoral Researchers will join multidisciplinary teams of outstanding, committed scientists from across the Earth Institute and Columbia University.
The program provides innovative postdoctoral scholars with the opportunity to build a foundation in one of the core disciplines represented within the Earth Institute (i.e. social, earth, biological, engineering, and health sciences), while at the same time acquiring the breadth of cross-disciplinary expertise needed to address critical issues related to sustainable development. Specific areas of research include food security, energy systems, climate change impacts, poverty reduction, disease, and environmental degradation. The program offers a unique intellectual surrounding that fosters cross-disciplinary interaction, research and education.
Opportunity Focus Areas:
Social.
Earth.
Biological.
Engineering
Health sciences
Climate.
Water.
Energy.
Global Health.
Ecosystems.
Agriculture.
Hazards and Risk Reduction.
Urbanization.
Peace and Justice.
Required Languages : English.
Eligible Countries : ALL WORLD COUNTRIES.
Program Period : Two years Program.
Eligibility Requirements (Criteria)
Candidates must have received their doctoral degrees (Ph.D., M.D. or J.D.) within five years prior to the start of the appointment.
All doctoral requirements must be fulfilled and the degree awarded before the start of the appointment.
People holding current positions with rank above post-doctoral scientist are not eligible for appointment under university rules.
Those holding current post-doc positions should contact the office to determine eligibility.
The program is open to U.S. and non-U.S. citizens.
Columbia University is an affirmative action/equal opportunity employer. Minorities and women are encouraged to apply.
Opportunity Cost
(Paid Opportunity)
EI Postdocs will receive an annual salary of $67,530.
They are also awarded a research stipend of $12,000 over the two-year term for reimbursable expenses related to the appointment. These funds can be used for relocation and moving expenses, as well as for computer, travel, conference, journal, book, software, equipment, and other research costs.
Visas: Columbia University only grants limited-term J1 visas for non-US citizens. Read more information on Columbia's visa eligibility policies online.
Housing: The Earth Institute does not provide housing allocation for postdoctoral researchers. Postdocs may contact Columbia's Housing Office for informal guidance on acquiring housing in the areas near the university.
How to Apply
First Step: Apply through the link here. Choose (Postdoctoral Research Program), click apply.
Second Step: Create an account and start applying.
Third Step: Prepare the following:
Online Application
Curriculum Vitae
Brief Personal History
Research Proposal
Three (3) Recommendation Letters
Fourth Step: Submit your application.
Dossier de candidature
---
Informations de contact
---
Organismes proposant la bourse
Columbia University is one of the world's most important centers of research and at the same time a distinctive and distinguished learning environment for undergraduates and graduate students in...