Bourse de recherches États Unis 2020 : Bourse postdoctorale à l'Institut Neukom
---
Type de bourse
Bourse de Recheche Pays
États-unis Niveau d'études
Doctorat Date fin de candidature
15 nov. 2019
---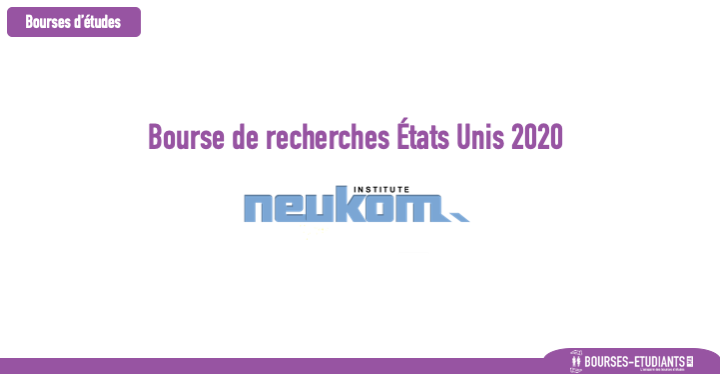 ---
Bourse de recherches États Unis 2020 : Bourse postdoctorale à l'Institut Neukom
The Neukom Institute is pleased to announce the Neukom Postdoctoral Fellows competition for positions starting September 1, 2020.
Neukom Fellows are interdisciplinary positions for recent PhDs, DMAs, or MFAs whose research interests or practice cuts across traditional disciplinary boundaries, and has some computational component, whether it be a framing concept for intellectual exploration or an explicit part of the work that is pursued.
More Details
Program Information
The successful candidate should have a history of collaborative work across disciplines, but still show evidence of independence and initiative. The Fellowships are two- to three-year appointments, with the third year extension considered upon request after a review early in the second year.
Neukom Fellows will be mentored by faculty in two departments at Dartmouth College, take up residence in one department, and will teach one seminar course each year on a subject of their interest. There are no additional duties.
Opportunity Focus Areas:
Required Languages : English.
Eligible Countries : ALL WORLD COUNTRIES.
Program Period
Two years.
The fellowship starts in 1 September 2020.
Eligibility Requirements (Criteria)
PhD in any discipline or DMA or MFA (expected by September 2020).
Research interests that strongly intersect the theme of computation.
A demonstrated interest in multidisciplinary research.
Evidence of the ability to think outside traditional paradigms.
Opportunity Cost
(Paid Opportunity)
Neukom Fellow stipends are $60,000 for 2020-2021.
Additional funds are available for equipment, travel, and research materials.
How to Apply
First Step: Interested candidates are strongly encouraged to contact prospective mentors at Dartmouth College and must submit the following materials:
Curriculum vitae (including publications list).
Statement of research interests (maximum 2 pages) including a short description of the research you would like to pursue as a Neukom Fellow.
Description of which departments (and even better, which Dartmouth faculty) you would be interested in working with and why the opportunity to engage with multiple departments would enhance your work. Applicants are strongly encouraged to seek out connections with and contact potential Dartmouth mentors as they draft their applications.
Three referees whose letters of recommendation speak to the aims of the Fellowship.
(Optional) A copy of one paper you have written in English (or some comparable kind of creative work), either published or unpublished.
(Optional) A teaching statement.
(Optional) A cover letter.
Second Step: please fill out the following Standard Coversheet Form first here. You will be directed to the actual application form once this has been submitted.
Notes:
Completed applications received by November 15, 2019, will receive first consideration. Materials received after that date or those that do not fulfill the above requirements stand the chance of not being considered.
If you have questions, contact Christine Alberga.
Dossier de candidature
---
Informations de contact
---
Organismes proposant la bourse
MISSION À une époque où toutes les formes de connaissance et d'expérience peuvent trouver leur chemin vers l'ordinateur, le « calcul », qu'il s'agisse de la manipulatio...