Bourse d'étude Canada 2021 : Graduate, Collegiate, Professional, Applied and Continuing Education (PACE) or English Language Program (ELP) At University of Winnipeg
---
Type de bourse
Bourse d'études Pays
Canada Niveau d'études
Licence Date fin de candidature
01 juin 2021
---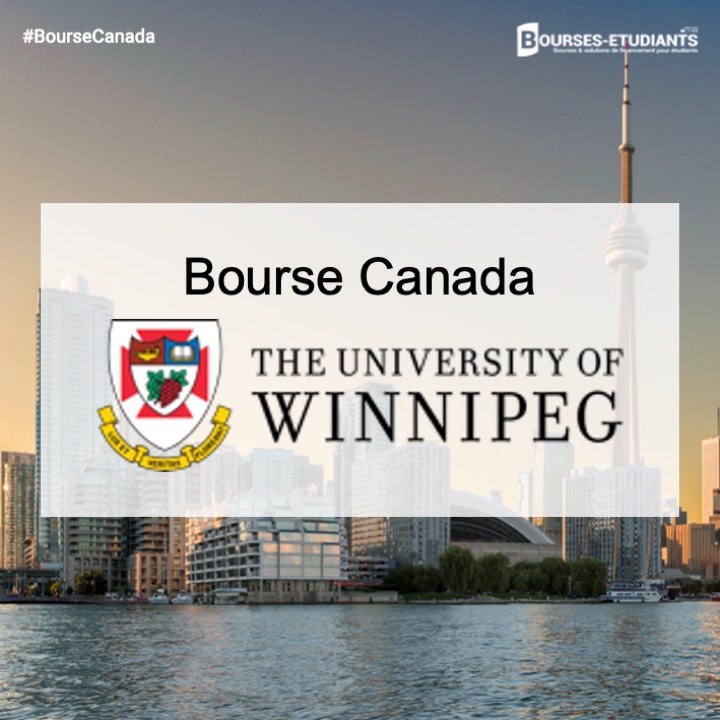 ---
Bourse d'étude Canada 2021 : Graduate, Collegiate, Professional, Applied and Continuing Education (PACE) or English Language Program (ELP)
At
University of Winnipeg
The University of Winnipeg is now accepting applications for President Scholarship. There are 15 scholarships open to international students entering any of the University's divisions for the first time.
The University of Winnipeg is a public university in Winnipeg, Manitoba, Canada that offers undergraduate faculties of Art, Business and Economics, Education, Science and Kinesiology and Applied Health as well as graduate programs.
The language of instruction at the University of Winnipeg is English. Students must have a level of ability in English that allows them to participate in all aspects of university study, including lectures, reading, writing, and discussion.
Application Deadline: June 1, 2021
Brief Description
University: University of Winnipeg
Course Level: Graduate, Collegiate, Professional, Applied and Continuing Education (PACE) or English Language Program (ELP).
Study Subject: The studentships are awarded to study all subjects offered by the university.
Awards: Varies
Number of Awards: 18
Nationality: International students
The award can be taken in Canada
Eligibility
Eligible Countries: International students can apply for these endowments.
Entrance Requirements: Candidates must meet the following criteria:

Have a minimum 80% admission average or equivalent.
Be an international student.
Entering the first year of any program.
Demonstrate exceptional leadership qualities.
Apply for admission by the program deadline date.
How to Apply
How to Apply: In order to apply for the opportunity s, candidates must have complete an application for admission at the University of Winnipeg for the degree programs.
Supporting Documents: In addition to this application, please submit the following pieces of information:

Personal Statement: Outline leadership qualities, extra-curricular/volunteer involvement and academic goals. This should be 250-500 words.
Resume: List volunteer/extra-curricular activities in chronological order, work experience, awards, any publications, etc.
Official Transcript.

Admission Requirements: For taking admission, applicants must meet all entry requirement of this university.
English Language Requirements: Below is a list of the tests and programs for the English language that is acceptable at The University of Winnipeg:
Test of English as a Foreign Language (IELTS): A minimum score of 550 with no less than 50 in each component (paper-based), or achieve a minimum score of 80 with no less than 19 in each component (internet-based).
International English Language Testing System (IELTS): Minimum band score of 6.5 based on the Academic Module
Cambridge English: Advanced (CAE): Minimum grade  C
CanTest: An average score of 4.5 in Listening and Reading; and a score of 4.0 in writing
A score of 3.5 in writing may be considered, depending on the program of study, and provided the student is registered in Academic Writing Extended (ESL).
Cambridge Certificate of Proficiency in English (CPE): A score of C
Michigan English Language Assessment Battery (MELAB): Minimum score of 80%
Canadian Academic English Language Assessment (CAEL): Minimum score of 60
Pearson Test of English PTE (Academic): Minimum of a score of 58
Academic English Program for University and College Entrance (AEPUCE): Successful Completion
Full Name: English Language Program (ELP) at The University of Winnipeg: Successful Completion of Academic Level 5
Full Name: English for Specific Purposes Program (ESP) at The University of Winnipeg: Minimum C+ in Academic Writing 1 and 2
Benefits
The university provides the President's funding for World Leaders ranges from $3,500 – $5,000.
English Language Program: $3,500
Professional, Applied Continuing Education: $3,500
Undergraduate: $5,000
Collegiate: $3,500
Graduate: $5,000
Dossier de candidature
---
Informations de contact
---
Organismes proposant la bourse
University of Winnipeg University of Winnipeg est une université publique canadienne située au centre-ville de Winnipeg, au Manitoba. L'université offre principalement des programmes d...