Bourse d'études : Royaume-Uni 2018 – Newcastle University
---
Type de bourse
Bourse de Recherche Pays
Royaume Uni Niveau d'études
Doctorat Date début de candidature
29 déc. 2017 Date fin de candidature
29 janv. 2018
---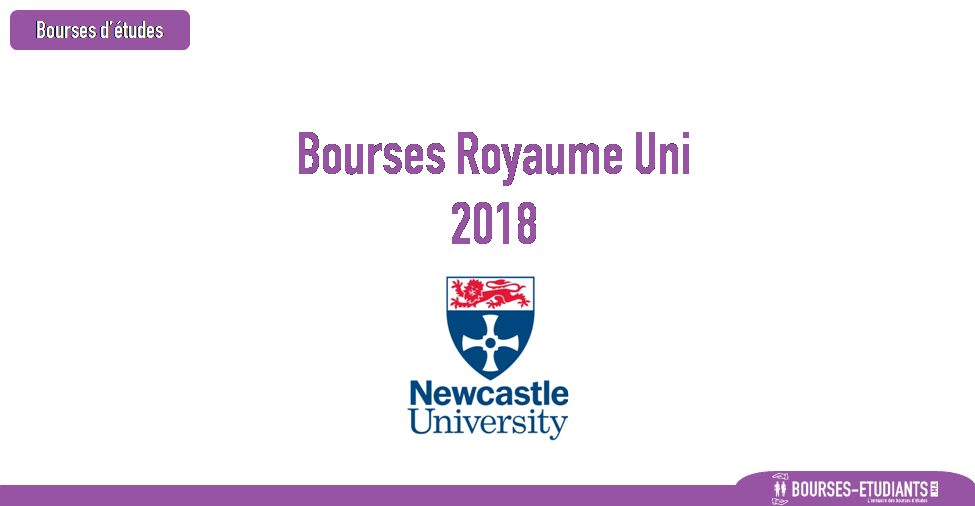 ---
PhD Studentship in Research to Policy and Practice related to the UN Sustainable Development Goals
Newcastle University 
Overview
Building upon its success in connecting Newcastle University's research with the UN Sustainable Development Goals (SDGs), the Institute for Sustainability is increasing its focus on enabling researchers from across all three faculties of Newcastle University to generate impactful interdisciplinary research, and to engage closely with stakeholders at the UN High Level Political Forum and other relevant UN bodies, and others to influence policy and practice to deliver the Goals.
See our website for full details of PhD studentship projects available.
Value of award
100% Band 2 tuition fees* at the overseas/international rate and an annual stipend at Research Council UK rate (£14,764 2018/19) tenable for 3 years with an additional £4,000 for travel and consumables over the duration of the award.
Number of awards
1
Start date and duration
September 2018 for 3 years
Application closing date
29 January 2018
Eligibility Criteria
The successful candidate will have a degree (at least 2:1 or equivalent) in a relevant subject. Preference will be given to a non-Newcastle University graduate. The studentship is ONLY open to international candidates who are eligible for both stipend and tuition fees.
How to apply
The candidate must apply through the University's online postgraduate application form.
Only mandatory fields need to be completed however, you will need to include the following information:
insert the relevant programme code in the programme of study section
insert the relevant project studentship code in the studentship/partnership reference field
attach a two page covering letter relating to your project of choice, CV and additional supporting documentation as detailed in the application guide.
Programme and project studentship codes are available from the relevant project summary page.
The covering letter must state the title of the studentship and project (including the relevant code), and state how your interests and experience relate to the project.
We encourage students to apply for a maximum of TWO projects.
The online application system will only allow one application to an academic school. If you are applying for TWO projects in the same academic school then you will need to e-mail Postgraduate Admissions: [email protected], with the following:
your applicant number (from the first project application)
the second project title
a two page covering letter for the second project
Dossier de candidature
---
Informations de contact
---