Bourse d'études Netherlands 2021: Master's degree programmes at University of Twente
---
Type de bourse
Bourse d'études Pays
Pays-Bas Niveau d'études
Master Date fin de candidature
01 mai 2021
---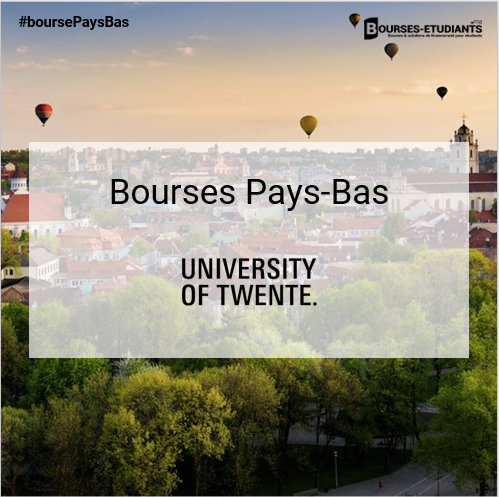 ---
Bourse d'études Netherlands 2021: Master's degree programmes at
University of Twente
Description :
The University Twente is delighted to announce the UTS international awards for excellent students to apply for a master's programme at the UT.
The University Twente award is available for students from EU/EEA as well as non-EU/EEA countries.
Founded in 1961, The University of Twente offers degrees in the fields of social sciences, exact sciences and is highly specialized in engineering. Its research institutes have a world-class reputation in many areas.
Why study at the University of Twente (UT)? Becoming one of the most promising UT students, you have an exclusive opportunity to take part in an intake for one of the three honours programmes: Research honours, Design honours, or Change leaders.
Brief Description
University or Organization: University of Twente
Department: NA
Course Level: Master's degree programmes
Award: € 3,000 – € 25,000
Number of Awards: Approximately 50 scholarships available
Access Mode: Online
Nationality: International
The award can be taken in the Netherlands
Eligibility 
Eligible Countries: EU/EEA as well as non-EU/EEA countries
Eligibility Criteria: You must have obtained:
An average grade of 7 (out of 10) at the end of the third quartile of the first year
At least 50% of European Credits at the end of the third quartile of the first-year
Application Procedure:
How to apply: To participate, the applicants must submit an online application.
Supporting Documents: Must attach your copy of passport.
Admission Requirements: To take advantage of the program program applicants should get admission at a University Twente on an eligible Masters level course.
Language Requirement: Applicants must comply with the general English language test requirement Academic IELTS 6.5 (or TOEFL iBT of 90) and an additional 6.0 (TOEFL iBT 20) on the sub-score of speaking skills.
Benefits
The University will provide approximately 50 scholarships and each up to € 3,000 – € 25,000 for one year. This support will be allocated as compensation for study-related costs.
Dossier de candidature
---
Informations de contact
---