Bourse d'études : Pologne 2018 – Lublin University of Technology
---
Type de bourse
Bourse d'études Pays
Pologne Niveau d'études
Bac | Master Date début de candidature
01 janv. 2018 Date fin de candidature
15 juin 2018
---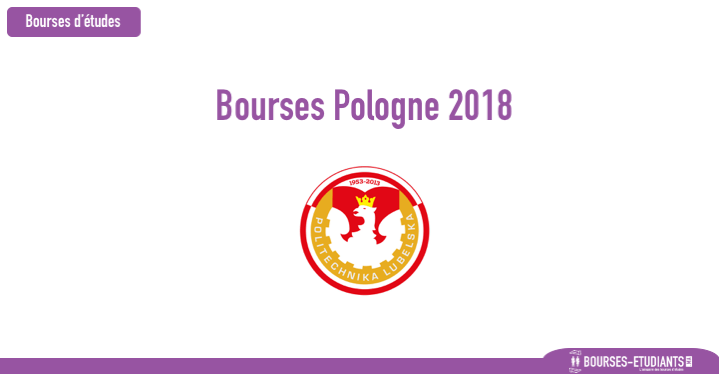 ---
Bourse d'études : Pologne 2018 – Lublin University of Technology
Bourses Maroc
Application procedure and deadlines
The first step is to apply online. Please fill in the Application Form
You have to prepare the following list of documents:
Application Form of LUT http://www.bwm.pollub.pl/erasmusplus-af.en
 Learning Agreement 2017-2018 http://www.bwm.pollub.pl/forms.en
A photocopy of the Applicant's Passport
A photocopy of insurance document (All foreign students are obligated to take out health insurance for the period of time they will spend in the country of destination  covering expenses of medical care and accident insurance). Valid health isurance is obligatory to get visa and this is paid by student
Confirmation of English language skills  (minimum B1 according to CEFR – Common European Framework of Reference for Languages)*
The Application Form and Learning Agreement should be signed by both the student and the coordinator at Home University before sending them to us.
* the confirmation can be issued by a proper unit at home university and confirmed by language instructor/coordinator or other person in charge.
 The ECTS Catalogue 2017-2018 is available here.

Please note that at our University students can take only 30 ECTS points per semester.
Next please send the printed version of the online application together with other documents mentioned above to the following address:
Anna Radziszewska
Lublin University of Technology
Office of International Education
ul. Nadbystrzycka 38d
20-618 Lublin, Poland
Deadlines
All the required documents must be sent no later than until 15 June (for full academic year and winter term) or until 30 November (for summer term).
Once you have been accepted as an Erasmus+ student, you will receive an official letter of acceptance.
The Letter of Acceptance is issued after all the applications are verified, that is no earlier than five weeks after the application deadline.
The start date of the mobility is indicated in the Letter of Acceptance and tThe first day at LUT will be the Welcome Meeting Day.
Please contact the Office of International Education if it is not possible for you to arrive on time.
Registration after arrival at LUT
Erasmus+ students must register themselves in the Office of International Education after the arrival at LUT
Accepted students open visa procedure in their countries  using LUTS' letters of acceptance in polish embassy or consulate.
  such procedure usually takes up to 2 weeks.
  candidates request for national student visa type D.
We are looking forward to seeing you in Lublin!
CONTACT: Anna Radziszewska MA email: [email protected]
Dossier de candidature
---
Informations de contact
---