Bourse d'études : Suède 2019 – University of Gothenburg
---
Type de bourse
Bourse d'études Pays
Suède Niveau d'études
Master Date début de candidature
04 févr. 2019 Date fin de candidature
14 févr. 2019
---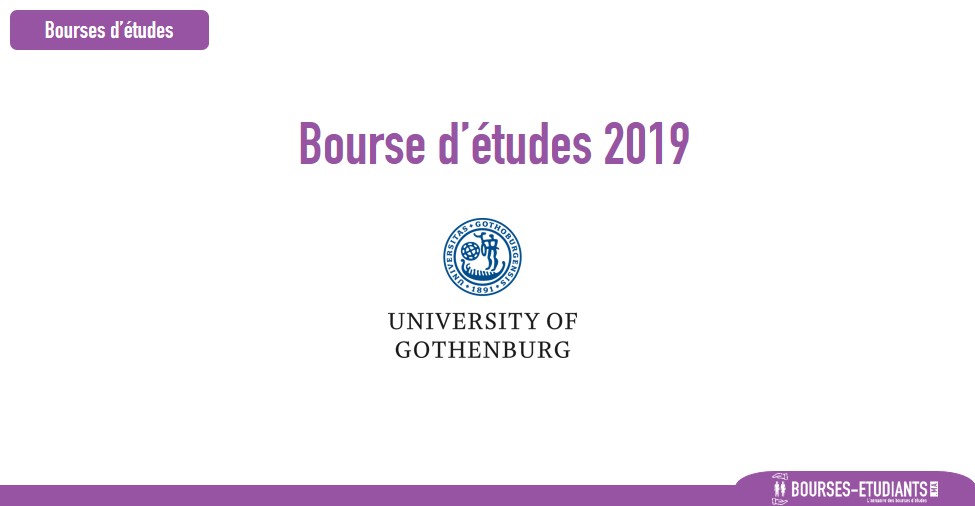 ---
Bourse d'études : Suède 2019 – University of Gothenburg
The University of Gothenburg Study Scholarships (UGSS) Programme offers fee-paying students the opportunity to receive a scholarship to pursue a Master's degree programme, with entry autumn semester 2019.
Host Institution(s):
University of Gothenburg, Sweden
Field(s) of study:
Any Masters Programme offered at the University
Eligibility
You are eligible to apply for the scholarship if you meet the criteria listed below.
You are required to pay tuition fees
You have applied for a Master's programme, full-time studies, at the University of Gothenburg by 15 January 2019
You have paid the application fee and documented your eligibility for studies by 1 February 2019
Scholarship value/inclusions:
The scholarship covers:
• Tuition fees for a Master's programme at the University of Gothenburg
• 27 000 SEK per study semester
• The FAS plus insurance for fee-paying students
Application :
You apply for the scholarship by submitting an online scholarship application form that will be available on the official website between 4 February and 14 February 2019.
You should also submit your CV and a Letter of Motivation for the Master's programme you have applied for. If you have applied for more than one Master's programme please submit one Letter of Motivation for each.
More detailed information will be available on 16 January 2019.
---
Informations de contact
---