Bourse d'études Suède 2020 : PhD student in Medical Sciences Uppsala University
---
Type de bourse
Bourse d'études Pays
Suède Niveau d'études
Doctorat Date fin de candidature
18 sept. 2019
---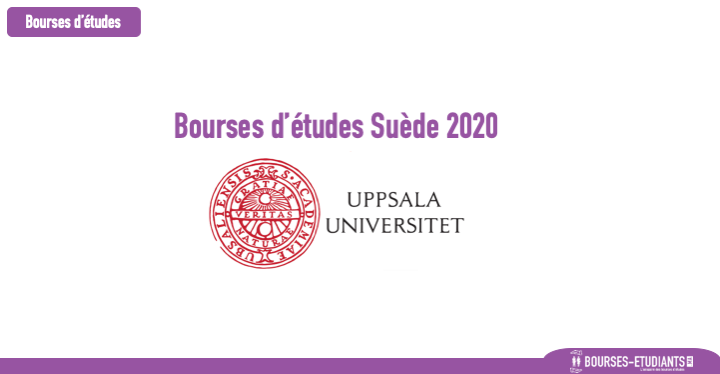 ---
Bourse d'études Suède 2020 : PhD student in Medical Sciences Uppsala University
The University is looking for a highly motivated candidate interested in pursuing research within the field of Neuro-psychopharmacology and Psycho-neuro-endocrinology. The PhD student position is placed in the research group Neuro-psychopharmacology at the Department of Neuroscience. More information about the Department and its' activities are available at Here.
More Details
The purpose is to deepen knowledge on brain structure and function as well as behavior behind stress, drug exposure and after various pharmacological treatments.
Opportunity Focus Areas:
Biology.
Medicine.
Bioinformatics.
Psychology.
Required Languages : English.
Eligible Countries : ALL WORLD COUNTRIES.
Program Period
4 years
Eligibility Requirements (Criteria)
The applicant should hold an academic degree in Biology, Medicine, Bioinformatics, Psychology or related areas.
 has good basic knowledge within the areas of bio statistics, and molecular biology, with experience in neuroimaging data analysis.
A genuine interest in psychoneuroendocrinology.
Good skills in spoken and written English are necessary.
The applicant must be able to work independently and be well organized.
As a person, he/she should be highly motivated, thorough, systematic, and goal-oriented.
She/he should also be good at working in a group.
Special attention will be paid to documented experience and previous publications.
Opportunity Cost
(Paid opportunity)
Local rules apply for salaries at Uppsala University.
How to Apply
First Step: 
Your application should include
a CV describing your academic progress to date and scientific publications.
A personal letter with a brief description of yourself, your competence and research interests
 The name and e-mail address and phone number of two referees.
A copy of your MSc certificate should be provided as well as a sample of the bachelor/master thesis.
Applications are judged according to eligibility, previous experience of work/research/studies within closely related fields and personal suitability.
Second Step:
Create an account  and log in to the application form from  here.
Dossier de candidature
---
Informations de contact
---
Organismes proposant la bourse
Uppsala University Uppsala University (Swedish: Uppsala universitet) is a research university in Uppsala, Sweden, and is the oldest university in Sweden and all of the Nordic countries still in operation, founded in 1477. It ranks among the world&rs...