Bourse d'études USA 2020: Bachelor degree at Boston University
---
Type de bourse
Bourse d'études Pays
États-unis Niveau d'études
Bac Date fin de candidature
01 déc. 2020
---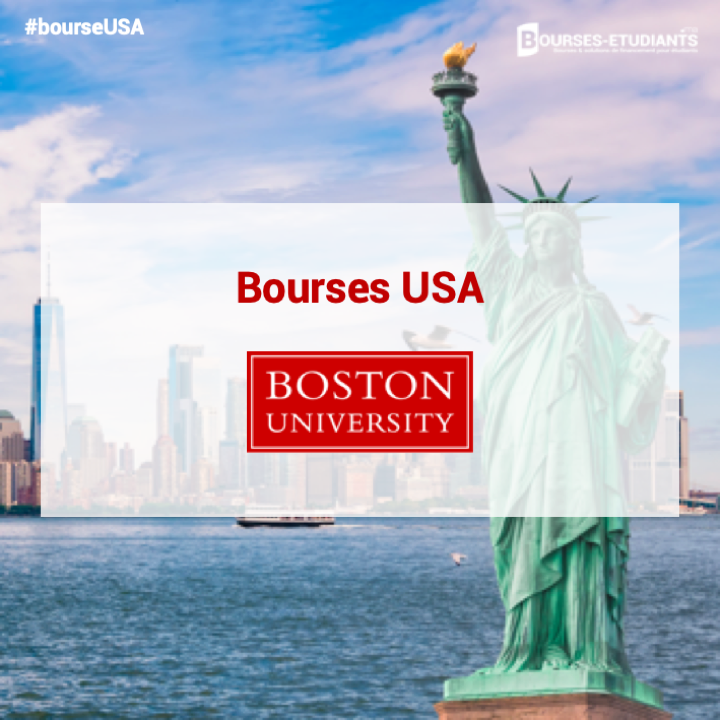 ---
Bourse d'études USA 2020: Bachelor degree at
Boston University
Description
Why study at Boston University? To Pick your odyssey, BU provides the chance to explore more than 300 programs of study and the opportunity to build a successful career. This university provides an excellent learning environment and career services for all the students and alumni.
University or Organization: Boston University
Department: NA
Course Level: Bachelor degree
Award: $25,000
Access Mode: Online
Number of Awards: NA
Nationality: International
The award can be taken in the USA
Eligibility
Eligible Countries: International students are eligible to apply.
Acceptable Course or Subjects: The bursary is available for pursuing an undergraduate programme in any subject offered by the university.
Admissible Criteria: To be eligible, the applicants must meet all the following criteria:
Applicants must be an incoming first-year student at BU
U.S. citizens, permanent residents, and eligible non-citizens are considered for all merit awards and other grants.
International students are considered for this opportunity.
Applicants must have SAT scores above 1500 and ACT scores above 33
How to Apply
How to Apply: If you want to apply for this award then you are required to apply for the undergraduate degree coursework at Boston University. After taking confirmation, no additional application form is required for this study-fund. The candidates will be automatically considered by the university based on their eligibility.
Supporting Documents: Applicants must submit all the required supporting documents such as secondary school records, English proficiency testing results, documentation of financial support, and copy of data page of the passport
Admission Requirements: The candidates are advised to check the entry requirements asked by the university to study an undergraduate degree program.
Language Requirement: If the candidate's first language is not English, then they have to demonstrate the English language ability by taking the TOEFL or IELTS test.
Benefits
To support for four years of the undergraduate study, Boston University will provide up to $25,000 award to winning candidates.
Dossier de candidature
---
Informations de contact
---
Organismes proposant la bourse