Bourses de recherche : Allemagne 2019 – FINDER ERC Project
---
Type de bourse
Bourse de Recherche Pays
Allemagne Niveau d'études
Doctorat Date fin de candidature
02 nov. 2018
---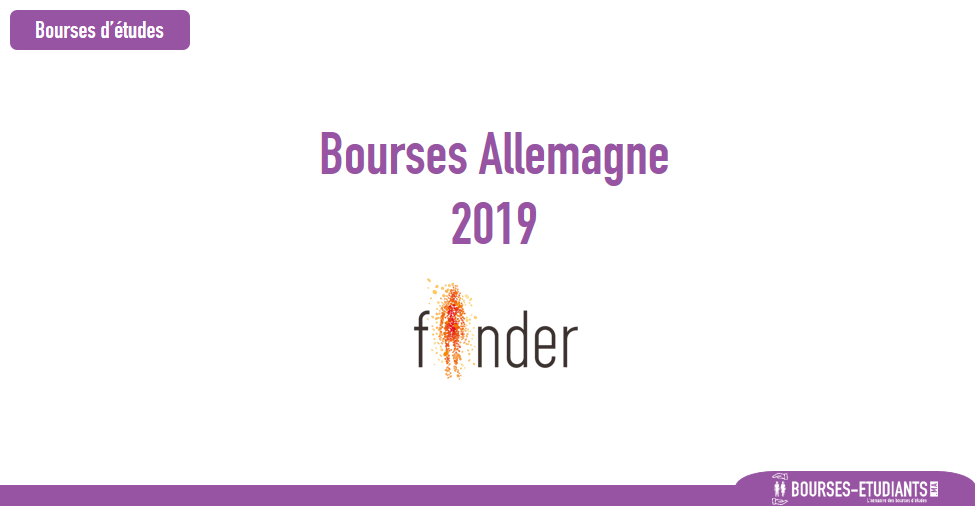 ---
Bourses de recherche : Allemagne 2019 – FINDER ERC Project
The ERC-funded FINDER project ("Fossil fingerprinting and identification of new Denisovan remains in Pleistocene Asia") is offering one 3-year funded PhD position in Archaeological Science. The candidate will work on the identification of faunal assemblages and the discovery of new human fossils from East Asia, particularly China and adjacent regions, through the use of biomolecular methodologies, such as collagen mass fingerprinting (or ZooMS) and ancient DNA analyses of bones. She/he should have a background in prehistoric archaeology/archaeological science/zooarchaeology/(bio)chemistry, and a strong interest in the field of human evolution.
FINDER is a multidisciplinary research project funded by the European Research Council (2017-2022) focusing on the discovery and analyses of new human fossils from Pleistocene Asia through the application of collagen peptide mass fingerprinting, also known as ZooMS, and other scientific methods (ancient DNA, radiocarbon dating, stable isotopes) on small and otherwise undiagnostic bone fragments. We are looking for remains of Neanderthals, Denisovans or modern humans from the period between 100,000 to 30,000 years ago.
Thousands of bones are excavated at an average prehistoric site; of these, only the ones with anatomical characteristics are studied and may be taxonomically classified. The vast majority of bones, however, are small and lacking diagnostic features. These unidentified assemblages are very likely to contain human bones that are too fragmentary to be attributed securely to humans. The use of ZooMS allows us to examine these bones. For more information about the project see www.finderc.org.
The successful student will work under the supervision of the project's Principal Investigator Dr Katerina Douka ([email protected]). She/he will be expected to spend a considerable amount of time sampling bones from several archaeological sites in East and Southeast Asia and processing them in their country of origin/storage. The spectrometric analyses will be performed at the Max Planck facilities in Jena.
Applicants will be expected to demonstrate significant experience and competence in working alongside interdisciplinary teams. They will be expected to disseminate the results of their study at international conferences across the world and publish them in peer-reviewed journals and books/chapters.
Your qualifications
Essential: 
Have, or be about to obtain, a Masters degree or equivalent qualification in (Prehistoric) Archaeology, Archaeological Science, Biology, Organic Chemistry or a closely-related field.
Practical experience with laboratory techniques, or willingness to work in a laboratory environment.
Willingness to travel between Europe and Asia and spend considerable amount of time at each location working with different archaeological teams.
Fluency in English (speaking, reading and writing) as well as in one of the most commonly-spoken languages in East Asia.
Effective time management skills and ability to efficiently coordinate research analyses through to publication.
We are looking for individuals who are fascinated by prehistoric (especially Palaeolithic) archaeology and archaeological science and are familiar with latest developments in the field of human evolution.
Desirable: 
Knowledge of the Late Pleistocene archaeological record of East Asia.
Fieldwork experience at Asian Palaeolithic sites.
Familiarity with archaeological and archaeological science methodologies, such as zooarchaeology, stable isotopes, chronometric dating, or DNA analyses.
We offer
Intellectual, technical and resource support for the development of world-leading research within the FINDER Project framework and the Max Planck umbrella.
The opportunity to work with the FINDER team and associated institutes such as the Max Planck Institute for the Science of Human History (Jena, Germany), the Department of Evolutionary Genetics, Max Planck Institute for Evolutionary Anthropology (Leipzig, Germany), and the School of Archaeology (University of Oxford, UK).
An English-language working environment.
Negotiable start of the PhD.
Full funding for 3 years.
The Max Planck Society is committed to employing more handicapped individuals and especially encourages them to apply. The Max Planck Society also seeks to increase the number of women in the sciences and therefore explicitly encourages women to apply.
To apply:
We will accept applications from interested candidates until November 2, 2018,or until the position is filled.
Please send us:
A cover letter expressing your interest in the project's objectives and outlining your experience. Successful candidates will be able to demonstrate an understanding of the broader relevance of the research, and the ability to think creatively and critically.
Your CV.
A piece of written (published or unpublished) work in English (no more than 5 pages).
Names and contact details of 2 referees – Please note that when submitting your documents in our application portal you'll be asked for the contact information of your referees. Your referees will receive an email containing a link where they can upload their letter of recommendation. Please note that the deadline for submission of these letters is the same as the one for the applications.
Dossier de candidature
---
Informations de contact
---