Bourses de Recherche : Allemagne 2019 – IMPRS
---
Type de bourse
Bourse de Recherche Pays
Allemagne Niveau d'études
Doctorat Date fin de candidature
01 déc. 2018
---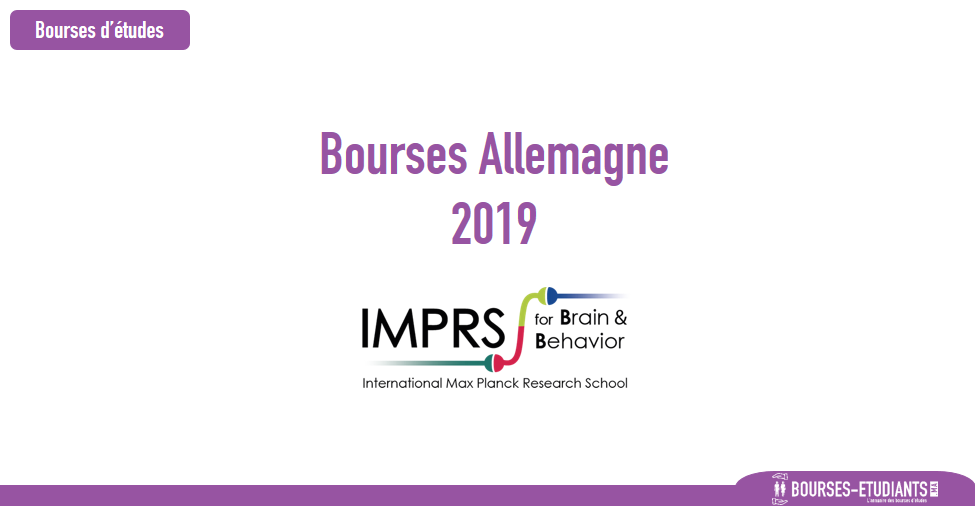 ---
Bourses de Recherche : Allemagne 2019 – IMPRS
Join the International Max Planck Research School for Brain and Behavior IMPRS.  In addition to being an exciting opportunity to join a competitive world-class training and research program in neurosciences, this can also be the first step for you to build a solid network with an exceptionally broad group of international scientists. We will provide you with a multitude of training opportunities, mentoring, and comprehensive measures for career development.  The right to confer degrees remains with the IMPRS partner universities and you must meet all the admission and degree requirements of the university where you choose to study.  The IMPRS for Brain and Behavior will provide financial support for the duration of your studies.
Ready to learn more?
If you are excited about this unique neuroscience PhD program and the research we are doing please have a look at our call for applications and apply following the instructions provided here.
You must provide the following mandatory documents and information to successfully submit your application:
1) CV
2) Letter of Motivation
3) Master or Diploma Certificate (if Master or Diploma not yet received attach Bachelor certificate)
4) Master or Diploma Transcript
5) Copy of Passport (info page only)
6) Name and contact information of two Referees
Although not required, it would be helpful if you submit your GRE scores and evidence of your English language proficiency.
Fields marked with an asterisk (*) are mandatory to submit the application.
All information must be in English.
Note: If you are interested in working with a PI who is located in Florida you MUST complete the Florida Atlantic University application before January 15th! Please see our website for further details.
After submission, you will receive a confirmation email. Your Referees will also receive an email so that they can provide a letter in support of your application.
Dossier de candidature
---
Informations de contact
---