Bourses de recherche : Australie 2018 – Macquarie University
---
Type de bourse
Bourse de Recherche Pays
Australie Niveau d'études
Doctorat Date début de candidature
01 janv. 2018 Date fin de candidature
31 juill. 2018
---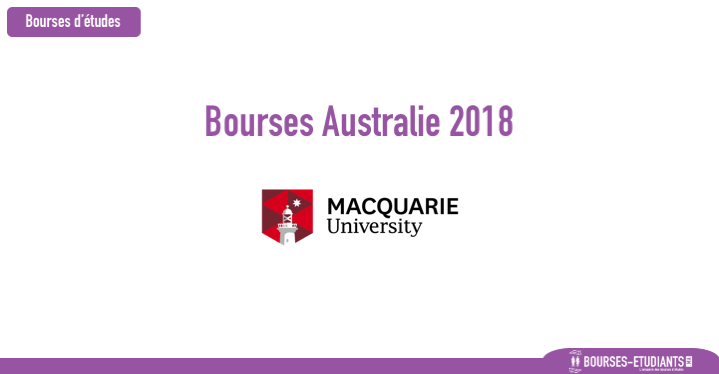 ---
Bourses de recherche : Australie 2018 – Macquarie University
Bourses Maroc
Projet : Artificial Intelligence in Medicine and Healthcare
We are seeking several enthusiastic PhD students to contribute to a major new research program in Medical Artificial Intelligence (AI) under the supervision of Prof Enrico Coiera and other experienced researchers at the Centre for Health Informatics.
The aim of this research program is to investigate the future role of AI in healthcare and its social, ethical and technical implications.
The successful applicants will have the opportunity to work with a diverse team of highly experienced and internationally recognised senior researchers in the Centre for Health Informatics.
Potential topic areas include (but are not limited to):
Privacy, safety and ethical issues arising from the development and use of AI technologies in healthcare.
Understanding of consumer and clinician needs and perspectives when interacting with AI.
The design, development and evaluation of (AI) systems that could support either clinicians or consumers across a wide set of tasks.
Human-AI interaction design.
AI systems design.
The scholarships would suit applicants from a wide variety of disciplines. For example, candidates with a background in Computer Science, Engineering, Human-Computer Interaction, Anthropology, Psychology, Sociology, Data Science, or a Health-related field would all be welcome.
Other important information
This scholarship is available to eligible candidates to undertake:
Direct entry into a 3 year PhD program.
Value and tenure of the scholarship is:
The MQRTP full-time stipend rate is $27,082 per annum (in 2018) tax exempt, for up to 3 years (indexed annually)
The scholarship is comprised of a Tuition Fee Offset and a Living Allowance Stipend
International candidates are welcome. Additional top-up scholarships or part-time research assistant roles may be available for highly ranked candidates.
Applicants are encouraged to discuss their candidacy before submitting an application. Initial enquiries should be directed to Professor Enrico Coiera ([email protected]) or Dr. Baki  Kocaballi ([email protected]).
Applicants will need to complete a HDR Candidature and Scholarship Application Form and arrange for two academic referee reports to be submitted to the Higher Degree Research Office. The application form and further information can be found on the Application page.
To be eligible for a scholarship, applicants are expected to have a record of excellent academic performance and preferably, additional relevant research experience and/or peer-reviewed research activity, awards and/or prizes in line with the University's scholarship rating guidelines. Refer to the Rating Scholarship Applicants section for more information about these guidelines.
Macquarie University will advise the successful applicant of entitlements at the time of scholarship offer.
Please quote the allocation number on your application.
Contact :
Prof Enrico Coiera
(02) 9850 2403
Dossier de candidature
---
Informations de contact
---