Bourses de recherche : Australie 2019 – Deakin University
---
Type de bourse
Bourse de Recherche Pays
Australie Niveau d'études
Doctorat Date fin de candidature
31 oct. 2018
---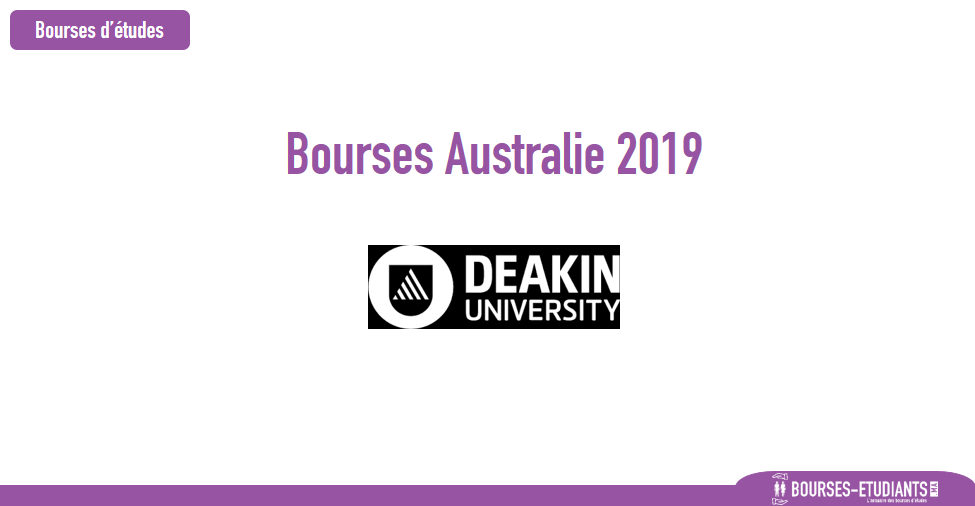 ---
Bourses de recherche : Australie 2019 – Deakin University
A PhD scholarship in Deakin University is available to initiate and conduct research on the topic 'Effects of electronic bikes (ebikes) on physical activity and cardiometabolic health in at-risk populations'. The proposed PhD will examine the potential of an e-bike intervention to promote physical activity and improve cardio-metabolic health in an-risk population.
Research Topic
Physical activity has been termed the 'best buy in public health'. The Chief Medical Officer for England described physical activity as a 'wonder drug' and the most undervalued intervention to improve population health. Physical inactivity remains a global pandemic, and effective, cost-effective and equitable approaches for promoting physical activity and reducing sedentary lifestyles remain elusive. Research studies point to a number of key barriers to participation in physical activity, including lack of time, and lack of enjoyable exercise opportunities.  Active transport (e.g. cycling to work) is an intervention that is ripe for health-promoting interventions, because it is a form of physical activity that can be embedded into existing daily routines without creating new time commitments.
Electronic bicycles (e-bike) may be particularly effective at reducing these barriers to active transport use, because they give users greater control over their levels of exertion and increase feelings of exercise 'self-efficacy', at the same time as providing a significant extension of the active transport radius (from 5km out to 15km). E-bikes may also make cycling more practical and more enjoyable for those who are currently discouraged by lack of fitness, physical restrictions such as disability, and high body weight; however the potential for promoting physical activity and improving cardio-metabolic health in an-risk population has yet to be determined.
Important dates
Applications close 5pm, Wednesday 31 October 2018.
Benefits
This scholarship is available over 3 years.
Stipend of $27,082 per annum tax exempt (2018 rate)
Relocation allowance of $500-1500 for students moving from interstate or overseas
International students only: Tuition fee and overseas health coverage for the duration of 4 years
Eligibility criteria
To be eligible you must:
be either a domestic or international candidate
meet Deakin's PhD entry requirements
be enrolling full time and hold an honours degree (first class) or an equivalent standard master's degree with a substantial research component.
Optional: Expertise in epidemiology, public health, exercise science, health sciences
For more information about this scholarship, please contact Professor Ralph Maddison or Dr Shariful Islam.
Professor Ralph Maddison
Professor in Physical Activity and Disease Prevention
Email Ralph Maddison
+61 3 924 46218
Dr Shariful Islam
Senior Research Fellow
Email Shariful Islam
+61 3 924 68393
Dossier de candidature
---
Informations de contact
---