Bourses de recherche : Australie 2019 – University of Queensland
---
Type de bourse
Bourse de Recherche Pays
Australie Niveau d'études
Doctorat Date début de candidature
01 nov. 2018 Date fin de candidature
23 nov. 2018
---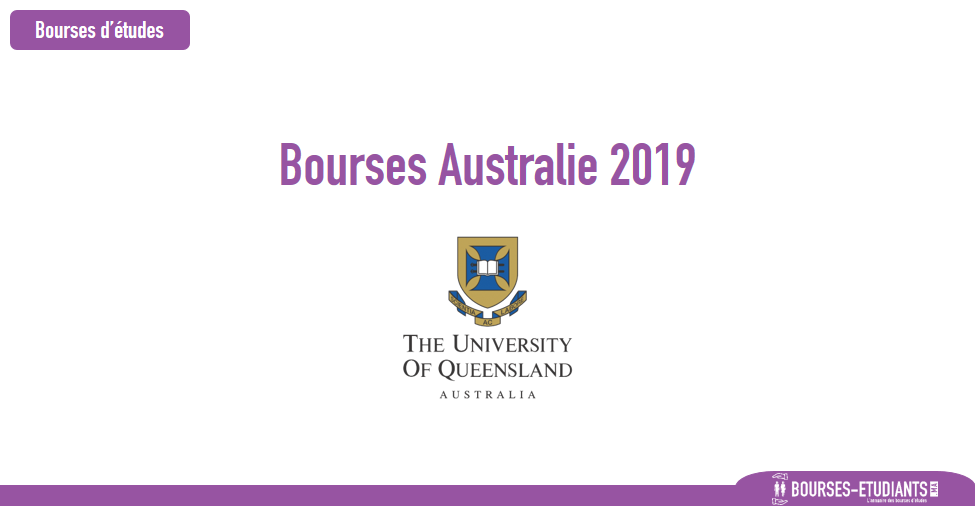 ---
Bourses de recherche : Australie 2019 – University of Queensland
QAEHS of University of Queensland is offering up to six PhD scholarships in the 2018 round of the QAEHS PhD Scholarship Scheme. A maximum of three domestic and three international scholarships will be awarded to start at UQ in research quarter 2 2019 (1 April 2019). The scholarships will be for three years, with possible extension to four years.
Scholarships are available for 16 projects across the eight QAEHS research themes. Applicants should select their preferred project in their on-line application. Details of the QAEHS supervisory teams and the available projects can be accessed via the project links (by research theme) below.
Find out more about the QAEHS Theme Leaders and their research portfolios.
For enquiries on the Scholarship Scheme, please contact Sharon Grant, QAEHS Research Manager, at [email protected]. For enquiries regarding the PhD projects, please contact the lead supervisor (details via links below).
Eligibility requirements:
You must meet UQ requirements for entry into the PhD program.
Find a project:
Environmental Health Toxicology
Emerging Environmental Health Risks
Environmental Health Risk Assessment
Environmental Health Risk Communication
Environmental Health Microbiology
Environmental Health Epidemiology
Environmental Health Regulatory Science
Environmental Determinants of Infectious Diseases
About the Scholarship:
Find out more about QAEHS PhD Scholarships at the UQ Scholarships website.
How to apply:
Applications should be submitted through the UQ online application system. You must indicate your preferred project in the online application (enter the project name you are applying for in the 'Research project title' field). For further instructions on the details to include in your application (enrolling unit, scholarship selection) see the 'How to apply' section on the UQ Graduate School scholarships page.
The following documents are required to support your application:
Academic CV
Academic transcript for all post-secondary study undertaken, complete or incomplete, including the institution grading scale
Award certificates for all completed post-secondary study
Evidence for meeting UQ's English language proficiency requirements
Two referee reports from persons who can best comment on your prior research experience. UQ will contact your referees directly, but you will need to enter their details into the application form.
UQ will accept scanned copies of the above (your) original documents. If you enrol at UQ you must retain your original, hardcopy supporting documentation for the duration of your studies. Note: If any of your documentation is in a language other than English, UQ will require a copy of the original language document and an officially translated copy.
Applications close 23 November 2018.
Dossier de candidature
---
Informations de contact
---