Bourses de recherche : Bielefeld University – Allemagne 2019
---
Type de bourse
Bourse de Recherche Pays
Allemagne Niveau d'études
Doctorat Date fin de candidature
30 sept. 2018
---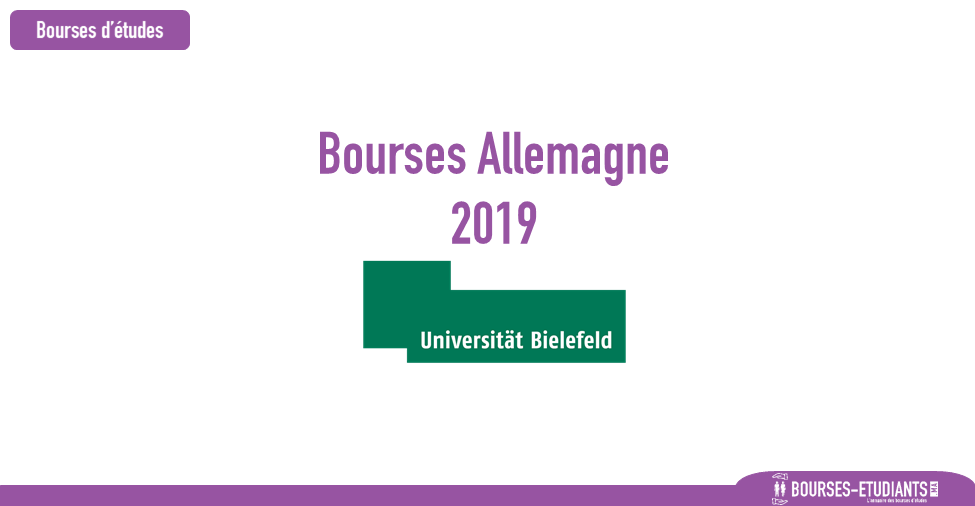 ---
Bourses de recherche : Bielefeld University – Allemagne 2019
Current Opening : Six Doctoral Scholarship for International
The Bielefeld Graduate School in History and Sociology BGHS is offering six scholarships for international prospective doctoral researchers. The scholarships start on 1 April 2019. They have a duration of three years and include a stipend of EUR 1.365,- per month.  Applications should be submitted to the online application portal no later than 30 September 2018.
Required Application documents
Short profile (template),
Covering letter (600 words max.) (guidelines),
Curriculum Vitae (1,000 words max.), (guidelines)
Project description (guidelines)
University degree documents (BA degree certificate + BA transcript and MA degree certificate + MA transcript or a statement from your examination office that you have successfully completed your Master's studies. All your grades, including the grade for your Master's thesis, must be displayed in this statement.)
Please read the FAQs carefully. They contain all important information on application requirements and procedures. Please also read the project description guidelines for information on formal design and content as well as the Covering letter and Curriculum Vitae guidelines.
Please feel free to contact Dr. Miriam Kanne should you have any questions ([email protected]).
     
The process of selecting doctoral candidates is geared towards creating a diverse community, particularly as regards gender. The selection process is partially anonymised and follows structured, clearly defined stages:
The Bielefeld Graduate School in History and Sociology BGHS Office checks whether applications meet all formal criteria.
Faculty members of the affiliated departments or external evaluators review the content of the anonymised project descriptions according to uniform criteria.
The interdisciplinary selection committee creates a shortlist of candidates to be invited to personal interviews based on the project description and the expert opinion thereof as well as the candidate's short profile.
Interviews are held by the selection committee and, lastly,
this committee, selected by the Bielefeld Graduate School in History and Sociology BGHS board, chooses the candidates
Dates and Deadlines
| | |
| --- | --- |
| 30 September 2018 | Deadline for applications |
| Until 27 November 2018 | Invitations to personal interviews are sent out |
| Beginning of December 2018 | Personal Interviews |
| Mid-December 2018 | Candidates informed about the results of the application process |
| 1 April 2019 | BHGS doctoral scholarships for International begin  |
Degree programme with international character
Education: Our degree programme includes not only candidates' work on their own research, but also a structured curriculum that combines research-oriented courses with courses providing general qualifications.
Research: It is a primary mission of the Bielefeld Graduate School in History and Sociology BGHS to offer a structured doctoral training programme for both participating departments, with a strong focus on theories and methods. Sociology at Bielefeld University features a plurality of theoretical orientations unparalleled at any other German university. In the Department of History, all chairs are staffed by professors who have a record in theoretical reflection, are interested in special methods or are particularly attentive to – among other areas – historiography. Moreover, Bielefeld is well-known for interdisciplinary research. While disciplinary strength is the prerequisite for interdisciplinary exchange, the BGHS fosters dialogue on theoretical and methodological issues in all of its areas of research.
Areas of research: Both the broad range of research and teaching capacities in history and sociology at Bielefeld University as well as familiarity with the current state of research guarantees that a large spectrum of dissertation projects can be supervised. In history, thematic fields range from ancient to contemporary history and from political, social and cultural history to the comparative history of modern societies, as well as transnational and global history. In sociology, supervision can be provided in thematic areas such as world society studies, social inequality, social policy, migration studies, sociology of networks or organisations and professions, just to name a few. Chairs in political science, didactics of social sciences and social anthropology further extend the scope of potential supervision. Teaching and supervisory capacities overlap in a considerable number of thematic fields.
Supervision: Supervisors for doctoral projects are found within specific areas of research. It is key to the success of your application that you are able to assign your project to at least one area of research. Therefore, when writing your covering letter you should take the opportunity to locate your own research within at least one area of research. Therefore you should clarify in one section of your covering letter in which area(s) of research you locate your own research. Doctoral researchers and their supervisors sign a Supervision agreement to ensure regular, reliable supervision of all research projects.
Internationality: The diverse biographical, social, and cultural backgrounds of BGHS community members are an exceptional resource that enriches research and (international) cooperation. For this reason, increasing the percentage of international doctoral researchers is a central aim of the BGHS. BGHS degree programme courses are held either in German or in English. In addition, there are many other ways in which the BGHS helps build international networks for its doctoral researchers.
Dossier de candidature
---
Informations de contact
---