Bourses de recherche : Bourse en Biologie des chromosomes – IPK Institute 2019
---
Type de bourse
Bourse de Recherche Pays
Allemagne Niveau d'études
Doctorat Date début de candidature
23 janv. 2019 Date fin de candidature
15 févr. 2019
---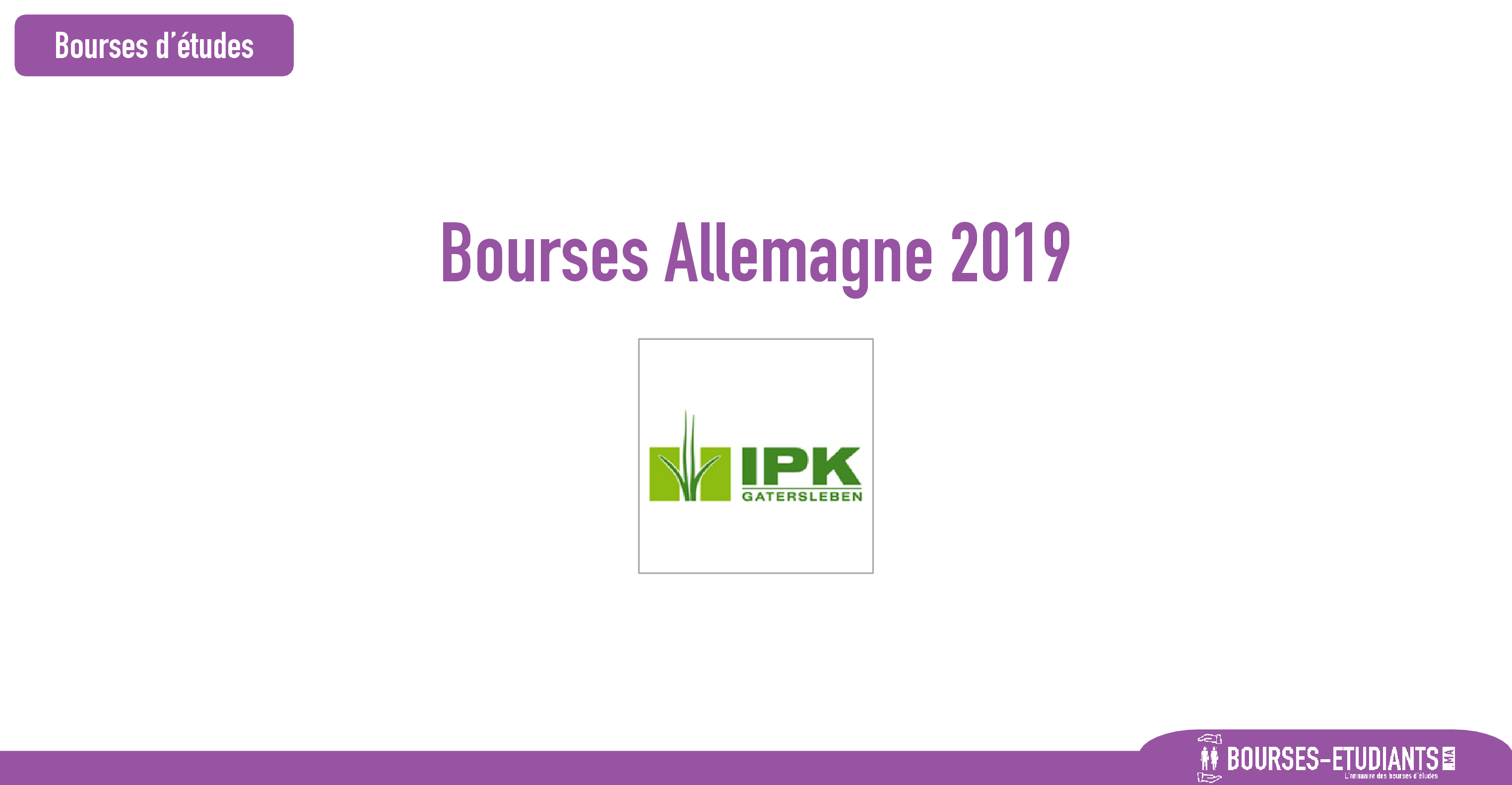 ---
Bourses de recherche : Bourse en Biologie des chromosomes – IPK Institute 2019
IPK are looking for a highly motivated PhD candidate to support our team in the framework of a research project which aims to elucidate the epigenetic regulation of kinetochore assembly in plants using Arabidopsis thaliana as a model. The institute is offering a PhD Scholarship in the field of Chromosome Biology-The Leibniz Institute for Plant Genetics and Crop Plant Research (IPK).
– Your tasks :
You are going to study how a knockout of the cenH3 (centromeric histone H3) assembly factor KNL2 influences the methylation of the global Arabidopsis genome and how the directed targeting of epigenetic factors like MET1 and VIM1 to centromeres regulate kinetochore assembly and function.
You will perform molecular cloning, plant transformation, characterization of Arabidopsis mutants, and biochemical and cytological methods.
– Opportunity Focus Areas :
Chromosome Biology
Plant physiology
Biochemistry
Molecular biology
Cytology
Epigenetics
– Required Languages :
English.
– Eligible Countries :
All world countries.
– Program Period :
3 Years.
– Eligibility Requirements (Criteria)
Everyone – independent from gender, origin, age, or possible disability – is welcome.
The IPK encourages qualified women to apply.
Qualified applicants with a disability will be given preference.
– You fit to IPK if :
You are a bright, highly motivated and enthusiastic person.
You are interested in plant cell biology and genetics.
You have good communication skills.
You have the ability to work independently, as well as part of a team.
– Your qualifications and skills :
You own a master degree in plant biology, genetics, biochemistry, or related field.
You have a background in plant physiology, biochemistry and molecular biology. Experience in the field of cytology and epigenetics is a strong asset but not essential.
You do have solid English skills, which are a prerequisite for an effective work in our multicultural working environment.
– Opportunity Cost : (Paid Opportunity)
IPK offers you :
The opportunity to work in a world-class research center with state-of-the-art facilities and scientists from all over the world.
A collegial working atmosphere.
Family-friendly working conditions and flexible working hours.
A project based limited position for 36 months, starting at the earliest on 15 March 2019.
A gross salary up to 65% E13 TV-L (E13 TV-L: means a gross salary of about 3600 euros per month and about 4000 euros after one year)
– How to Apply :
First Step: Fill in the online application.
Second Step: Upload (application letter or motivation letter, CV, certificates or references) as one document.
– Note :
The file may not exceed 5 MB.
Please use only attachments as PDF.
Dossier de candidature
---
Informations de contact
---