Bourses de recherche : Corée du Sud 2018 – Seoul National University Asia Center
---
Type de bourse
Bourse de Recherche Pays
Corée du Sud Niveau d'études
Doctorat
---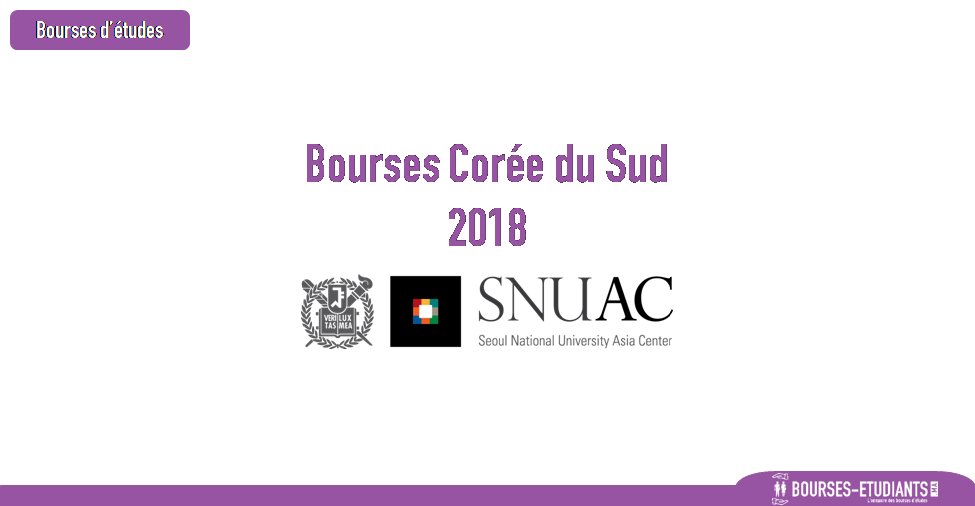 ---
Bourses de recherche : Corée du Sud 2018 – Seoul National University Asia Center
Bourses Maroc 
The SNUAC Visiting Scholar Fellowship purpose is to support scholars whose research and writings are related to Asia and also promote academic exchanges with SNUAC faculty members and research fellows by providing research spaces and financial supports.
Length of Appointment & Number of Opening Positions
– The fellowship is 6 months (From Sep 2018 to Feb 2019).
– The fellowship may be renewed every 6 months based on the research outcomes.
– A total of 5 fellows will be selected.

Eligibility
– Domestic and international researchers who conduct research on themes and regions of Asia.
– Possess a PhD degree or have expert experience that is equivalent to a PhD degree.
– Must be able to reside at SNUAC and conduct research during the fellowship period.
Support
– Research grant: KRW 3,600,000(during the six months); provided at the successful completion of the fellow's responsibilities.
– Research space and access to SNU library and other research facilities.

Responsibilities (6 months)
– The interim results must be presented at the <SNUAC Brown Bag Seminar Series> within three months of the fellowship period.
– The final research report must be submitted two weeks before the end of the fellowship period.
– The fellow must contribute an article to SNUAC Asia Regional Review Team's webzine <DiverseAsia>.
– The fellow must acknowledge SNUAC when publishing articles, books, etc. that are based on research conducted during the fellowship period. Bourses Maroc
– Fellows are encouraged to actively participate in SNUAC events (e.g. academic/exchange events) and are advised to form networks with other SNUAC research fellows.
Required Documents
– 1 copy of CV stating the start and end dates (i.e. YYYY/MM)
– 1 copy of research plan (A4, 2 pages)
Submission Method
– Deadline: Thursday, 31 May, 2018, 17:00 via E-mail ([email protected])
Etc.
– The final list of the selected fellows will be announced on SNUAC website.
– Selection may not occur when there are no qualified applicants.
– The submitted documents will not be returned.
Bourses Maroc
---
Informations de contact
---