Bourses de recherche : Danemark 2018 – Technical University of Denmark
---
Type de bourse
Bourse de Recherche Pays
Danemark Niveau d'études
Doctorat Date début de candidature
01 mai 2018 Date fin de candidature
03 juin 2018
---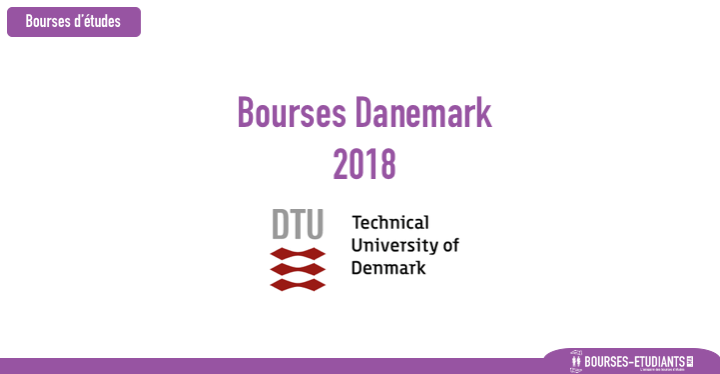 ---
Bourses de recherche : Danemark 2018 – Technical University of Denmark
Bourses Maroc
Bourses Maroc
A new PhD scholarship focussing on 'wind energy and society' is being offered through a collaboration between two DTU departments: DTU Management Engineering and DTU Wind Energy. The successful candidate will be formally hosted by DTU Management Engineering, in the Industrial Dynamics and Strategy (IDS) group at the Technology and Innovation Management division, on the Lyngby campus. The IDS group focuses on understanding change processes of wider innovation systems and empirically has a stronghold in the sectors of energy and cleantech. There will be co-supervision by DTU Wind Energy on the Risø campus where the candidate is expected to spend time with the small but growing social science community in the department.
Denmark is still world leading when it comes to utilising wind energy for power production, but wind power projects on land have become increasingly contested, which has led to a halt in the integration of more land based wind power into the Danish energy system. However, existing research suggests that the development of wind energy projects on land, which are locally co-developed and –owned, is associated with several benefits, such as less opposition towards wind power, local economic progress, business development and improved social coherence and empowerment in rural communities.
The research agenda for this PhD project is to explore co-creation processes in relation to wind energy solutions on land in Denmark. Co-creation is heralded for creating legitimacy in innovation and for stimulating more innovative, democratic and 'socially robust' solutions through distributed action.
The project is expected to advance our understanding of how such processes can improve social acceptance of wind energy and what opportunities co-creative activities present in terms of socio-technical innovation, social learning and new business, ownership and engagement models, all contributing to a responsible and fair development of wind energy in Denmark.
Responsibilities and tasks
This PhD project connects the research fields of renewable energy transition and responsible research and innovation as outlined above, and we expect the candidate to outline a research project within this broadly defined, overall 'wind energy transition/co-creation' frame. We define co-creation very broadly as any sort of activity where a multitude of actors gather in a joint activity and democratic dialogue to achieve a mutually beneficial outcome and thus we accept a variety of interpretations of this phenomenon.
The PhD project could focus on one or more of the following aspects:
The type or character of co-creation processes playing out in the wind energy field in Denmark (are the co-creation processes for instance facilitated and by whom or are they bottom-up processes, what type of actors or actor groups do they involve, i.e. intermediaries, consultants, community cooperatives, citizens groups, local companies, politicians, wind energy industry etc.)
An analysis of a range of cases of successfully 'co-created' wind energy projects and their configuration and socio-technical shaping – or the barriers and conflicts confronting such processes
The drivers and barriers for the wind energy industry in terms of engaging in 'co-created' wind energy projects
The scope of the development of community energy in Denmark and the innovative role of civil society in wind energy development
Candidates for the position are invited to submit a short proposal (a maximum of 1000 words including references) stating their research objective, theoretical framework and intended methodological approach.
Qualifications
Candidates should have a master's degree in a social science related field, e.g. science- and technology studies, human geography, planning and public participation, sustainability transition studies, design and innovation studies, sociology, environmental management, anthropology etc. or a similar degree with an academic level equivalent to the master's degree in a social science related field of study.
Moreover, we expect the candidate to have a strong interest in wind energy and qualitative research experience. Proficiency in Danish language and knowledge about the Danish energy system and societal context is considered an advantage.
Approval and Enrolment
The scholarship for the PhD degree is subject to academic approval, and the candidates will be enrolled in one of the general degree programmes of DTU. For information about the general requirements for enrolment and the general planning of the scholarship studies, please see the DTU PhD Guide.
Assessment
The assessment of the applicants will be made by a committee chaired by Professor and Acting Head of the Department Per Dannemand Andersen.
We offer
DTU is a leading technical university globally recognized for the excellence of its research, education, innovation and scientific advice. We offer a rewarding and challenging job in an international environment. We strive for academic excellence in an environment characterized by collegial respect and an academic freedom tempered by responsibility.
Salary and appointment terms
The appointment will be based on the collective agreement with the Danish Confederation of Professional Associations. The allowance will be agreed with the relevant union. The period of employment is 3 years.
The workplace is primarily DTU Lyngby Campus, but co-supervision and other activities will also take place on DTU Risø Campus.
You can read more about career paths at DTU here.
Further information
Further information may be obtained from Senior Researcher Kristian Borch, tel.: +45 4525 4531, Acting IDS Group Leader Anne Nygaard Tanner, tel.: +45 4525 4557 or Senior Advisor Tom Cronin, tel.: +45 2132 7319.
You can read more about DTU Management Engineering and DTU Wind Energy on www.man.dtu.dk and www.vindenergi.dtu.dk.
Application
Please submit your online application no later than 3 June 2018 (local time). Applications must be submitted as one PDF file containing all materials to be given consideration. To apply, please open the link « Apply online », fill in the online application form, and attach all your materials in English in one PDF file. The file must include:
A letter motivating the application (cover letter)
Curriculum vitae
Grade transcripts and BSc/MSc diploma
Excel sheet with translation of grades to the Danish grading system(see guidelines and excel spreadsheet here)
A short research proposal (maximum 1000 words including references)
Candidates may apply prior to ob­tai­ning their master's degree, but cannot begin before having received it.
Dossier de candidature
---
Informations de contact
---