Bourses de recherche : Danemark 2018 – Copenhagen Business School
---
Type de bourse
Bourse de Recherche Pays
Danemark Niveau d'études
Doctorat Date fin de candidature
03 août 2018
---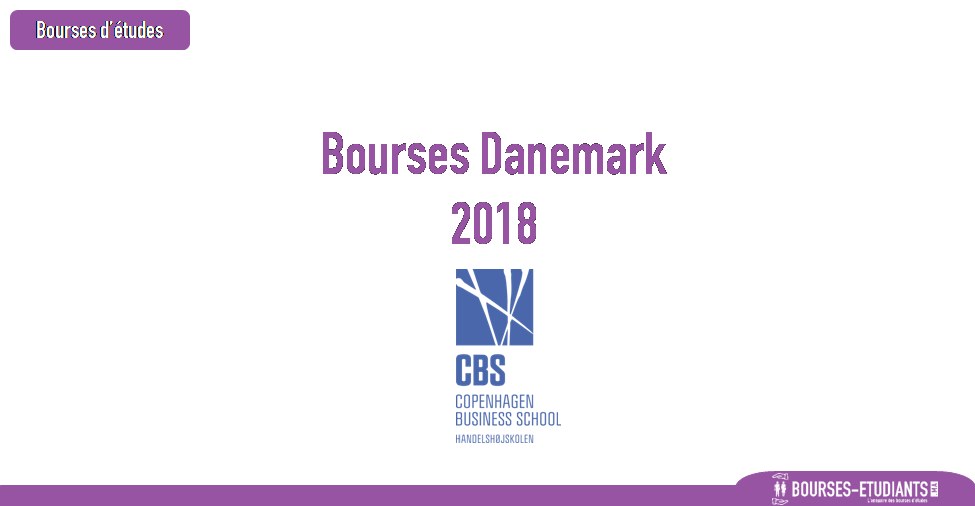 ---
Bourses de recherche : Danemark 2018 – Copenhagen Business School
Bourses Maroc 
Bourses Maroc
Department of Management, Politics and Philosophy (MPP) at
Copenhagen Business School
invites applications for a vacant PhD scholarship within the fields of historical and/or economic sociology, with a special focus on the productive tensions between religious imaginaries and economic rationalities. Research on the relationship between state, civil society and markets has recently witnessed a turn towards religion. We are interested in PhD projects that are situated within this wider turn and, amongst others, aim to study the influence of theological concepts on economic theorizing in both Western and non-Western contexts (economic theology and conceptual history); conduct comparative analysis of economic and religious practices in specific socio-economic contexts (economic sociology); investigate modes of sacralisation/sanctification and de-sacralization/profanation in economic practices, both past and present (economic anthropology); and explore the contribution that historical analysis in general can make to our theoretical understanding of market logics (historical sociology and economic history).
Examples of research areas that a scholarship might cover: 
Genealogies of theologico-economic concepts and practices
Economic rationalities, neoliberal morality and affect
The religious politics of liberal and neoliberal economic thought
Non-Christian religious imaginaries and market societies outside 'the West'
The sacrality of money and the origins of financial crises
Post-human eschatology and the biotech industry
Entrepreneurship, innovation and the 'demonic' (Karl Barth)
Scarcity, excess and sacrifice in global economic orders
MPP is organised into four research groups: politics; business history; philosophy; and management. We are a uniquely multi-disciplinary research department with the ambition to make our research in management and organization studies as well as adjacent fields known to students, companies, public institutions, and research colleagues as innovative, creative and critical/reflexive. A multi-disciplinary dialogue that challenges and combines academic disciplines and perspectives ties research at the department together. The department is committed to research-based education and to bring this understanding into play in society in a constructive, engaged, and valuable manner. A key focus of MPP is to publish its research with highly ranked academic journals and book publishers across a broad spectrum of areas, reflecting the department's multidisciplinary set-up. Across the department, there is a keen interest in developing new forms of teaching and learning environments in collaboration with CBS faculty, international researchers, students and partner organizations.
The Department will give priority to applicants with high grades from their universities.
The three-year PhD programme at CBS allows you to conduct research under the supervision of CBS professors, supported by research training courses. The programme is highly international, and you are expected to participate in international research conferences and to spend time abroad as a visiting PhD student. See the CBS homepage for more information about the PhD programme, 
http://uk.cbs.dk/phd
.
It is also required that the applicant shows an interest in joining the Department's research environment.
CBS PhD graduates are held in high esteem not only in academia and research institutions but also in government and business where their research qualifications are increasingly demanded. One third of CBS PhD graduates go on to employment outside universities and public research institutions.
Copenhagen Business School has a broad commitment to the excellence, distinctiveness and relevance of its teaching and research programmes. Candidates who wish to join us should demonstrate enthusiasm for working in an organisation of this type (highlighting, for example, relevant business, educational and dissemination activities).
For further information please contact:
Appointment and salary will be in accordance with the Ministry of Finance's agreement with the Central Academic Organisation.
General information:
A PhD scholarship runs for a period of 3 years, and includes teaching obligations equivalent of ½ year's work (840 work hours). The scholarships are fully salaried positions, according to the national Danish collective agreement. The scholarship includes the tuition fees, office space, travel grants plus a salary, currently starting with per month app. DKK 23.770 (app. 3,160 euro) up to DKK 28.964 (app. 3,860 euro) depending on seniority, plus a pension contribution totalling 17,1 % of 85 per cent of the base salary.
The salary level and appointment is determined by the Ministry of Finance's collective agreement with the Central Academic Organisation.
The PhD student will be enrolled at PhD School in Organisation and Management Studies.
To be considered, the candidate should have a basic training at the Masters level (similar to the 3 + 2 Bologna process). An educational background in the social sciences is necessary. The applicant must have successfully completed the Masters degree before commencing PhD at CBS. The applicants must be fluent in English.
The application must include:  
A project description (5 pages): This research proposal should contain a presentation of an original research question, a description of the initial theoretical framework and methodology, a presentation of the suggested empirical material as well as a work-plan in form of a Gantt Chart, and finally a very brief outline of how the project would fit in with the core areas of the department.
Copies of a Master's degree certificate or other certificates of a corresponding level.
Brief curriculum vitae (CV).
A list of papers and publications.
One copy of a selected written work (e.g. Master's thesis).
Documentation for English language skills if English is not mother tongue.
Recruitment procedure  Bourses Maroc
The Recruitment Committee expects to shortlist at least two-five applicants to be assessed by the Assessment Committee. All applicants will be notified of their status in the recruitment process shortly after the application deadline.
Applicants selected for assessment will be notified about the composition of the Assessment Committee and later in the process about the result of the assessment.
Once the recruitment process is completed each applicant will be notified of the outcome of their application.
Application must be sent via the electronic recruitment system, using the link below.
Copenhagen Business School must receive all application material, including all appendices (see items above), by the application deadline.
Details about Copenhagen Business School and the department are available at 
www.cbs.dk
.
The envisaged starting date of the position is September 15, 2018.
Closing date: 3 August 2018.
Bourses Maroc
Dossier de candidature
---
Informations de contact
---