Bourses de recherche : Danemark 2019 – Novo Nordisk Foundation
---
Type de bourse
Bourse de Recherche Pays
Danemark Niveau d'études
Doctorat Date fin de candidature
25 sept. 2018
---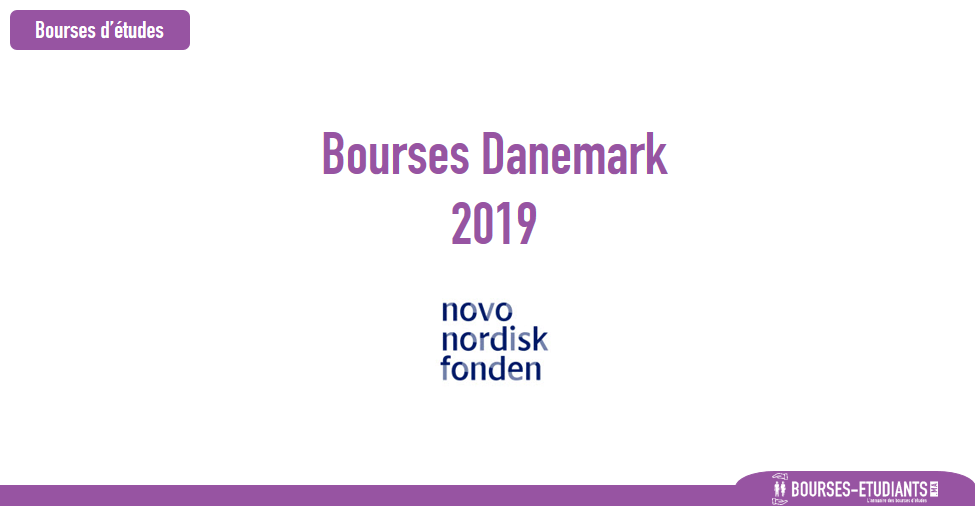 ---
Bourses de recherche : Danemark 2019 – Novo Nordisk Foundation
PhD Scholarship in Nursing Research
It is the wish of the Novo Nordisk Foundation for nursing in Denmark to be research-based, and for the Danish nursing profession to develop to the highest quality possible, for the benefit of the entire nursing and patient treatment process.
The Novo Nordisk Foundation hereby invites worldwild fellows for applications for PhD scholarships within nursing research. The scholarships aim at 3-year research programmes for especially promising and ambitious nurses with research proposals of high quality.
ELIGIBILITY
The applicant must be a nurse and meet the requirements for attaining the PhD degree following the rules and regulations of the Ministry of Higher Education and Science (Uddannelses- og Forskningsministeriet), of September 1, 2013.
The research project must be carried out at a university, hospital or other non-profit research institution in Denmark. It is a requirement that the applicant is enrolled as PhD student at a Danish university within a year from receiving the Novo Nordisk Foundation PhD Scholarship Grant Letter. The applicant cannot be enrolled earlier than January 1 in the current year they apply for a PhD Scholarship.
At the evaluation, particular attention will be given to:
– The applicant's qualifications.
– The research environment of the project.
– The supervision of the applicant.
– The quality, originality, methods and feasibility of the project.
The PhD supervisor(s) and the hosting research institution must be stated in the application, and the supervisor(s) must agree to participate in the project. A letter of commitment from the host institution must be submitted with the application.
FUNDING
The Novo Nordisk Foundation awards up to three grants each of DKK 1.8 mio., for the support of PhD Scholarships in nursing research at a university, hospital or other non-profit research institution in Denmark. There must be full budget in the application.
Funding can cover expenses related to:
– Salary for the applicant.
– Operating expenses.
– Equipment.
– Attending conferences, up to DKK 25,000 yearly.
– Publications originating from the funded project, up to DKK 25,000 yearly.
– Travel expenses, e.g. studying abroad (the stay must be described in detail in the application and documentation from the institution must be included.)
– Relocation expenses.
– Bench fee: Support for individual researchers for the coverage of direct expenses needed to conduct the research project applied for. Bench fees must be specified in the budget, and may only be used for operating expenses, lab consumables, and access to lab space and facilities that cannot be included within another individual budget category. To include a bench fee in the budget, the fee must be part of the general expenses policy of the institute/institution and apply for all employees for which the policy concerns.
– Tuition fee, up to DKK 80,000 yearly
For more details, CLICK HERE
Dossier de candidature
---
Informations de contact
---