Bourses de recherche Danemark 2019 : PHD positions in physiology – DTU
---
Type de bourse
Bourse de Recheche Pays
Danemark Niveau d'études
Doctorat Date fin de candidature
31 juill. 2019
---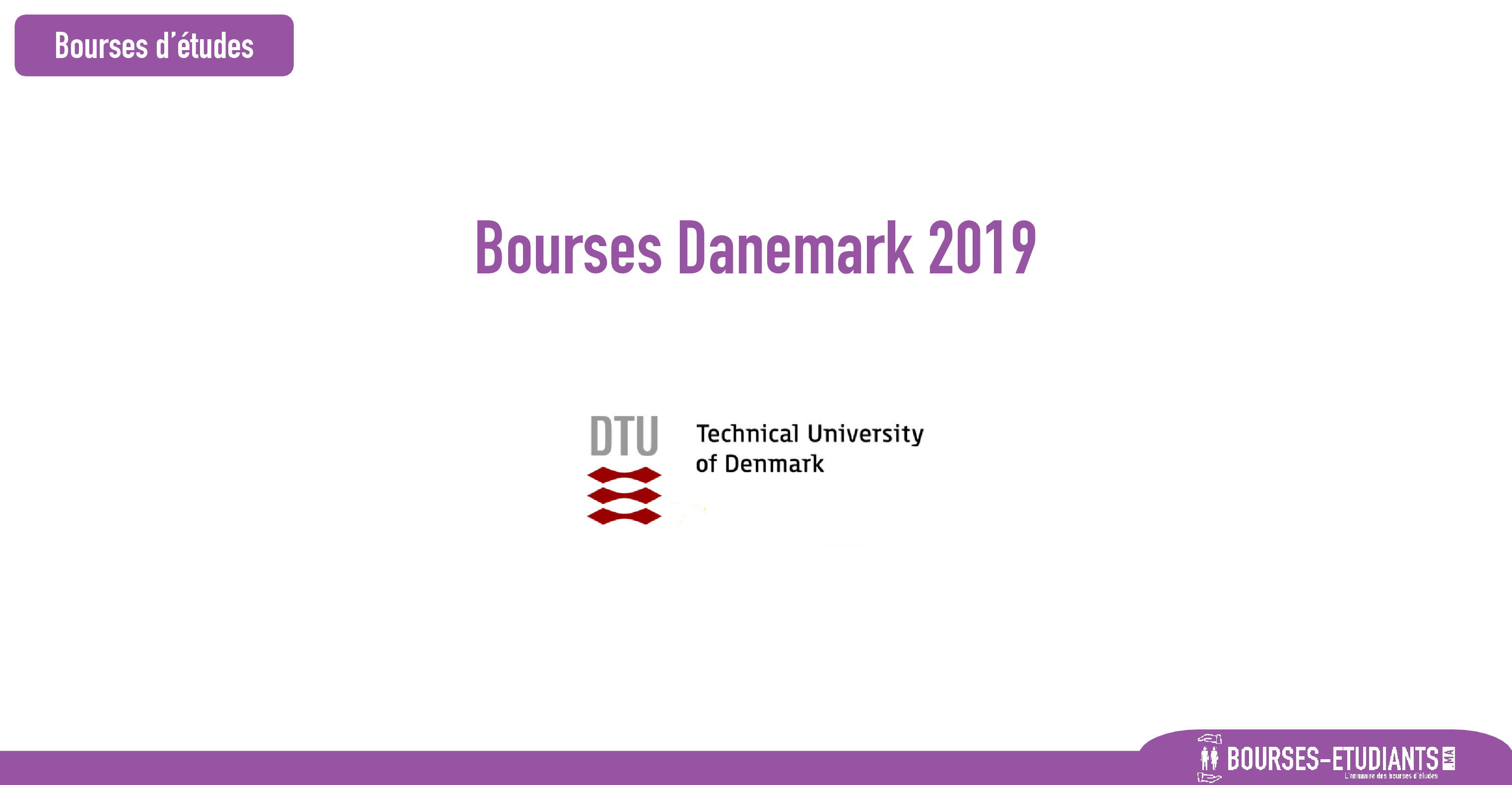 ---
Bourses de recherche Danemark 2019 : PHD positions in physiology – DTU
DTU is a technical university providing internationally leading research, education, innovation and scientific advice. Our staff of 6,000 advance science and technology to create innovative solutions that meet the demands of society, and our 11,200 students are being educated to address the technological challenges of the future. DTU is an independent university collaborating globally with business, industry, government and public agencies.
The Systems Environmental Microbiology (SEM) and the Infection Microbiology (IM) groups at the Novo Nordisk Foundation Center for Biosustainability (DTU Biosustain), Technical University of Denmark (DTU), invites motivated students to apply for one of two available 3-year PhD fellowships in the field of physiology, metabolomics and metabolic flux analysis of Pseudomonas species. The proposed projects aim at understanding the biochemical and metabolic basis for the adaptation of Pseudomonas to different environments and physicochemical conditions, a remarkable feature of this species. In particular, we seek to analyze (i) how the metabolism and physiology of P. aeruginosa is finely-tuned to utilize the nutrients available in the cystic fibrosis airways, and (ii) how the distribution of metabolic fluxes in P. aeruginosa and P. putida responds to different environmental cues. The successful applicants shall work independently on the development of high-impact research projects in which a significant workload is expected to advance the research successfully. Furthermore, the candidates will work within a team to develop their independent projects, while also contributing to projects of other team members. From a broader perspective, the selected candidates will implement state-of-the-art methods to understand the core biochemistry and adaptation strategies of model Pseudomonas species.
The proposed starting date is October 1st 2019.
Responsibilities and tasks
The appointed persons will be expected to (i) work to tight deadlines and manage multiple projects, (ii) interact with other researchers at the SEM and IM groups and other teams at DTU Biosustain, as well as other leading partner institutions, (iii) report regularly both in the form of written reports and oral presentations (both internally and in conferences), (iv) support the research team through training and supervision of other researchers and students, and (v) write scientific papers to high standard.
Specific responsibilities for the PhD positions include, among other tasks:
Wet-lab work on Molecular Biology and Synthetic Biology. Phenotypic and metabolic analysis of microbial hosts will be carried out on a regular basis.
Biochemical analysis and high-throughput analytics, including LC-MS/MS analysis (targeted metabolomics and proteomics), NMR, and GC-MS/MS analysis.
Supervision of M.Sc. and B.Sc. students.
Qualifications
Candidates should have a two-year master's degree (120 ECTS points) or a similar degree with an academic level equivalent to a two-year master's degree.
Approval and Enrolment
Fellowships for the PhD degree are subject to academic approval, and the candidates will be enrolled in one of the general degree programmes at DTU. For information about our enrolment requirements and the general planning of the PhD study programme, please see the DTU PhD Guide.
Assessment
The assessment of the candidates will be made by Senior Researcher and Group Leader Pablo Iván Nikel and Professor Søren Molin.
We offer
DTU is a leading technical university globally recognized for the excellence of its research, education, innovation and scientific advice. We offer rewarding and challenging jobs in an international environment. We strive for academic excellence in an environment characterized by collegial respect and academic freedom tempered by responsibility.
Salary and appointment terms
The appointment will be based on the collective agreement with the Danish Confederation of Professional Associations. The allowance will be agreed upon with the relevant union. The period of employment is 3 years.
Further information
Further information may be obtained from Pablo Iván Nikel ([email protected]) or Søren Molin ([email protected]).
Application
Please submit your online application no later than 31 July 2019 (local time). 
Applications must be submitted as one PDF file containing all materials to be given consideration. To apply, please open the link « Apply online », fill out the online application form, and attach all your materials in English in one PDF file. The file must include:
A letter motivating the application (cover letter)
Curriculum vitae
Grade transcripts and BSc/MSc diploma
Excel sheet with translation of grades to the Danish grading system (see guidelines and Excel spreadsheet here)
Candidates may apply prior to obtaining their master's degree but cannot begin before having received it. 
Applications and enclosures received after the deadline will not be considered. 
All interested candidates irrespective of age, gender, race, disability, religion or ethnic background are encouraged to apply.
The Novo Nordisk Foundation Center for Biosustainability is an international research center at the Technical University of Denmark funded by a grant from the Novo Nordisk Foundation. The center conducts research in metabolic engineering of cell factories, in silico systems biology, metagenomics, and plant biochemistry with the purpose of developing new processes and technologies that can support a more sustainable bio-based production of valuable chemicals in the future. The Center brings together some of the world's leading researchers in the field and will possess the advanced equipment and facilities required for achieving its ambitious research goals. Impact on society by innovation has a high priority and the Center collaborates worldwide with biotech companies and chemical industries to facilitate the dissemination and exploitation of its results.
Dossier de candidature
---
Informations de contact
---