Bourses de recherche Danemark 2019 : PhD scholarship in Environmental Regulation – DTU
---
Type de bourse
Bourse de Recheche Pays
Danemark Niveau d'études
Doctorat Date fin de candidature
01 août 2019
---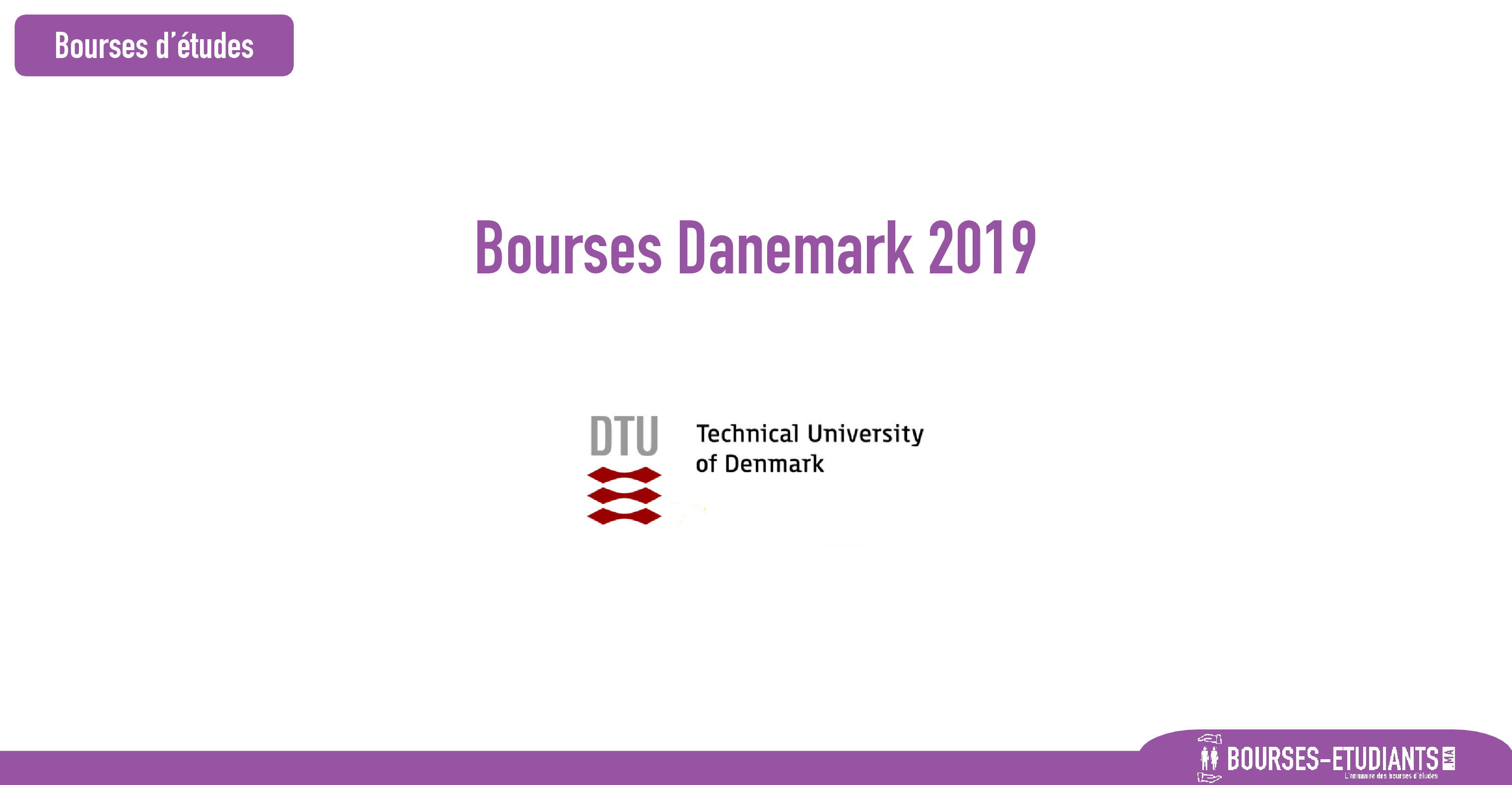 ---
Bourses de recherche Danemark 2019 : PhD scholarship in Environmental Regulation – DTU
A PhD scholarship is available in the Section on Environmental Fate & Effect of Chemicals at DTU Environmental Engineering (DTU Environment) within the topic of environmental regulation and risk assessment of nanomaterials.
The specific focus of the advertised scholarship is on analysing pros and cons of existing regulation of nanomaterials and on identify legal, technical and scientific limitations when it comes to considering the formation of eco-coronas on nanomaterials. The work will furthermore include analysis of the technical guidance provided by European governmental agencies that support the implementation of existing regulations. The research combines elements of environmental engineering, materials science, policy-analysis, regulation and environmental law. The overarching context is environmental regulation and risk assessment and management of chemicals and nanomaterials in the environment.   
The scholarship is a 3-year position and is funded by Swedish Foundation for Strategic Environmental Research (Mistra) within the project Mistra Environmental NanoSafety Phase II. Mistra Environmental Nanosafety Phase II focuses on the fate of nanomaterials in semi-natural experimental wetland systems, at simulated realistic surface water conditions and conditions during waste handling, and how this knowledge can be implemented in nanosafety regulation. The PhD-student will work within a work package on proactive risk assessment, regulation and creation of stakeholder learning alliances lead by Associate Professor, Steffen Foss Hansen from DTU Environment.
Responsibilities and tasks
The PhD student will be part of a team working on regulation and risk assessment of emerging risks and pollutants and will work in collaboration with scientists from Sweden and international industries. The exact design of your PhD project will be decided in collaboration with the main supervisor, Associate Professor, Steffen Foss Hansen from DTU Environment. The position may also include teaching in undergraduate- and/ or level courses, supervising student projects or performing other duties.
The PhD student will be responsible for:
Performing a legal analysis of the pros and cons of existing regulation of nanomaterials
Identify legal, technical and scientific limitations when it comes to considering the formation of eco-coronas on nanomaterials
Completing a technical and scientific analysis of the technical guidance that support implementation of existing regulations
Contributing to teaching in environmental regulation, management and ethics
Participating in the completion of stakeholder analysis when it comes to regulation of nanomaterials
Publication of innovative research findings and results in the scientific literature and presentations at international conference/meetings in English
Active collaboration with other research sections/groups at DTU Environment and other departments at DTU as well as at other partners within Mistra Environmental NanoSafety Phase II.
Qualifications
Candidates should have a two-year master's degree (120 ECTS points) or a similar degree with an academic level equivalent to a two-year master's degree. Your background should be within environmental science and technology and/or law, preferably, environmental engineer, environmental planner, environmental lawyer or related. Your English and English writing skills should be excellent.  
Approval and Enrolment
The scholarship for the PhD degree is subject to academic approval, and the candidate will be enrolled in one of the general degree programmes at DTU. For information about our enrolment requirements and the general planning of the PhD study programme, please see the DTU PhD Guide.
We offer
DTU is a leading technical university globally recognized for the excellence of its research, education, innovation and scientific advice. We offer a rewarding and challenging job in an international environment. We strive for academic excellence in an environment characterized by collegial respect and academic freedom tempered by responsibility.
Salary and appointment terms
The appointment will be based on the collective agreement with the Danish Confederation of Professional Associations. The allowance will be agreed upon with the relevant union. The period of employment is 3 years.
Further information
Further information may be obtained from Associate Professor Steffen Foss Hansen ([email protected]).
Application
Please submit your online application no later than 1 August 2019 (local time). 
Applications must be submitted as one PDF file containing all materials to be given consideration. To apply, please open the link « Apply online », fill out the online application form, and attach all your materials in English in one PDF file. The file must include:
A letter motivating the application (cover letter)
Curriculum vitae
Grade transcripts and BSc/MSc diploma
Excel sheet with translation of grades to the Danish grading system (see guidelines and Excel spreadsheet here)
Candidates may apply prior to obtaining their master's degree but cannot begin before having received it.
Applications and enclosures received after the deadline will not be considered
All interested candidates irrespective of age, gender, race, disability, religion or ethnic background are encouraged to apply.
DTU Environment is one of the largest university departments specializing in environmental engineering in Europe. The department conducts research and development, and provides educational programs and service to society in the area of engineering of water in natural, urban and industrial contexts, processing and recovery of residual resources, environmental risk assessment and chemical risk reduction. The aim is to develop new environmentally friendly and sustainable technologies, and to disseminate this knowledge to society and a new generation of engineers. The Department has approximately 185 staff from more than 30 nationalities. 
DTU is a technical university providing internationally leading research, education, innovation and scientific advice. Our staff of 6,000 advance science and technology to create innovative solutions that meet the demands of society, and our 11,200 students are being educated to address the technological challenges of the future. DTU is an independent university collaborating globally with business, industry, government and public agencies.
Dossier de candidature
---
Informations de contact
---
Organismes proposant la bourse
Technical University of Denmark,  Founded in 1829 with the mission of creating value for the benefit of society, DTU is an international elite technical university where education, scientific advice,...