Bourses de recherche Danemark 2019 : PHD Scholarship in Power Electronics – Technical University of Denmark
---
Type de bourse
Bourse de Recheche Pays
Danemark Niveau d'études
Doctorat Date fin de candidature
15 juill. 2019
---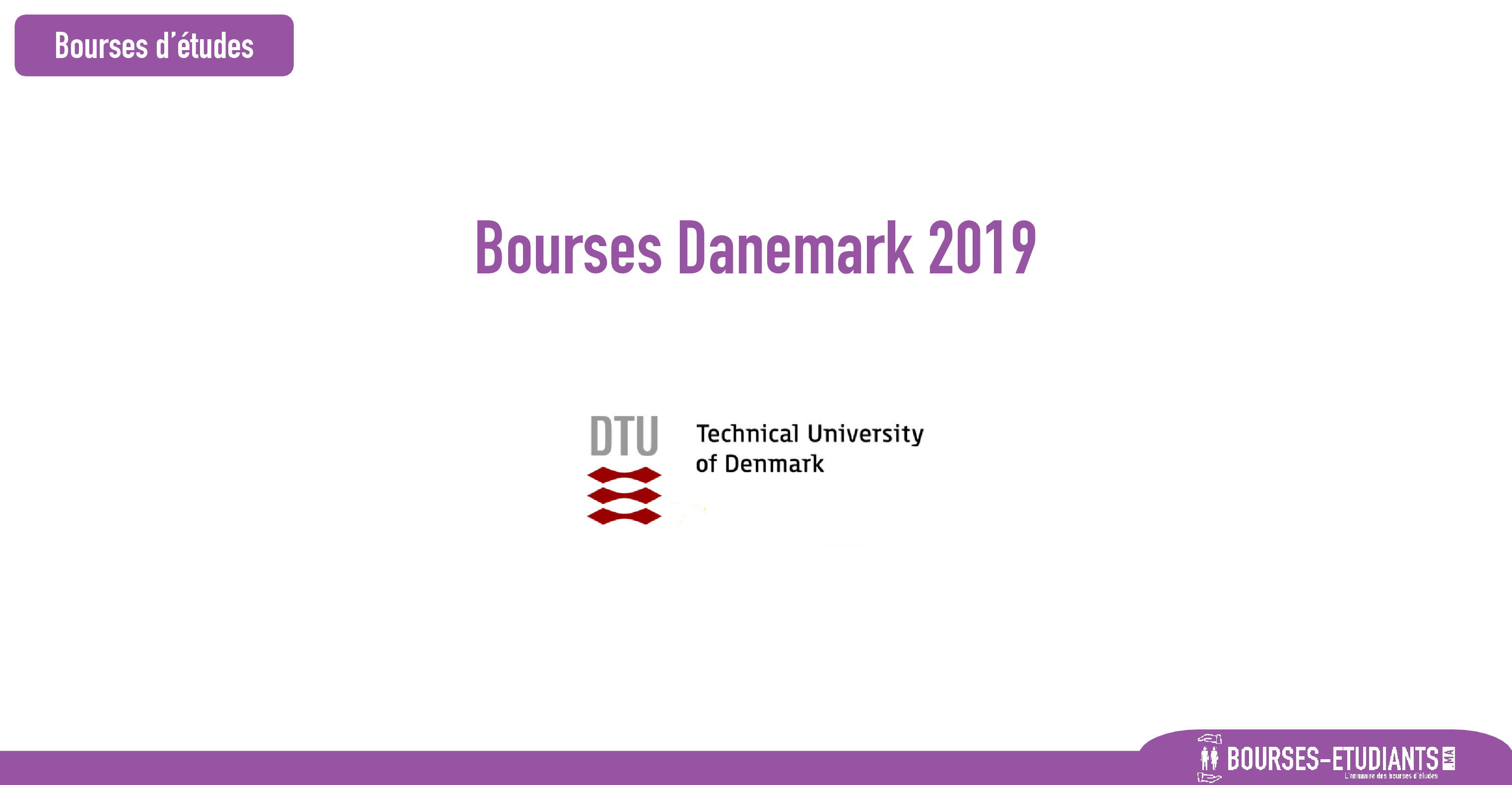 ---
Bourses de recherche Danemark 2019 : PHD Scholarship in Power Electronics – Technical University of Denmark
The Electronics group (ELE) at the Technical University of Denmark Elektro seeks a qualified candidate for a vacant 3-year PhD position in the area of power electronics.
The Technical University of Denmark ELE group is responsible for power electronics research including advanced high efficiency dc-dc and dc-ac converters for renewable energy and storage applications. The goal of this PhD project is to research 1-10kW highly efficient and bidirectional ac-dc converter based on partial power regulation concept.
Responsibilities and tasks
Efficient and effective energy systems integration with renewable and clean energies has been very critical for the future fossil-free society. Power-to-X (P2X) is a promising option for storing intermittent renewables and providing clean energy to residential, industrial, transportation users. In such systems, high efficiency and low cost, which are always the two conflict parameters for a power electronics system, must be satisfied at the same time for P2X applications. Therefore, a multidisciplinary study needs to be carried out by researchers from the scientific fields e.g. electrical engineering, electrochemical, material science and thermal engineering, and the challenges have not yet been solved completely due to the system complexity. This PhD project will focus on the partial power regulation based new power electronic topology and configuration, in particular, ac-dc rectifiers for both cost reduction and efficiency improvement. Appling modular design concept, a 10-kW ac-dc high-frequency-link converter will be developed and optimized as a hardware platform, on which advanced control strategies will be researched to achieve fraction power processing and reactive power compensation.
This PhD project is granted by Innovation Fund Denmark (IFD) and will carry out with close collaboration of Danish and international industrial partners.
Any candidate who:
is familiar with energy storage systems, such as batteries and electrolysis
is familiar with active filtering and power factor correction techniques
has good grasps of analysis and synthesis of both hard-switched and soft-switched ac-dc and dc-dc converters
has experience on AC-DC or DC-AC converter analysis and design
has experience with digital control and programming digital signal processer (DSP)
has good experience in using PCB layout software
has good experience in making laboratory prototypes, debugging and testing power electronic circuits
is able to use communication skill in English at a good level
will be considered as a candidate with favorable background. The candidate with highly self-motivation and enthusiasm, and is able to work well in a team environment.
Qualifications
Candidates should have a master's degree in engineering or a similar degree with an academic level equivalent to the master's degree in engineering.
Approval and Enrolment
The scholarship for the PhD degree is subject to academic approval, and the candidate will be enrolled in one of the general degree programmes at DTU. For information about our enrolment requirements and the general planning of the PhD study programme, please see the DTU PhD Guide.
Assessment
Associate Professor Zhe Zhang and Professor Michael A. E. Andersen will assess the applicants.
We offer
DTU is a leading technical university globally recognized for the excellence of its research, education, innovation and scientific advice. We offer a rewarding and challenging job in an international environment. We strive for academic excellence in an environment characterized by collegial respect and academic freedom tempered by responsibility.
Salary and appointment terms
The appointment will be based on the collective agreement with the Danish Confederation of Professional Associations. The allowance will be agreed upon with the relevant union. The period of employment is 3 years.
The workplace is DTU Lyngby Campus in our modern and newly renovated premises with state-of-the-art electronics research laboratories and student facilities.
You can read more about career paths at DTU here.
Further information
Further information may be obtained from Associate Professor Zhe Zhang, tel.: +45 4525 3486 or email: [email protected].

You can read more about DTU Elektro on www.elektro.dtu.dk and the Electronics group at www.ele.elektro.dtu.dk.
Application
Please submit your online application no later than 15 July 2019 (local time). Applications must be submitted as one PDF file containing all materials to be given consideration. To apply, please open the link « Apply online », fill out the online application form, and attach all your materials in English in one PDF file. The file must include:
A letter motivating the application (cover letter)
Curriculum vitae
Grade transcripts and BSc/MSc diploma
Excel sheet with translation of grades to the Danish grading system (see guidelines and Excel spreadsheet here)
List of published ISI journal articles
Documentation of personal power electronics laboratory experience
Incomplete applications will not be considered.
Candidates may apply prior to obtaining their master's degree but cannot begin before having received it.
All interested candidates irrespective of age, gender, race, disability, religion or ethnic background are encouraged to apply.
DTU Electrical Engineering educates students within electrical engineering technologies. We offer studies at BEng, BSc, MSc and PhD levels, and participate in joint international programmes. We conduct state-of-the-art research within antenna and microwave technology, robot technology, power and physical electronics, acoustic environment, electro-acoustics, electric power and energy. Our department has more than 200 members of staff.

DTU is a technical university providing internationally leading research, education, innovation and scientific advice. Our staff of 6,000 advance science and technology to create innovative solutions that meet the demands of society, and our 11,200 students are being educated to address the technological challenges of the future. DTU is an independent university collaborating globally with business, industry, government and public agencies.
Dossier de candidature
---
Informations de contact
---