Bourses de recherche : Danemark 2019 – University of Copenhagen
---
Type de bourse
Bourse de Recherche Pays
Danemark Niveau d'études
Doctorat Date fin de candidature
01 déc. 2018
---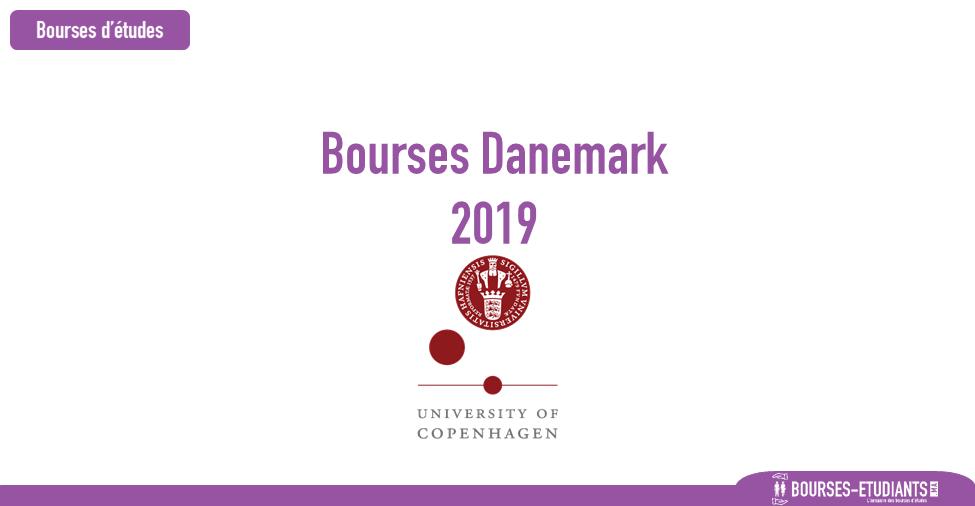 ---
Bourses de recherche : Danemark 2019 – University of Copenhagen
Department of Food Science, Faculty of Science, University of Copenhagen, is offering one PhD scholarship in fruits, vegetables and legumes quality design, with expected commencement on 1 December 2018 or as soon as possible thereafter.
The PhD positions are associated to a newly funded EU Marie S. Curie ITN project, "Enginomics in food quality design: the case of shelf-stable fruit-, vegetable- and legume-based foods", FOODENGINE, with a total of 13 early-stage researcher positions together with other participating institutions (see more below). We strongly encourage candidates to also apply for other relevant positions within the FOODENGINE network, see 
https://euraxess.ec.europa.eu/jobs/search?keywords=FOODENGINE
.
PhD 1 (ESR5) 
Project title: Colloidal stability of fruit-based liquid foods during storage 
Project description  
The aim of this study is to develop spectroscopic methods based on advanced multivariate data analysis for characterizing colloidal status of fruit-based juices. Conventional and emerging processing of juices will be used to investigate the impact on colloidal stability. The developed methods will be used for effectively measuring enzymatic activities and thereby evaluate the processing effect on carbohydrate degrading enzymes. The outcome will be link to sensory quality in order to control essential quality parameters during storage.
Principal supervisor: Associate Prof Karsten Olsen, 
[email protected]
, Phone: +45 35333201, co-supervisor Associate professor Åsmund Rinnan, 
[email protected]
; Department of Food Science, University of Copenhagen
Planned secondments for PhD 1: Döhler (DE): Case-study of processed fruit-based liquid food (3 months), KU Leuven (BE): carbohydrate degradation at molecular level (3 months)
Required qualifications for PhD 1: Knowledge and experience in fruit and plant enzymes. Experience in spectroscopic methods. Skills in multivariate data analysis and statistical methods. Interest in sensory science.
FOODENGINE 
FOODENGINE is an Innovative Training Network (ITN) funded by the European Union's Horizon 2020 research and innovation programme under Marie Skłodowska-Curie grant agreement.
FOODENGINE offers a research-based training programme for 13 young food scientists and technologists on the transformation of fruits, vegetables and legumes (FVL) in high-quality, multi-functional ingredients and foods appealing to consumers. The research-based training programme will be based on two new ways of thinking:
FOODENGINE will introduce an enginomics approach for food quality design. It connects an omics approach combined with chemometrics to instrumentally quantify quality changes of FVL-based food systems and an advanced engineering approach using multi-response kinetics to model quality changes during processing and storage;
FOODENGINE will develop models linking the enginomics-based instrumental food quality design with sensory properties, consumer acceptability and consumer preferences to create new products appealing to consumers.
FOODENGINE combines the interdisciplinary expertise and infrastructure of three highly-ranked European Universities/Research institutes (KU Leuven (BE), UCPH (DK), INRA (FR)), three large-turnover, multinational, R&D-based food (ingredient) companies (Döhler (DE), Cargill (BE), Unilever (NL)), two medium-sized food (ingredient) companies (GNT (DE), Greenyard (BE)) and an international market and consumer research company (Haystack (BE)) into a synergistic consortium to establish an international, interdisciplinary and intersectoral pioneering European food training programme for 13 young researchers, each for 36 months.
Each research project is a joint project between at least two partners within FOODENGINE. During the duration of the project, each recruited fellow is expected to go on one or more secondments (weeks up to months) to another partner to be exposed both to the academic and the private sector. Besides the research-based training, recruited young researchers will receive local and network-wide training in complementary skills (management, communication, and valorisation) via workshops, winter schools and conferences.
FOODENGINE alumni will master this beyond the state-of-the-art new way of thinking for future food products and process design, complemented with the extensive transferable skills development, they will largely enhance their employability/career perspectives in various professional roles.
Job description  
Your key tasks as a PhD student in FOODENGINE University of Copenhagen are:
Participate in the research environment at FOOD and the network activities of FOODENGINE
Manage and carry through your research project
Take PhD courses
Write scientific articles and your PhD thesis
Participate in congresses
Teach and disseminate your research
Key criteria for the assessment of candidates
Outstanding, self-motivated researcher with willingness to travel/be seconded on a regular basis in order to perform top-notch research in leading academic institutions, R&D divisions, and industries.
Holding a Master´s degree in Food Science and Technology or related discipline with excellent study results (typically minimum "distinction", "70%" or "second class upper").
The grade point average achieved.
Professional qualifications relevant to the PhD programme
Previous research publications.
Other professional activities.
Language skills: Solid written and oral communication skills in English are prerequisites of any successful application (typically IELTS min. 7, TOEFL internet-based min. 90 or similar level as proven by other tests).
Formal requirements and eligibility   
At the time of commencement, it is required that the candidate has not been awarded a doctorate degree and are within the first 4 years (full-time equivalent) of their research careers. Furthermore, the candidate must not have resided or carried out their main activity (work, studies, etc.) in Denmark for more than 12 months in the 3 years immediately prior to their recruitment. Short stays, such as holidays, are not taken into account. The candidate is required to spend part of their project period at other institutions in the FOODENGINE consortium on secondments.
Terms of employment  
Attractive 3-year full-time employment contract in accordance with the MSCA regulations for early stage researchers of the European Commission – continuation after the first year is dependent upon a positive evaluation.
Enrolment in a PhD program whereby PhD tuition fee is paid by project.
Supervision by recognized experts and access to (beyond) state-of-the-art research and pilot-scale infrastructure.
Training in complementary skills via participation at workshops, winter schools and conferences.
Terms of appointment and payment accord to the agreement between the Ministry of Finance and The Danish Confederation of Professional Associations on Academics in the State and according to the rules and regulations laid down by European Union's Horizon 2020 Marie S. Curie Innovative Training Networks.
The position is covered by the Memorandum on Job Structure for Academic Staff (available on request).
Place of Employment 
Department of Food Science, Faculty of Science, University of Copenhagen
Please notice that this PhD fellowship entails secondments, see above.
Application Procedure 
The application, in English, must be submitted electronically by clicking APPLY NOW below.
Please include:
Cover Letter, describing research career goals, skills and experience
2-page research project related to the topic of choice
CV
Diploma and transcripts of records (BSc and MSc)
Full contact details of two reference persons
Documentation of English language qualifications
Other information for consideration, e.g. list of publications (if any)
The applicant will be assessed according to the Ministry of Science Technology and Innovation Executive Order no. 1039 of 27 August 2013 PhD Order.
The University wishes our staff to reflect the diversity of society and thus welcomes applications from all qualified candidates regardless of personal background.
Dossier de candidature
---
Informations de contact
---