Bourses de recherche : Espagne 2018 – CRAG Center
---
Type de bourse
Bourse de Recherche Pays
Espagne Niveau d'études
Doctorat Date fin de candidature
30 août 2018
---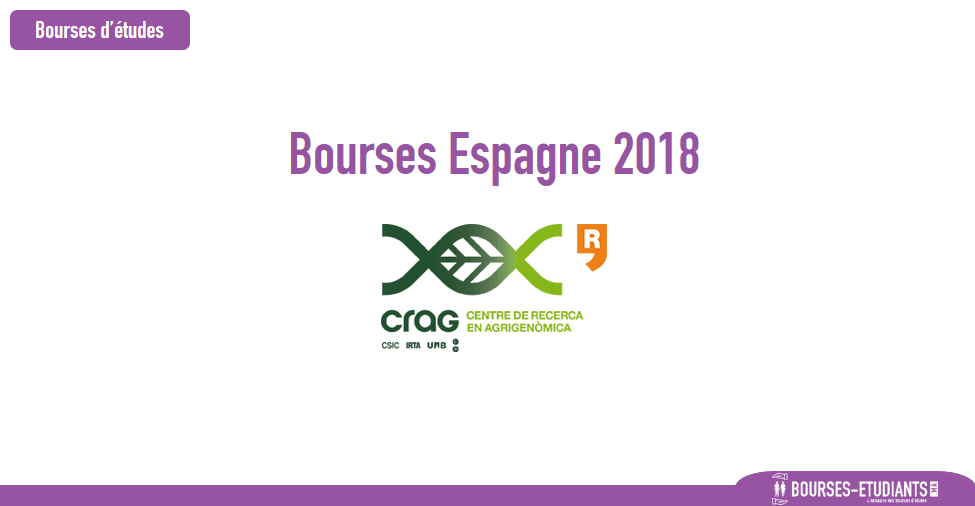 ---
Bourses de recherche : Espagne 2018 – CRAG Center
The Centre for Research in Agricultural Genomics CRAG is advertising six 4-year PhD positions for 2019. Doctoral students enrolled in the PhD Program at CRAG will obtain their PhD Degree from either the Autonomous University of Barcelona (UAB) or the University of Barcelona (UB). More information about the doctoral program at CRAG can be found here:  http://www.cragenomica.es/crag-phd-program
If interested in applying, please carefully read the Application requirements and procedure and check out all available projects.
Application deadline is Thursday August 30, 2018. Applicants will be selected by the Principal Investigator responsible for the chosen project or projects (candidates may apply to more than one project). Successful applicants will start their PhD projects in autumn 2019.
This four-year PhD grant is funded by the "National Programme for the Promotion of Talent and its Employability 2018" from the Spanish Ministry of Science, Innovation and Universities.
Application requirements and procedure
Eligibility
1. The program is aimed at international students who have completed one of the following options by July 2019:
studies that lead to an official Spanish (or from another country of the European Higher Education Area) university degree in Biology, Biochemistry, Biotechnology, or related areas and that have 300 credits (ECTS), of which at least 60 must correspond to master level.
a degree in a non-Spanish university not adapted to the European Higher Education Area that gives access to doctoral studies in Biology, Biochemistry, Biotechnology or related areas.
2. Candidates are selected exclusively on merit, on the basis of their curriculum. Academic grades and the curriculum of applicants are evaluated, as well as reference letters and a motivation letter. No selection criteria for positive or negative discrimination are applied.
3. Candidates cannot be in possession a PhD Degree.
4. Candidates cannot have been hired as predoctoral students for more than 12 months before the start of the PhD Program.
5. Candidates cannot have started a pre-doctoral fellowship funded by the Spanish "Plan Estatal de Investigación, Desarrollo e Innovación Tecnológica" or any previous "Plan Nacional".
How to apply
Applicants should send the application materials directly to the Principal Investigator of the project or projects they are interested in.
Applicants will be asked to submit the following documents : 
Curriculum vitae
A motivation letter, including a brief summary of work experience and a statement of research interests and career goals (2 pages maximum).
A scanned copy of the student's certified Academic Record, including a detailed record of study / transcript (a list of attended courses and corresponding grades): these documents must show the grades attained in exam periods.
Copy of passport (international applicants only).
Any additional files considered relevant to the application, but please only provide documents that are important to support it. Do not overload the application with certificates and documents of lesser significance.
In addition, applicants must ensure the submission of two reference letters from university lecturers or scientists with whom the applicant has studied or worked. Letters should be sent directly by the referees to the Principal Investigator of the requested project, and should also be received by the application deadline, August 30, 2018.  Only letters with official letterhead and signature will be accepted. Candidates are responsible for ensuring that referees submit these letters, and should consider that referees may need some time to prepare and send their letters within the deadline. Applications without reference letters will not be considered.
Please download referee request.
The doctoral program is in English. Therefore, a good knowledge of English is absolutely required. We encourage candidates to support the application with scores of internationally valid language exams like TOEFL or other tests. However, they are not mandatory: a verifiable education in English, or a reasonably long stay in an English speaking country are also convincing.
More information on the research activities of each of the research groups participating in this call can be found at CRAG website.
Applicants must submit information in English (CV, and motivation letter including summary of work experience). If the certified academic records are not in English, Catalan or Spanish, applicants must also attach a translation in one of these languages.
Applicants should send all the required documents as PDF files of less than 10MB.
Please note that we can only consider applications that are complete.
Selection procedure
Applications will be reviewed by the Principal Investigators that will host the fellows, and preselected according to their written application, grades, and reference letters.
Short-listed candidates will be interviewed by the Principal Investigator.
These PhD positions are funded by the Spanish Ministry of Economy and Competitiveness (MINECO) and CRAG. CRAG will assist the selected candidates to submit the required documents at the Spanish MINECO website in fall 2018. Applicants who have not been successful but have received a positive evaluation may be put on a waiting list to cover possible renunciations and future positions.
Dossier de candidature
---
Informations de contact
---