Bourses de recherche : France 2018 – The Energy and Environment Solutions initiative
---
Type de bourse
Bourse de Recherche Pays
France Niveau d'études
Doctorat Date début de candidature
10 janv. 2018 Date fin de candidature
31 mars 2018
---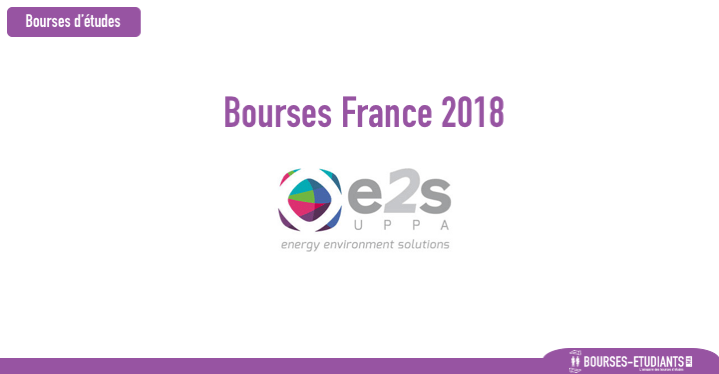 ---
Bourses de recherche : France 2018 – The Energy and Environment Solutions initiative
The Energy and Environment Solutions initiative (E2S‐UPPA) is a substantial, multi‐year growth plan. Problem‐oriented, inter‐disciplinary and transverse research in Energy and Environment, is pursed while putting the emphasis on either industry relevance or high visibility in leading academic journals. Interests span over all areas of Energy and Environment, including but not limited to optimization of geo‐resources exploration and exploitation, optimization of energy storage, materials for renewable energy, composites for structural lightening, analytical and microbial environmental analysis for diagnostic and remediation, as well as evaluation of organisms adaptation to environmental stresses in evolving or controlled ecosystems, and social issues about energy and environment.
Aim
The E2S‐UPPA consortium gathering UPPA‐Inra‐Inria* invites candidates to apply for
8 PhD grants.
We seek for outstanding candidates with a clear passion for research and who are excited by the opportunity to provide future solutions for energy and environment. Applications are invited from highly motivated candidates able to undertake a PhD project in all areas of Energy and Environment, connected to the research priorities of the laboratories hosted by the consortium:
The indicative list of innovative topics to be tackled by applicants is appended on the last page of this call.
* UPPA Université de Pau et des Pays de l'Adour
INRA French National Institute for Agricultural Research
INRIA French National Institute for computer science and applied mathematics
Procedure:
Fellowships are opened to highly qualified graduates from any field of Energy and Environment, or from a closely related discipline. We wish to attract candidates who are noticeable by their scientific excellence to whom we will offer scientific challenges that meet their expectations.
Number of Funding for PhD: Eight doctoral grants are offered over a 3 years period [monthly gross salary before taxes = 1870 €, which include extra gratification for teaching duties ‐ 32 hours per year].
Employer : Université de Pau et des Pays de l'Adour (UPPA) – Start : September, 2018 ‐ Duration : 36 months
Eligibility:
Citizens of all nationalities are eligible to apply.
Entrance requirements: candidates must hold a Master's degree, or equivalent degree, with outstanding records.
English language requirements: applicants whose first language is not French or English are usually required to provide proofs of proficiency of the required language skills.
Required competencies: Applicants are expected to show outstanding commitment connected to the research priorities of the laboratories hosted by the consortium.
Three steps selection:
1st step: Candidates will be selected on the basis of the quality of their curriculum in relationship with the disciplinary fields of E2S‐UPPA.
2nd step: Selected candidates will be directed to the appropriate laboratories corresponding to their competencies. They will participate in the development of a doctoral research proposal with the potential supervisor(s) and a three‐year work plan schedule. The purpose of this step is to prepare a thesis topic matching the competencies of the candidate, the expectations of the thesis supervisor and the challenges of E2S‐UPPA. Applicants must be supported by one or several local host laboratory(ies).
3rd step: Interview ‐ the candidate will be invited to defend her/his project in front of the selection board.
Criteria of selection of the candidate:
The candidate's motivation, scientific maturity and curiosity
Candidate's marks and rankings at the Master's level of their academic cursus
The adequacy between the research project and his/her skills
Communication skills in written and spoken English
Ability to work independently and to take responsibility for the progress and the quality of the project
Tentative schedule:
Candidates must send their application as a single PDF file, written in English including the documents listed below before March 31, 2018 (midnight, Paris time), to submission website [email protected]
Download the call for projects (PDF – 224 KB)
Download the call for projects (PPTX – 260.4 KB)
Dossier de candidature
---
Informations de contact
---