Bourses de recherche Italie 2019 : PhD Programs for International Students – Gran Sasso Science Institute
---
Type de bourse
Bourse de Recheche Pays
Italie Niveau d'études
Doctorat Date fin de candidature
18 juin 2019
---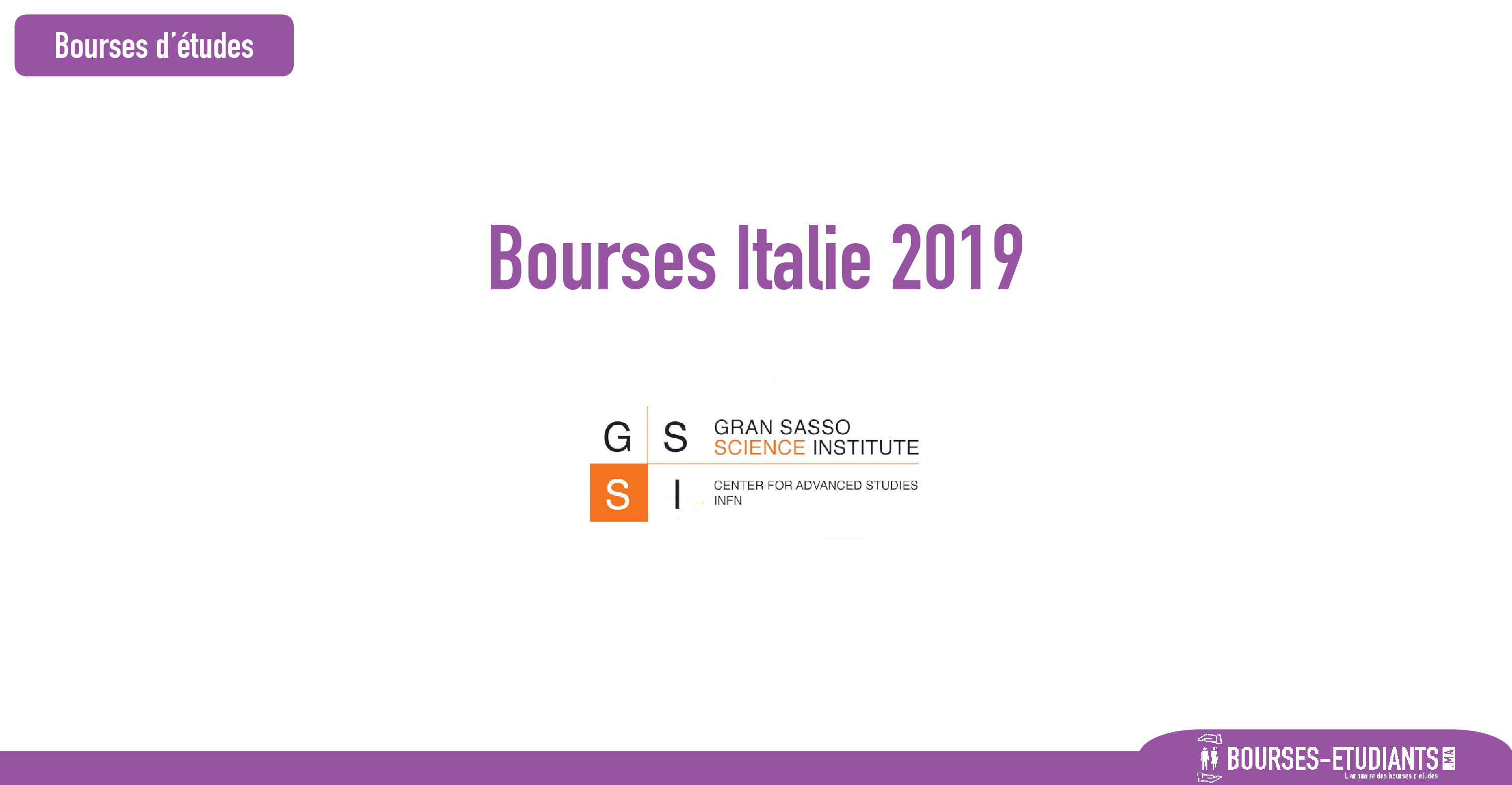 ---
Bourses de recherche Italie 2019 : PhD Programs for International Students – Gran Sasso Science Institute
The Gran Sasso Science Institute is giving an opportunity by furnishing 31 PhD Positions. Supporting those aspirants who are unable to complete their studies because of the financial issues is the main purpose of this bursary.
The Gran Sasso Science Institute was established in 2012 as a research institute. It is an international institute of advanced studies in Italy.
Why at this program? At this program, you will get a chance to choose your interested field of subjects as well as many options for enhancing your talent in this institution. Also, offers an opportunity for creating a bright future in this field and developing your personality.
The GSSI-Gran Sasso Science Institute, founded in 2012 in L'Aquila (Italy) as Center for Advanced Studies of the National Institute for Nuclear Physics (INFN) and then established in March 2016 as a School of Advanced Studies providing post-graduate education, offers 31 PhD positions for the academic year 2019/20.
The GSSI invites applications for fellowships for the PhD programmes in "Astroparticle Physics", "Mathematics in Natural, Social and Life Sciences", "Computer Science", "Urban Studies and Regional Science". The official language for all PhD courses is English.
The fellowships are awarded for 4 years and their yearly amount is € 16.159,91 gross. All PhD students have free accommodation at the GSSI facilities and use of the canteen.
The application must be submitted through the online form available at www.gssi.it/phd/ by June 18, 2019 at 6 pm (Italian time zone).
For more information, please consult the Call for Applications at www.gssi.it/phd/ or write an email to [email protected]
Application Deadline: June 18, 2019
Eligibility
Eligible Countries: International applicants are eligible for this fund.
Acceptable Course or Subjects: Candidates can join a PhD degree program in the field of Astroparticle Physics, Mathematics in Natural, Social and Life Science, Computer Science, Urban Studies and Regional Science.
Admissible Criteria: Must be a passionate current student and if you are already taking an award from any other institution then you cannot apply for this grant.
How to Apply
How to apply: There is no need to apply for the award separately, students are advised to take admission in a PhD project at the institution and then they will be automatically considered for the fund.
Supporting Documents: For applying to this program, candidates have to maintain and submit a PDF file which includes curriculum vitae, a copy of academic transcripts, a valid ID document signed and dated as well as the names and contact information of up to two referees along with some additional information.
Admission Requirements: A bachelor and a master's degree are essential for taking admission.
Language Requirement: Aspirants must have an excellent fluent in the written and spoken English language.
Benefits
This funded award will give € 16.159,91 gross per year and a tuition fee waived. It will also provide free accommodation at the guest house or other accommodation for students by GSSI or a financial substitute of 350, 00 Euros gross/month and an additional 50% on a monthly basis might be awarded.
Dossier de candidature
---
Informations de contact
---
Organismes proposant la bourse
Gran Sasso Science Institute The Gran Sasso Science Institute (GSSI) is an international PhD school and a center for research and higher education in the areas of Physics, Mathematics, Computer Scienc...