Bourses de recherche Japon 2019 : Special Scholarship Program – Kochi University of Technology
---
Type de bourse
Bourse de Recheche Pays
Japon Niveau d'études
Doctorat Date fin de candidature
13 sept. 2019
---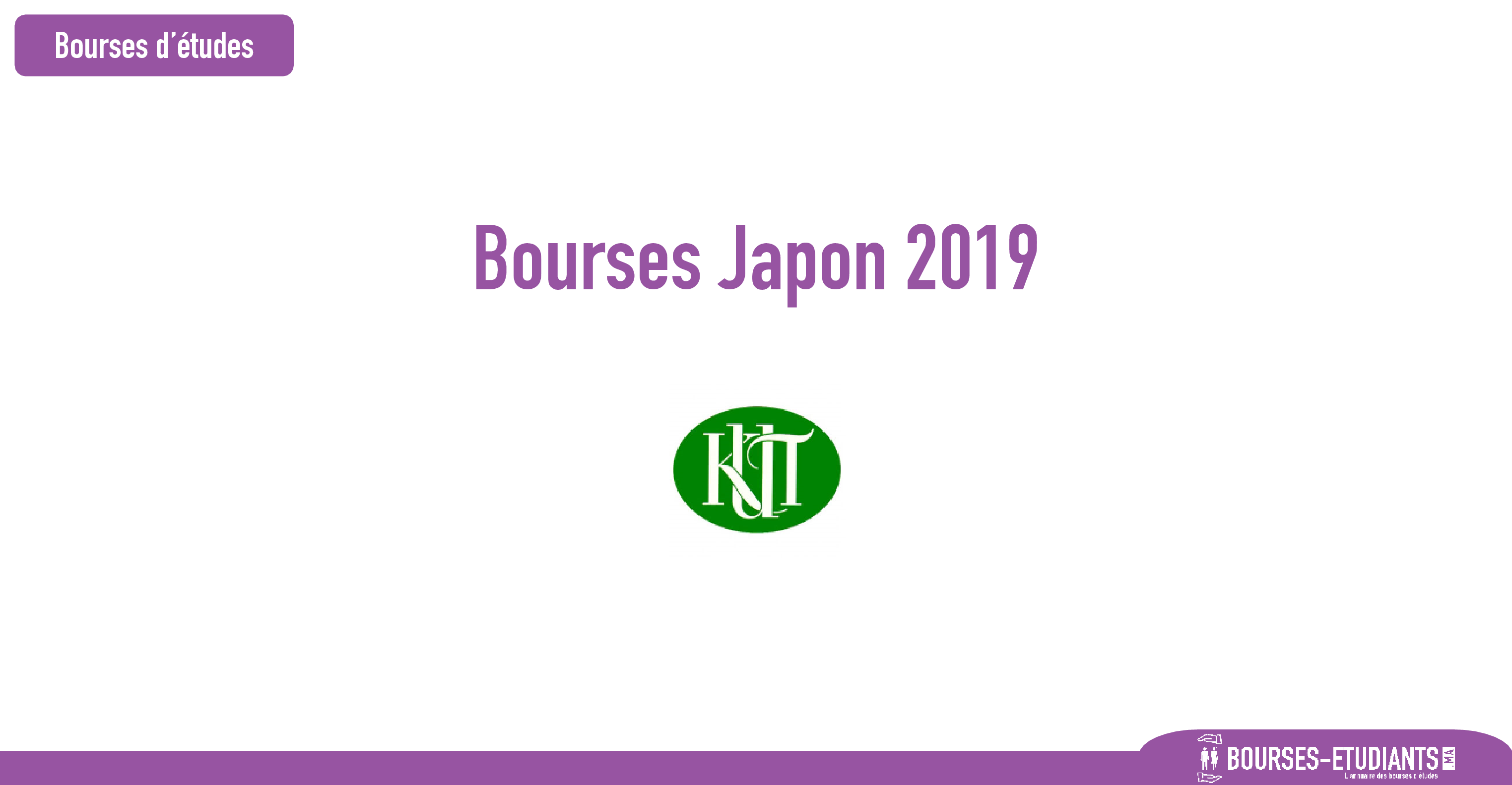 ---
Bourses de recherche Japon 2019 : Special Scholarship Program – Kochi University of Technology
Kochi University of Technology is pround to announce its Special Scholarship Program.
1. PROGRAM OF STUDY
Doctoral Program (3 years)
Department of Engineering, Graduate School of Engineering
2. MEDIUM OF STUDY
English
3. NUMBER OF STUDENTS TO BE ADMITTED
No more than 3 SSP students can be enrolled concurrently for each project leader. See the SSP project list for details of which projects currently have places available for SSP students.
4. ENROLLMENT TIME
April/October
5. SCHOLARSHIP TERM
One year
*The term will be extended for increments of one year up to a total of three years, unless the university terminates the SSP student status for any of the reasons stated in paragraph 13 below, Termination of SSP Student Status.
6. OBLIGATIONS
The SSP student must work 50 hours per month for a specific research project at the university.
The SSP student must report his/her study and research achievements to the dean of the Graduate School of Engineering at the end of each semester. The submitted report will be evaluated by the dean of the Graduate School of Engineering.
7. BENEFITS
Exemption from 30,000 yen entrance examination fee, 300,000 yen enrollment fee and 535,800 yen/year tuition fee
To support living expenses, 150,000 yen/month is paid as salary for research project work.
*You must pay some amount of taxes from this salary.
150,000 yen is provided for travel and initial living costs. (given only to international applicants who are living outside Japan, and who have, or have the intention to acquire, « Student » status of Japanese residence at the time of entry into Japan)
8. ELIGIBILITY
Applicants are required to meet all of the following conditions
To have permission from the leader of the applicant's preferred SSP project to apply for that project
To hold a degree from an accredited institution comparable to the master's degree offered at KUT after 18 years of education, or to be scheduled to acquire such a degree before the KUT enrollment date
To be 35 years old or under at the time of enrollment
To have an excellent academic record and strong bachelor's and master's degrees from reputable universities
To have the intention, adequate knowledge and research skill to work in the research project
To have high English proficiency
9. APPLICATION PROCESS
Choose one research project from the SSP Research Project List
Send a completed Pre-Application Request to the leader of your preferred project by e-mail and obtain the leader's permission to apply for that SSP project. Only one pre-application request should be sent to the leader of a project during a given enrollment period. The project leader's email address is provided in the project's description. Please note that a project leader may not contact you in the case where your pre-application request is rejected.
When you obtain the permission of the project leader, complete all required documents and submit them to KUT by post. The documents must reach KUT by the deadline.

* Considering that it may take a considerable time to arrange all application documents for the formal application, the applicants are encouraged to send a pre-application request to the leader of his/her preferred project at least 6 weeks prior to the formal application deadline.
List of Required SSP Application Documents
10. ADMISSION DECISION
Only applicants who have obtained the permission of the leader of their preferred project are eligible to submit an application with documentation to KUT. The admission decision will be made after examination of: the submitted documents; and the results of an interview of the applicant, an English written exam and a written academic achievement exam in the field of specialization required for the conduct of the selected research project.
Note 1: Applicants may be rejected before they take the interview and written exam.
Note 2: The examination (interview and written exam) may be conducted via Skype or other communication tool.
Note 3: The on-site interview and written exams will be held at a venue to be designated separately. Examinations for foreign applicants will usually be conducted in the applicant's home country. However, the examinations for applicants residing in Japan will be conducted at Kochi University of Technology (KUT).
Note 4: The admission decision may be delayed if KUT is unable to conduct the interview and the written exam during the designated period.
For more information about this scholarship, visit the University's official website here.
Dossier de candidature
---
Informations de contact
---
Organismes proposant la bourse
Kochi University of Technology Kochi University of Technology (高知工科大学 Kōchi Kōka Daigaku) is a prefectural university in Tosa Yamada, Kami, Kōchi, Japan. After its founding in 1997, Professor Yasuharu Suematsu was its first preside...