Bourses de recherche : Japon 2019 – United Nations University
---
Type de bourse
Bourse de Recherche Pays
Japon Niveau d'études
Doctorat Date début de candidature
16 janv. 2019 Date fin de candidature
19 avr. 2019
---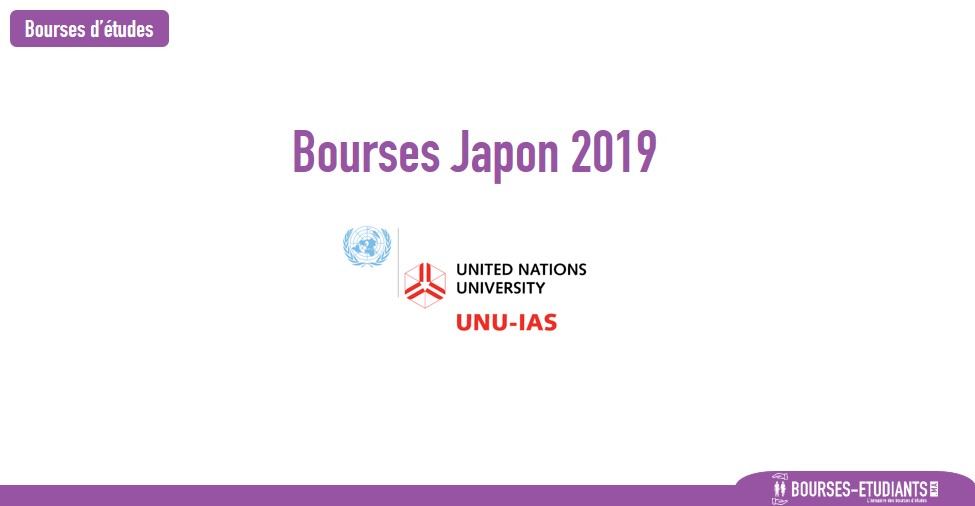 ---
Bourses de recherche : Japon 2019 – United Nations University
The PhD programme in Sustainability Science of United Nations University is a three-year programme that aims to produce scholars who will become key researchers in the field of sustainability science. The programme takes an innovative approach to sustainability, seeking to promote a better understanding of the issues by incorporating global change perspectives, specifically those related to climate change and biodiversity.
The award of the scholarship below is based on application selection results. Only applicants that are accepted for enrolment in the UNU-IAS PhD in Sustainability Science programme can be considered as candidates for the scholarship. There is no separate application form for the scholarship as it is a part of the online application for admission. Interested applicants must provide necessary information and documents for the scholarship together with the required documents for admission to the PhD degree programme.
Scholarships provided through the Japan Foundation for UNU (JFUNU)
Coverage
The JFUNU scholarship provides a monthly allowance of 120,000 JPY* for living expenses for a maximum of 36 months. However, travel costs to and from Japan, visa handling fees, and health/accident insurance costs must be covered by the student. The tuition fees are fully waived for the scholarship recipients.
*The amount of monthly allowance has been changed to 120,000 JPY effective 2017.
Eligibility Requirements
Applicants must be from developing countries* who can demonstrate a need for financial assistance.
Applicants who are currently living in Japan under a working visa are NOT eligible for the scholarship.
Applicants who want to pursue a second PhD degree at UNU-IAS are not eligible for the scholarship.
*Developing countries included in the latest OECD DAC list.
For more information, download the programme brochure
Dossier de candidature
---
Informations de contact
---