Bourses de recherche : LUCA School of Arts – Belgique 2018
---
Type de bourse
Bourse de Recherche Pays
Belgique Niveau d'études
Doctorat Date fin de candidature
20 août 2018
---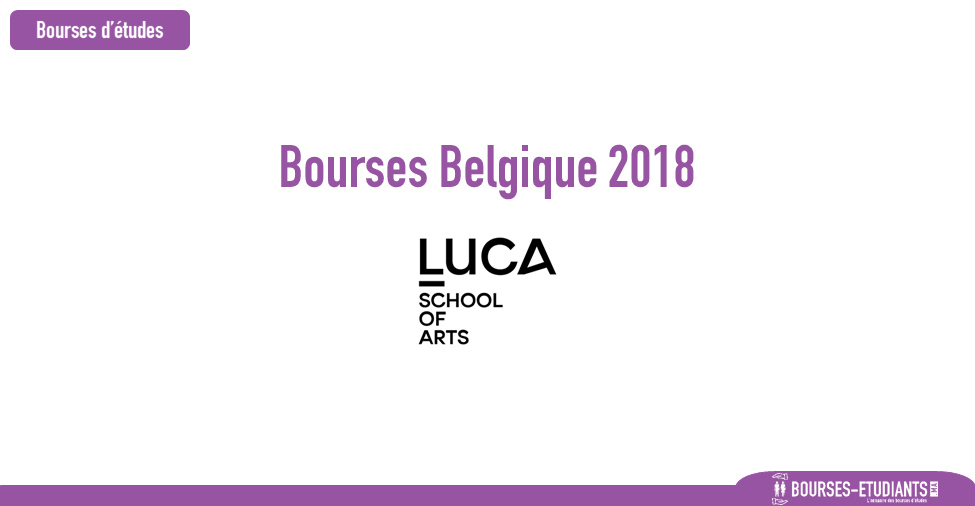 ---
Bourses de recherche : LUCA School of Arts – Belgique 2018
LUCA – School of the Arts strives to be a European and global centre of excellence in terms of artistic research. To this end, the research units focus on all areas of the arts practiced by students and teachers so that they develop into international artists and designers. By encouraging and developing PhDs in the arts, LUCA – Faculty of the Arts wants to attract young artistic researchers who help to reinforce and further develop its research and education.
Given the need to build and bundle disciplinary expertise in all its study areas (music and drama, audiovisual arts, visual arts and design) LUCA – Faculty of the Arts fulfils an important role in attracting researchers, teachers and students with considerable talent and ambition from all over the world.
The deadline for submitting new PhD applications is August 20 2018.
PhD proposals must be digitally submitted by the deadline at the latest at [email protected] When compiling the digital file, and the portfolio in particular, please ensure that the file does not exceed 20 MB.
Please contact the supervisor(s) and the head of the research unit at least two weeks ahead. The proposal should include a signed letter of advice from
– the head of a research unit at LUCA School of Arts
– the supervisor (LUCA School of Arts or KU Leuven)
– the co-supervisor (only if the supervisor is professor at KU Leuven)
If the PhD project receives a positive preliminary recommendation, the candidate will discuss the project at the next meeting of the PhD Committee for the Arts on September 13 2018.
PhD projects that are submitted after the deadline will be referred to the academic year's next deadline.
Please note: LUCA School of Arts offers a four-year scholarship to pursue a PhD in the Arts at LUCA/KU Leuven. The deadline for applications is September 20, 2018. Applicants have to have been accepted as a PhD student in the arts by the Doctoral Committee of the Faculty of the Arts (LUCA/KU Leuven) before the deadline and the due date of the second progress report is later than the application deadline. Candidates who have been accepted by the PhD Committee of September 13 (see procedure above) can still apply for the scholarship by September 20.
Dossier de candidature
---
Informations de contact
---