Bourses de recherche : Singapour 2018 – National University of Singapore
---
Type de bourse
Bourse de Recherche Pays
Singapour Niveau d'études
Doctorat Date fin de candidature
14 sept. 2018
---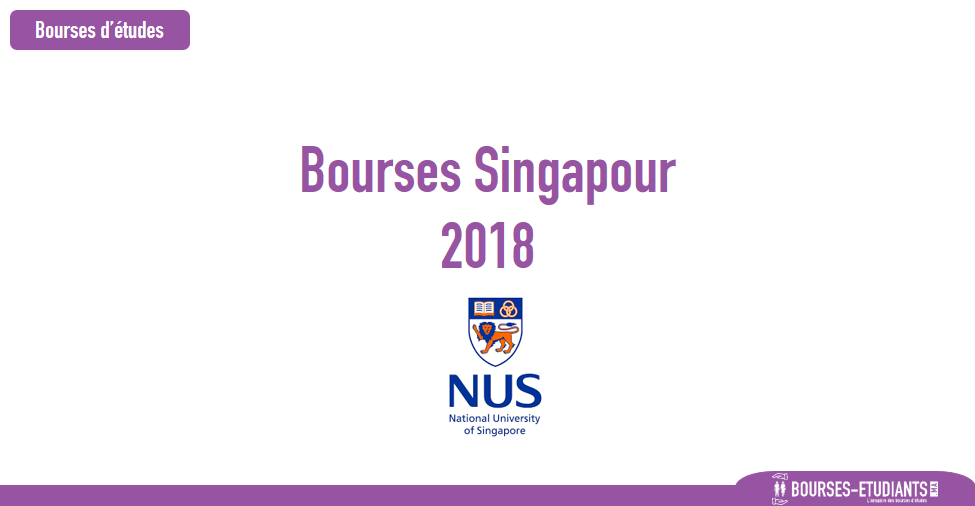 ---
Bourses de recherche : Singapour 2018 – National University of Singapore
The Department of Economics at National University of Singapore – NUS has been established since 1934. It has about 50 faculty members and it offers a wide selection of courses in undergraduate and graduate level covering wide areas of Economics. For more information about the department, please refer to: http://www.fas.nus.edu.sg/ecs/
The scholarship includes tuition fee waiver + S$2000 stipend per month (S$2,700 for Singapore Citizen and S$2,200 for Singapore Permanent Resident) before passing qualifying exam (QE) and additional top-up of S$500 upon passing QE.
The admission exercise for August intake 2019 will start on 1 April 2018. As in previous years, we exercise again an early admission offer commitment in this round. If you are interested in applying for the PhD programme, please send your application material to the following address by 14 September 2018.
NATIONAL UNIVERSITY OF SINGAPORE
DEPARTMENT OF ECONOMICS
FACULTY OF ARTS & SOCIAL SCIENCES
1 ARTS LINK, AS2 LEVEL 6
SINGAPORE 117570
(Attention: Graduate Research Programme Administrator)
The application package should include the following:-
– Online Application Form duly signed (we would like to encourage you to do the application online via https://inetapps.nus.edu.sg/GDA2/Home.aspx )
– Payment Receipt
– Research Proposal (this should be in the range of 1000-2000 words including the Title)
– Bachelor/Master Transcripts
– Bachelor/Master Degree Graduation Certificate (if any)
– 2 Reference Letters (you will have to input your referees information into the online system and we will monitor on our end)
– TOEFL/IELTS
Important
1. It is mandatory for candidates to complete and submit the online applications personally.
2. The University has not engaged any external agencies to undertake graduate student recruitment on its behalf. Candidates interested in our graduate programmes are advised to apply directly to the University and not through any agents. Candidates who apply through agents will not have any added advantage in gaining admission and the University reserves the right to reject such applications without giving reasons.
Dossier de candidature
---
Informations de contact
---