Bourses de recherche : Pays-Bas 2019 – University of Amsterdam
---
Type de bourse
Bourse de Recherche Pays
Pays-Bas Niveau d'études
Doctorat Date début de candidature
26 juill. 2018 Date fin de candidature
15 sept. 2018
---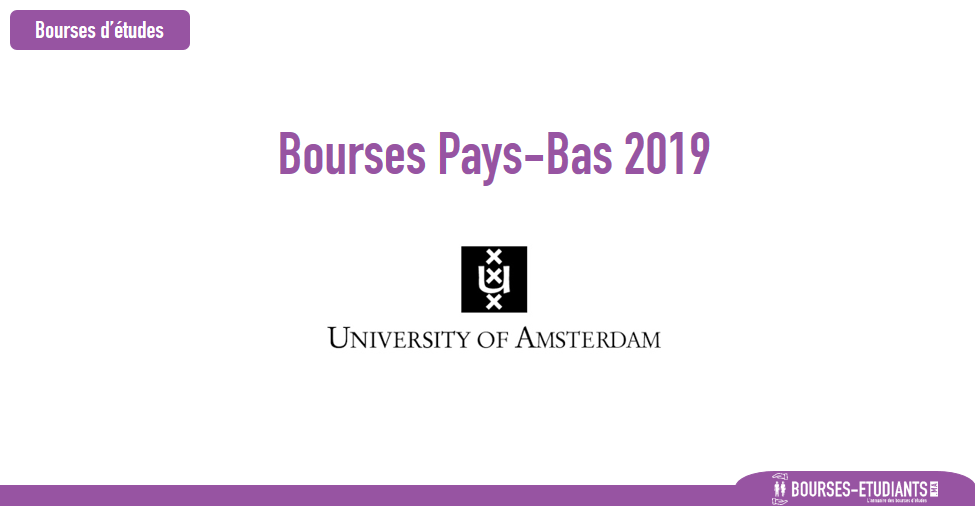 ---
Bourses de recherche : Pays-Bas 2019 – University of Amsterdam
PhD candidate – Marine Microbial Ecology
Institute for Biodiversity and Ecosystem Dynamics (IBED) of University of Amsterdam, invite applications for a PhD candidate in Marine Microbial Ecology in the Department of Freshwater and Marine Ecology. Our institute is one of the eight research institutes of the Faculty of Science at the University of Amsterdam. IBED covers a wide range of subjects in ecology, earth sciences and environmental sciences, including both fundamental and applied research.
As PhD candidate you will work in the Department of Freshwater and Marine Ecology (FAME), headed by Prof. Jef Huisman. Our scientific studies aim at a better understanding of aquatic ecosystems at all relevant levels, from genes to climate change, using a truly multi-disciplinary approach. The project will be supervised by Dr Susanne Wilken, and aims to investigate predatory lifestyles in marine phytoplankton and their role in the microbial food webs of the ocean.
We will perform the project in close collaboration with Prof. Corina Brussaard at the Royal Netherlands Institute for Sea Research (NIOZ). The Department of Marine Microbiology and Biogeochemistry (MMB) of NIOZ studies microbial communities in all types of marine environments, from estuaries to the deep ocean. Using field and experimental approaches, the diversity, physiology and activity of eukaryotic phytoplankton, prokaryotes and viruses are studied in diverse marine environmental settings.
Project description
Predatory lifestyles in marine phytoplankton
Predation of microbes is traditionally assumed to be performed by heterotrophic organisms. However, many marine phytoplankton species also feed upon other microbes, and thus combine the lifestyles of both plants and animals. The subcellular interactions between photosynthesis and heterotrophy within these mixotrophic organisms remain poorly understood, but are likely to have severe consequences for the biogeochemical flow of elements in the ocean. This project aims at identifying the environmental drivers controlling microbial predation by photosynthetic eukaryotes in the ocean and link them to the underlying molecular processes characterizing mixotrophic nutritional strategies.
In this project laboratory experiments with marine mixotrophs representative of different nutritional strategies will be performed and combined with fieldwork in two contrasting marine environments, the Mediterranean and Southern North Sea. Transcriptomic signatures of selected nutritional strategies will be identified in chemostat experiments. These will inform the interpretation of targeted meta-transcriptomes from natural microbial communities, from which microbial predators will be identified through RNA stable isotope probing.
If you are the selected candidate you will be based at IBED in Amsterdam where you will present your PhD-thesis. You will conduct field work at NIOZ on Texel and the Institute for Marine Research in Barcelona (ICM-CSIC).
Requirements
MSc in Microbial Ecology, Aquatic Ecology, Marine Biology, Biological Oceanography or a related field;
experience with cultivation of micro-organisms;
experience with molecular techniques, preferably genomics/transcriptomics;
experience with fieldwork;
experience with bioinformatics analyses is desired;
ability to work in a multi-disciplinary research team;
excellent communication skills in English.
Further information
For questions about this vacancy until 5 September 2018, contact the Staff from University of Amsterdam.
Dr Susanne Wilken
T: +31 (0)20 525 7070
Appointment
The position will start in winter 2018. The full-time appointment will be on a temporary basis for a maximum period of four years (18 months plus a further 30 months after a positive evaluation) and should lead to a dissertation (PhD thesis). We will draft an educational plan that includes attendance of courses and (international) meetings. You are also expected to assist in teaching of undergraduates. The full-time gross monthly salary will range from €2,266 in the first year to €2,897 in the final year, according to the Dutch salary scales for PhD students. TheCollective Labour Agreement for Dutch Universities is applicable. The annual salary will be increased by 8 % holiday allowance and 8.3 % end-of-year bonus.
Dossier de candidature
---
Informations de contact
---