Bourses de recherche – Royaume Uni 2019 – University College London
---
Type de bourse
Bourse de Recherche Pays
Royaume Uni Niveau d'études
Doctorat Date début de candidature
15 oct. 2018 Date fin de candidature
28 nov. 2018
---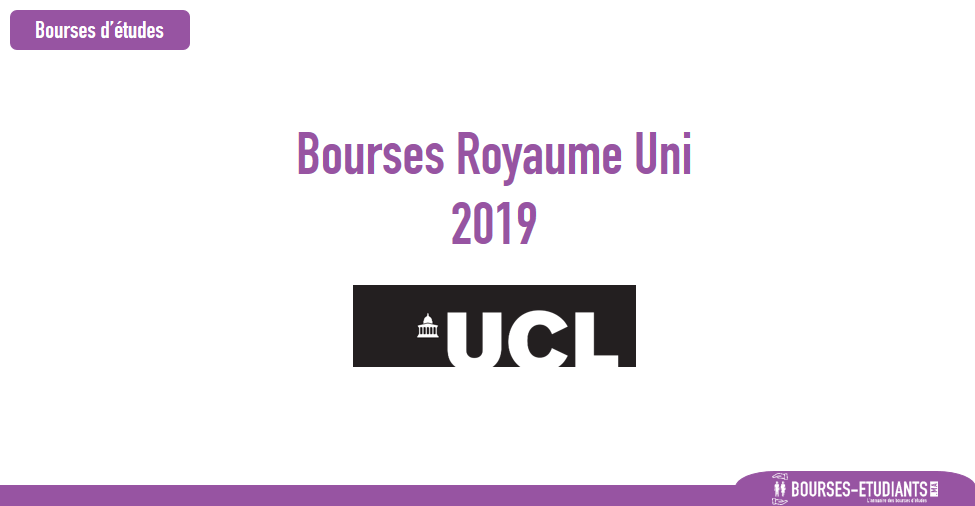 ---
Bourses de recherche – Royaume Uni 2019 – University College London
A 3-year PhD Studentship funded jointly by the Arthritis Research UK Centre for Adolescent Rheumatology at University College London (UCL), University College London Hospital (UCLH) and Great Ormond Street Hospital (GOSH) and National Institute for Health Research Great Ormond Street Hospital Biomedical Research Centre (NIHR GOSH BRC) is available within the Infection, Immunity and Inflammation programme at UCL GOS Institute of Child Health and will be supervised by Dr Eleftheriou and Professor Wedderburn, to start in September 2019.
We are seeking a PhD student to work in a genomic medicine and immunology project using the unique biobank resources available at UCL and within the Arthritis Research UK Centre for Adolescent Rheumatology see https://www.centre-for-adolescent-rheumatology.org/about-the-centre/. The aim of the project is to understand the genetic architecture and immunology of adolescent onset rare inflammatory disorders in order to develop personalised treatment approaches including gene therapy.
We are seeking a creative and highly motivated individual with prime interest in genomics and immunology.  Applicants should have, or expect to receive a first class or upper second class degree.  The student will receive a starting stipend of £23,860.00 per annum (including London weighting – £16,777 funded by the GOSH BRC and the top up funded by Arthritis Research UK) as well as the cost of tuition fees for UK/EU students (applicants from non-EU countries can apply but will have to personally fund the difference between the home/EU rate and the overseas rate), and £5000 contribution towards the running costs of their project.
The Arthritis Research UK Centre for Adolescent Rheumatology at University College London UCL, UCLH and GOSH is a unique initiative established in October 2012 with the mission statement of improving the health and well-being of adolescents with arthritis and other inflammatory rheumatological conditions. The Centre works very closely with the NIHR GOSH BRC that in 2016 secured £37 million funding to support the translation of basic scientific discoveries into 'first in man' or 'first in child' clinical studies. Our common research aims to accelerate discoveries into the basis of childhood and adolescent rare diseases and to develop new diagnostics, imaging techniques and treatments, including cellular and gene therapies.
UCL is London's leading multidisciplinary university. In the recent 2014 Research Excellence Framework (REF2014) UCL was rated the top university in the UK for research strength and the best research environment. The Infection, Immunity and Inflammation Programme, within the Great Ormond Street Institute of Child Health at UCL, is a lively, stimulating, and highly collaborative place in the forefront of rare disease research.
Dossier de candidature
---
Informations de contact
---