Bourses de recherche : Royaume Uni 2019 – University of Leicester
---
Type de bourse
Bourse de Recheche Pays
Royaume Uni Niveau d'études
Doctorat Date fin de candidature
21 janv. 2019
---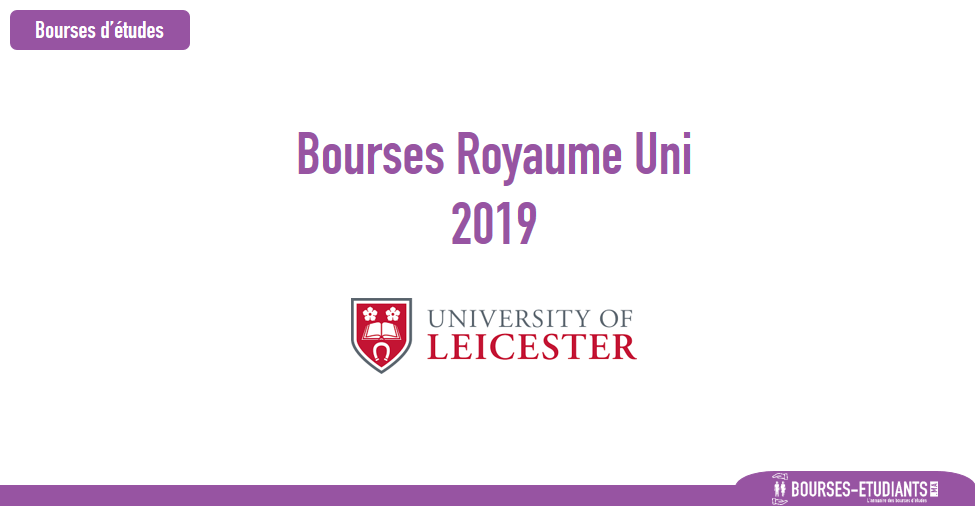 ---
Bourses de recherche : Royaume Uni 2019 – University of Leicester
The University of Leicester is happy to announce fully funded EPSRC PhD Studentships to UK/EU applicants who meet the EPSRC Residency Criteria.
The University of Leicester is a public research university based in Leicester, England. The main campus is south of the city centre, adjacent to Victoria Park. If English is not your first language then you will need to show that your English language skills are at a high enough level to succeed in your studies.
Degree Level: Studentships are available to pursue PhD programe.
Available Subject: This project is across the distinct disciplines of mathematical and computational fluid mechanics and aims to provide insight into open problems in fundamental fluid physics.
Applied Mathematics
Aeronautical Engineering
Fluid Dynamics
Scholarship Benefits: This research project is one of a number of projects in the College. It is in competition for funding with one or more of these projects. Usually the project which receives the best applicant will be awarded the funding.
Eligible Nationalities: Studentships are available to UK/EU applicants who meet the EPSRC Residency Criteria.
Entrance Requirements: Applicants must meet the following criteria:
Studentships are available to UK/EU applicants who meet the EPSRC Residency Criteria; if you have been ordinarily resident in the UK for three years you will normally be entitled to apply for a full studentship.
Degree in Applied Mathematics, Mechanical Engineering, Physics or similar
Excellent programming skills, including MATLAB
Willingness to travel and spend time in Sydney, Australia
International Applicants
Unfortunately, there is no funding for international students on this project.
Application Procedure: All applications must be submitted online, along with the supporting documents as per the instructions on the website.
Required Materials
Online application form
Two academic references
Transcripts
Degree certificate/s (if awarded)
Curriculum Vitae
EPSRC Studentship Form
English language qualification
Dossier de candidature
---
Informations de contact
Tél
+44 (0)116 252 2522.
Email
admissions@le.ac.uk
Site web
le.ac.uk/
---
Organismes proposant la bourse
At the heart of the UK, Leicester is a leading university committed to international excellence, world-changing research and high quality, inspirational teaching. Celebrating diversity among our staff and students; widening participation in higher educati...