Bourses de recherche – Royaume Uni 2019 – University of Oxford
---
Type de bourse
Bourse de Recheche Pays
Royaume Uni Niveau d'études
Doctorat Date début de candidature
01 nov. 2018 Date fin de candidature
25 janv. 2019
---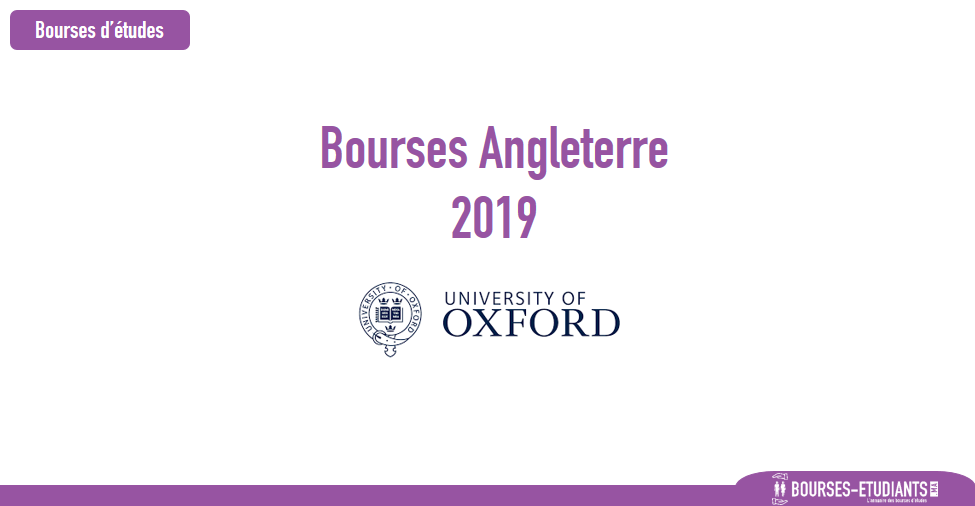 ---
Bourses de recherche – Royaume Uni 2019 – University of Oxford
Find and compare the annual cost of studying and living at Oxford, as well as any support that may be available to you through funding and scholarship opportunities within Oxford.
Oxford-Richards Graduate Scholarship
Three full scholarships are available, one in each of the following fields:
One award to applicants to the full-time DPhil in Atmospheric, Oceanic and Planetary Physics;
One award for applicants to any full-time or part-time master's or DPhil course in the Department of Chemistry, within the range accepted by Wadham College;
One award for applicants applying to any full-time or part-time master's or DPhil course in the Department of Economics, within the range accepted by Wadham College.
Preference will be given to applicants working on interdisciplinary topics. To check whether the course you are planning to apply for is accepted by Wadham College, please review the relevant Course page.
The scholarship covers course fees and a grant for living costs of at least £14,777. Awards are made for the full duration of your fee liability for the agreed course. The scholarship is jointly funded by the University and David Richards' generous bequest. David Richards (1939–2015) studied at Wadham College from 1961 and was a distinguished alumnus and Foundation Fellow of the College.
The scholarship is only tenable at Wadham College. All eligible applicants will be considered for this scholarship, regardless of which college (if any) you state as your preference on the graduate application form. However, successful applicants will be transferred to Wadham College in order to take up the scholarship.
There is no separate application process for this scholarship: to be considered, submit your application for graduate study by the relevant January deadline for your course. Selection is expected to take place in April 2019. Please see the Standard scholarship selection terms for more information about the application and selection process.
Dossier de candidature
---
Informations de contact
---
Organismes proposant la bourse
Oxford has a distinctive collegiate structure. Students and academics benefit from belonging both to the University, a large, internationally-renowned institution, and to a college or hall, a small, interdisciplinary academic community. There are 38 Oxfo...