Bourses de recherche : Suisse 2018 – BIS
---
Type de bourse
Bourse de Recherche Pays
Suisse Niveau d'études
Doctorat Date fin de candidature
31 août 2018
---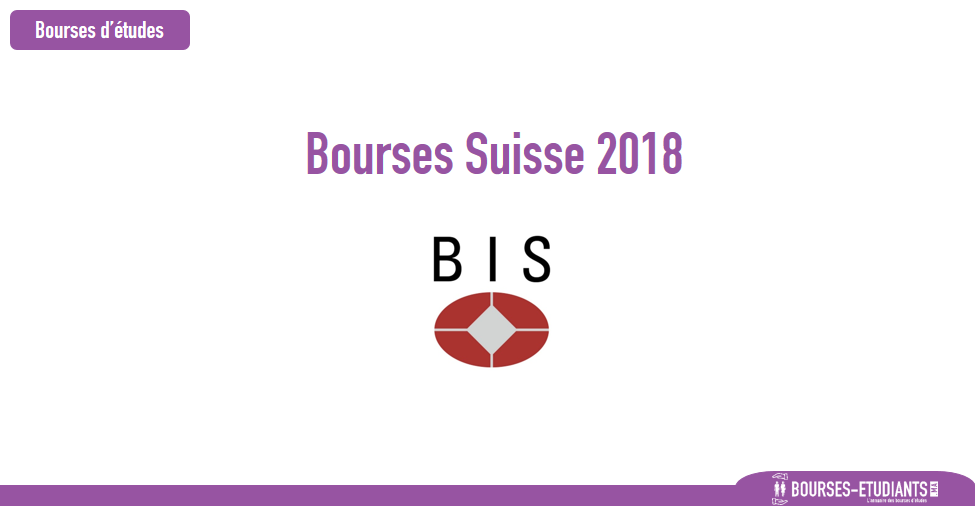 ---
Bourses de recherche : Suisse 2018 – BIS
PhD Fellowship programme (Monetary and Economic Department)
Office location: Basel
Department: Monetary & Economic Department
Unit: Statistics & Research Support (SRS)
Service: Departmental Research Support
Employment – Duration: Between 3 and 11 months
Contract type: Fixed-term
Application Deadline: 31/08/2018
Description
Are you a PhD student in economics, finance or a related field to BIS ? Do you want to acquire practical experience in policy research and analysis in monetary and financial stability issues?
The PhD fellowship pogramme at the BIS offers you the opportunity to work in an international financial institution at the intersection of research and policy, working alongside experienced economists and research analysts. This programme will give you practical experience in supporting central banks and other financial authorities and contributing to high-level meetings and BIS publications.
Programme duration:   between 3 and 11 months
Start date:   flexible
Accountabilities:
Participate in BIS economic research by providing statistical analysis in monetary policy and financial stability issues
Support BIS economists in their research
Research topics related to the characteristics of financial intermediation, post-crisis monetary and financial stability frameworks and the global economy and spillovers
Requirements:
Enrolment in a PhD programme in economics, finance or related fields
Excellent knowledge of financial and monetary economics, with specialisation in topics relevant to the BIS research agenda
Experience in conducting research in relevant fields
Ability to apply tools used in economic analysis to a range of topics
What do we offer?
If you are selected, you will receive a contract for up to 11 months. We offer a competitive net of tax salary, health insurance coverage and travel and relocation assistance. This position is in Basel, Switzerland, and our status as an international organisation allows us to recruit globally regardless of nationality.
Application deadline:   Friday, 31 August 2018
The BIS is fully committed to equal opportunity employment and strives for diversity among its staff. Against this background we encourage applications from female candidates.
Dossier de candidature
---
Informations de contact
---