Bourses de recherche: UK 2018 – Portsmouth Global PhD Scholarships
---
Type de bourse
Bourse de Recherche Pays
Royaume Uni Niveau d'études
Doctorat Date début de candidature
01 déc. 2018 Date fin de candidature
11 févr. 2018
---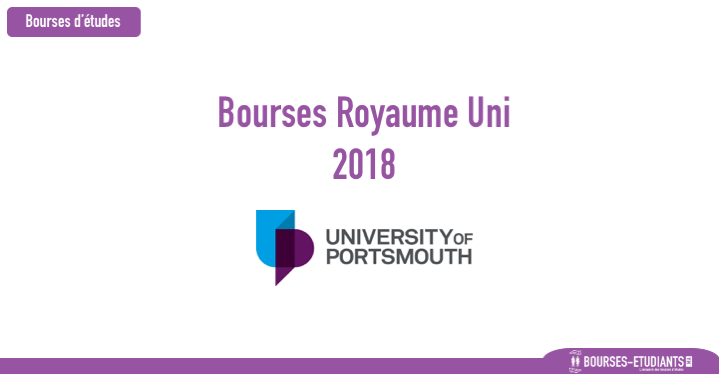 ---
Bourses de recherche: UK 2018 – Portsmouth Global PhD Scholarships
The University of Portsmouth is a public university in the city of Portsmouth, England. The history of the university dates back to 1908, when the Park building opened as a Municipal college and public library.
We're offering high-quality international students scholarships and bursaries to contribute to our world-class research.
Bursaries for UK and EU students
The following scholarships and bursaries are available:
One full scholarship, which includes course fees, stipend (living expenses) and one return flight to London during the duration of the course
Two full-fee bursaries include full payment of the international tuition fee for the duration of the course
Two half-fee bursaries which include 50% payment of the international tuition fee for the duration of the course
Each scholarship or bursary lasts for the duration of the course (terms and conditions apply).
We welcome applications for specific pre-approved projects in the following research areas:
With a thriving research community of more than 800 research students, there isn't a better time to join one the top universities in the UK for postgraduate research student satisfaction – we achieved 86% overall satisfaction according to PRES 2017.
HOW TO APPLY
Select a subject area above where you will find potential project areas and entry criteria – projects open to international (non-EU) applicants will be clearly indicated
Apply online using our application form – please quote the relevant project code in your application form
The deadline to apply for these studentships for October 2018 entry is Sunday 11 February 2018 (midnight).
To apply online, you'll need to create an account. This gives you the flexibility to save the form, log out and return to it at any time convenient to you.
There's more information on how to apply on our applying postgraduate page.
Dossier de candidature
---
Informations de contact
---