Bourses de recherche : University of Copenhagen – Danemark 2019
---
Type de bourse
Bourse de Recherche Pays
Danemark Niveau d'études
Doctorat | Master Date début de candidature
01 juin 2018 Date fin de candidature
15 août 2018
---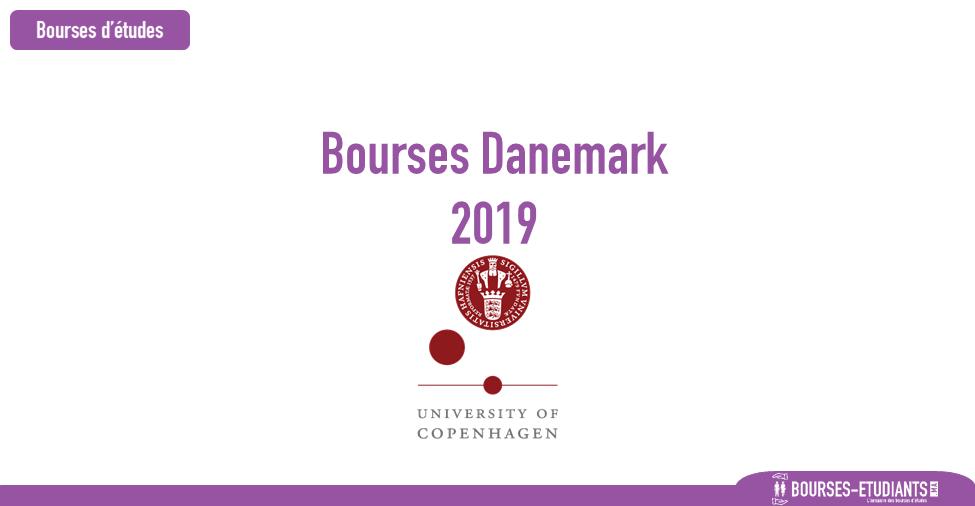 ---
Bourses de recherche : University of Copenhagen – Danemark 2019
The International Doctoral Programme in Moleular Mechanisms of Disease (iMED) 
12 PhD positions at Biotech Research and Innovation Centre (BRIC), University of Copenhagen 
Application deadline August 15, 2018 
Are you:
Scientifically curious and determined to go for a PhD degree?
Eager to understand why diseases arise and how they can be treated?
Driven to strengthen your scientific creativity and independent thinking?
12 PhD positions are open at BRIC, University of Copenhagen (UCPH) for talented young researchers who want to pursue a PhD degree in life sciences. The scheme is co-funded by the European Union's Horizon 2020 Research and Innovation Programme under the Marie Skłodowska-Curie grant agreement no. 801481.
Why apply? 
iMED offers young researchers a unique opportunity to join an international and interdisciplinary PhD program within the field of molecular mechanisms of disease. iMED offers a personalized research and training programme, seeking to empower all students to fully exploit the potential of their talent. The aim is to nurture scientific creativity, critical thinking, collaborative skills and provide the groundwork for career tracks in academia or industry.
About the programme 
iMED offers 36 months fellowships, attractive employment conditions at BRIC and enrolment as a PhD-student at the Graduate School of Health and Medical Sciences, UCPH. Each PhD student will work with an original interdisciplinary research project, developed jointly by the student and supervisor in one of BRIC's 24 laboratories. International and interdisciplinary co-supervision is arranged for each student. An individual career development plan containing research and transferable courses, international research visits, mentoring and career activities, is a central element ensuring career progress throughout the training. Please visit 
http://imed.ku.dk/
 for more information on the IMED program.
About BRIC  
BRIC is a top research centre and our researchers have made seminal contributions in the field of epigenetics, cancer biology, stem cell biology, neurobiology and bioinformatics. The centre is located in modern buildings with state-of-the art facilities and counts 250 employees and >60% international researchers. The daily language is English. The centre has an open and collaborative scientific environment and a student association offering network and social activities. BRIC is part of the Faculty of Health and Medical Sciences at the University of Copenhagen. The faculty's Graduate School has 1600 PhD students, enrolled into 22 specialized PhD programs. The iMED fellows will be enrolled into the programme Molecular Mechanisms of Disease (MoMeD), coordinated by BRIC. Please visit 
http://bric.ku.dk/
 for more information on centre.
Eligibility criteria 
The programme is open for motivated researchers with a Master degree (or equivalent) in a relevant field and maximum three years of experience since issuing of the degree at the time of application. Applicants with an MD can have up to five years of experience. Prolonged career breaks are taken into acoount (parental leave, illness, military- or civil service).
Mobility is required and applicants must not have resided or carried out their main activities (work etc.) for more than 12 months in Denmark in the 3 years immediately prior to the call deadline. Also, applicants may not have been employed at UCPH more than three months prior to the application deadline.
Key selection criteria 
The selection process includes three steps of evaluation: shortlisting, evaluation and final selection. The selection will be merit-based, using weighed criteria in three defined areas:
Education and track record
Scientific potential
Motivation
Terms of employment and salary  
The Marie Skłodowska-Curie Actions offer attractive salary and working conditions. Salary, pension and terms of employment are in accordance with the agreement between the Ministry of Finance and The Danish Confederation of Professional Associations on Academics in the State and according to the rules and regulations laid down by European Union's Horizon 2020 Marie S. Curie COFUND programme. Depending on seniority, the monthly salary begins around 26,400 DKK (ca. 3,400 EUR) plus pension.
The appointment as PhD fellow is for 3 years. It is conditioned upon the candidates' successful enrolment in the PhD programme. This requires submission and acceptance of an application for the specific project formulated by the candidate during an initial short-term employment of 3 months as a research assistant.
The PhD study must be completed in accordance with The Ministerial Order on the PhD program and the University's rules on achieving the degree.
Application procedure  
The application, in English, must be submitted electronically by clicking APPLY NOW below. The application must include the following:
Motivation letter (Cover Letter)
CV
Diploma and detailed transcripts of records (MSc and BSc)
List of 1-2 referees (template available on www.imed.ku.dk to be used)
Mobility Declearation (template available on www.imed.ku.dk to be used)
Documentation for Career Breaks (if any)
Other relevant information for consideration
Please carefully read the detailed description of eligibility criteria and requirements of the application in the Applicant's Guide found at 
www.imed.ku.dk
 Receipts of the applications will be acknowledged, and the applicant will be kept continuously informed of the progress of the application.
Deadline for application is August 15th, 2018.  
We reserve the right not to consider material received after the deadline, and not to consider applications that do not live up to the above-mentioned requirements.
BRIC and University of Copenhagen wish to reflect the diversity of society and welcome applications from all qualified candidates regardless of personal background.
After the expiry of the application deadline, the applicants will be assessed and selected after the criteria's described in details in the iMED applicants' guide available on 
www.imed.ku.dk
 and according the university's guidelines found on 
http://employment.ku.dk/faculty/
.
Timeline of call:   University of Copenhagen
 Opening of call: June 1st, 2018.
 Application deadline: August 15th, 2018
 Assessment of candidates: September-October 2018 (On site interviews October 1-5th 2018).
 Final selection of candidates: October 2018
 Answers to applicants: November 2018.
 Time for employment: January 1st, 2019 for three months as research assistant. Enrolment and employment as PhD student as per April 1st 2019.
Dossier de candidature
---
Informations de contact
---