Bourses de voyage : Royaume-Uni 2018 – University of Surrey
---
Type de bourse
Bourse de Voyage Pays
Royaume Uni Date début de candidature
01 août 2018 Date fin de candidature
19 oct. 2018
---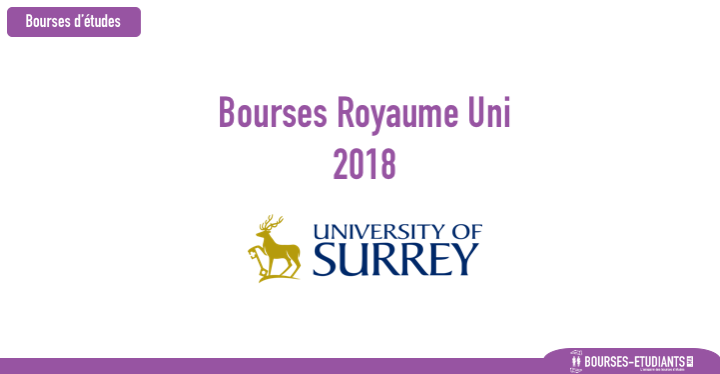 ---
Bourses de voyage : Royaume-Uni 2018 – University of Surrey
Bourses Maroc
The Department of Sociology at the University of Surrey, Guildford, United Kingdom, has an established Visiting International Fellowship (VIF) to foster the development of links with international scholars who are normally at least 5 years post doctorate. The Fellowship is an exciting opportunity for scholars to visit the Department, contribute to its academic life and form new collaborations. The focus of the Fellowship can be on social research methods, in the broadest sense, a key strength and unifying feature of the Department, or on a substantive area of interest within the Department.
Fellowship information
Applicants will normally hold, or recently have held, an established academic appointment in social science. The Fellowship committee regrets that it cannot consider applications from candidates seeking training or the updating of methodological skills. Proposals for collaborative research with members of the Department of Sociology are especially welcome. An award of £2,500 will be made as a contribution towards travel, accommodation and subsistence expenses incurred in holding the Fellowship.  It is expected that award holders will normally be on paid leave of absence from their employment and should be prepared to visit the Department on one or two occasions during the academic year with a duration of about one month in total. Ideally, this will occur during May and November, but other times are possible. VIFs will become honorary Research Fellows of the University of Surrey and be entitled to use the University Library and make use of University facilities. The holder of a Fellowship is usually permanently resident outside the United Kingdom.
The Department specialises in social research methods and was highly ranked in terms of the proportion of 'World Class' research in the UK Research Excellence Assessment (REF 2014). The Department of Sociology at Surrey is a centre of methodological expertise and specialises in research methods for the application of social research to contemporary society. It promotes high methodological standards and new developments in methodology for the social science research community. The Department is the home of Computer Assisted Qualitative Data Analysis Software, an internationally acclaimed centre for well known for its work on the secondary analysis of large data sets, and work on online research methods. Other methodological specialisms include the computer simulation of social phenomena at the Centre for Research in Social Stimulation and cross-national comparisons. The Department publishes the quarterly Social Research Update online. The Department has a number of substantive research groupsand is home to the Centre for Research on Ageing and Gender
Apply
To apply, download an application form.
Applications should be sent by email as an attachment to Louise Jones, VIF Administrator.
Closing date for VIF applications for 2019 is 4pm on 19 October 2018.
Dossier de candidature
---
Informations de contact
---