Bourses d'étude : Italie 2018 – University of Trento
---
Type de bourse
Bourse de Recherche Pays
Italie Niveau d'études
Doctorat Date fin de candidature
16 mai 2018
---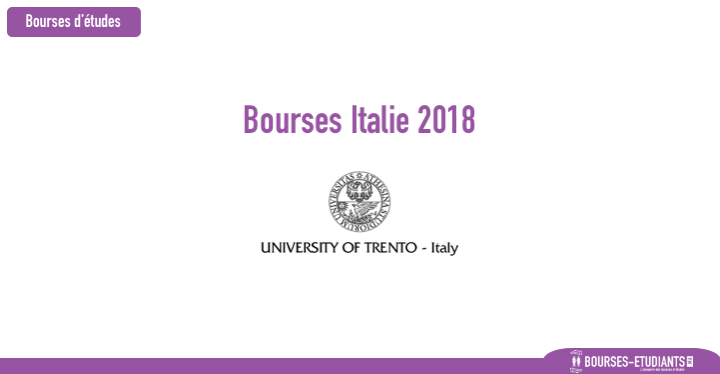 ---
Bourses d'étude : Italie 2018 – University of Trento
The University of Trento opens the first call for position for the 34th Cycle (Academic Year 2018/2019) of the PhD Programme in "Mathematics" jointly run with the University of Verona. Italian and foreign students are eligible to apply.
Scholarship Provider: The University of Trento is an Italian university located in Trento and nearby Rovereto. It has been able to achieve considerable results in didactics, research, and international relations according to CENSIS and the Italian Ministry of Education.
The programme is conducted entirely in English. An international certificate attesting the candidate's knowledge of English at C1 level or higher in the Common European Framework of Reference for Languages (CEFR)  is an indispensable requirement for admission. Foreign students are encouraged to obtain a working knowledge of the Italian language. Applicants may have their TOEFL language test results directly sent to the School. Please note that the TOEFL Code Control of the School of International Studies is 6286.
Degree Level: Fellowships are available to pursue PhD programme.
 Available Subject: Fellowships are awarded in the field of Mathematics. Research fellowships (assegni di ricerca): 10 on the following specific research topics:
A Calculus of variations and geometric measure theory in metric measure spaces
B  Mean field games and applications
C  Multilinear algebra for tensor decomposition
D  Robust Statistics
E   Statistical Data (Local)Depth for high dimension,  functional and networks data
F   Mathematical modelling of arterial hypertension
G  Mathematical Physics of Quantum Teories
H  Algebraic Geometry and Topological Data Analysis (2 positions)
I    Geometric Analysis
Scholarship Benefits: The annual gross amount of the research fellowship is € 22.800,00, including social security contributions to be paid by the recipient.
Number of Scholarships: 10 positions are available.
Eligible Nationalities: Italian and foreign students are eligible to apply.
Eligibility Criteria: To be eligible for this scholarship you must meet the following requirements:
Applications for doctoral positions are accepted from applicants, regardless of gender, age and nationality, who hold:
an Italian "Laurea Magistrale", according to the Ministerial Decree no. 270 of 22.10.2004 and subsequent amendments, or
an equivalent Italian university degree (previous regulations in force, "specialistica", AFAM), or
an equivalent foreign degree (Master's degree) obtained at an officially acknowledged academic institution, valid for admission to PhD studies in the Country of issue (except for substantial differences) and similar (duration and level) to the Italian degree, recognized as equivalent by the Admissions Committee for the sole purpose of access to the present PhD Programme2 .
Applications are also accepted from students expecting to obtain the necessary degree by October 31, 2018. Admission to the Doctoral Programme for successful applicants who have not yet graduated will be "conditional" and the applicant will have to submit to the Doctorate Office S&T (via email to PhD.office-st-at-unitn.it) by November 6, 2018, on penalty of exclusion, awarding certificate or a self-declaration (by using Annex A).
Applicants with a foreign qualification that has not been officially recognised as equivalent3 to an Italian degree (Laurea Magistrale/Specialistica/vecchio ordinamento) will be considered as requesting equivalence in their application, attaching the necessary supporting documents. The eligibility of foreign academic degrees is assessed by the Admissions Committee, following the rules in force or the international treaties on recognition of academic qualifications. The Admissions Committee may require the applicant to provide additional documentation if deemed necessary for the purpose of assessing the suitability.
Dossier de candidature
---
Informations de contact
---