Bourses d'étude Afrique du Sud 2019 : Mandela Rhodes Scholarships – Mandela Rhodes Foundation
---
Type de bourse
Bourse d'études Pays
Afrique du Sud Niveau d'études
Master Date début de candidature
21 mars 2019 Date fin de candidature
31 mars 2019
---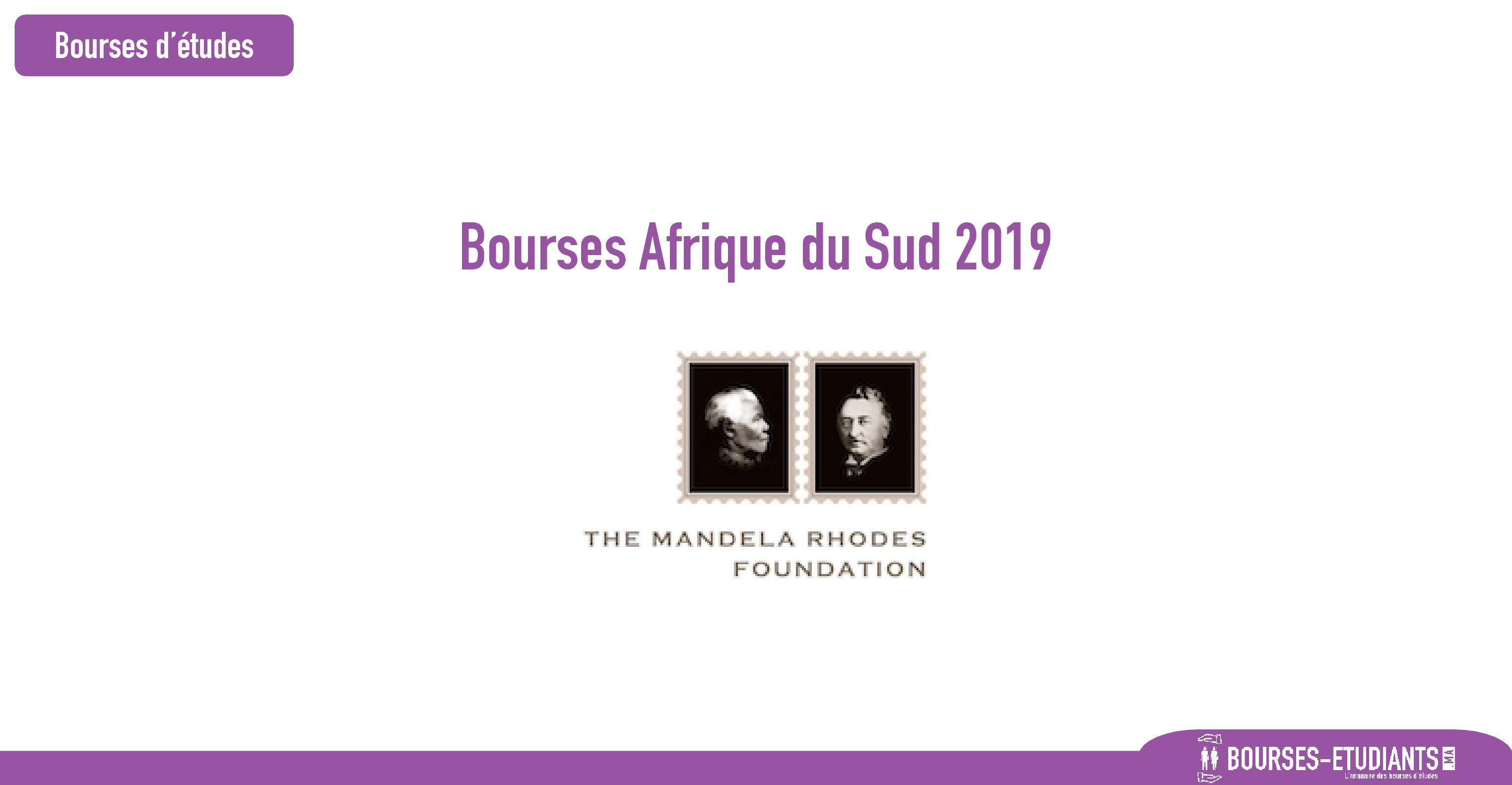 ---
Bourses d'étude Afrique du Sud 2019 : Mandela Rhodes Scholarships – Mandela Rhodes Foundation
The Mandela Rhodes Scholarships programme is a combination of financial support for postgraduate studies and a high quality Leadership Development Programme, with the intention of building exceptional leadership capacity in Africa.
A. Financial scope of the Scholarship
The Scholarship covers the cost of a Scholar as follows:
Tuition and registration fees as set by the institution
A study materials allowance as set by the MRF
Accommodation and meal allowances as set by the MRF
A medical aid allowance as set by the MRF
Economy-class travel allowance for international Scholars only from the Scholar's home to their institution at the beginning and end of their degree
Personal allowance
B. Leadership Development Programme
The MRF Leadership Development Programme is made up of the following three components.
Three residential Workshops;
Three Regional group Pods;
Mentoring.
Second Year Programme
1. Residential Workshops
The heart of the Leadership Development Programme is delivered primarily through a series of residential Workshops. These highlight and engage critically with the four principles of the Foundation, namely: Leadership, Reconciliation, Entrepreneurship and Education. The Workshops create a unique opportunity to build the individual capacities of Scholars, provide the space to engage with high-profile leaders and expert thinkers, build a sense of community within the cohort and connect incoming Scholars to the broader Mandela Rhodes Community.
The Foundation holds three Workshops of approximately five days each during the year. Attendance to the Workshops is compulsory for all Scholars. Since workshop dates will be given in advance, Mandela Rhodes Scholars must make the necessary arrangements where there are clashes with their academic calendars to ensure full participation in the Workshops.
2. Pods
Pods are regional gatherings which seek to:
Build stronger local support networks;
Continue particular conversations and areas of reflection and engagement to supplement learning from the residential Workshops;
Enrich the residential experience once Scholars return home.
3. Mentoring
The third component of the programme is a voluntary Mentoring Programme. The purpose of this component is to:
Give Scholars in residence space for one-on-one reflection, advice and growth;
Allow alumni Mandela Rhodes Scholars to give back to the Foundation through volunteering their time serving as Mentors;
Build intergenerational networks among Mandela Rhodes Scholars;
Enrich and support the growth journey of Scholars in their year-in-residence beyond the group gatherings.
4. Second Year Programme
The overall objective of the Second Year Program is to prepare Scholars to be more impactful in their respective sectors, while they are in the second year of their Masters. Using multi-disciplinary pod groups, design thinking and systems thinking principles, the pod sessions are intended to equip Scholars with the necessary mindsets and tools to action the principles of the MRF towards greater societal impact.
Dossier de candidature
---
Informations de contact
---