Bourses d'étude : Allemagne 2019 – Technische Universität Dresden
---
Type de bourse
Bourse d'études Pays
Allemagne Niveau d'études
Master Date début de candidature
01 août 2018 Date fin de candidature
15 oct. 2018
---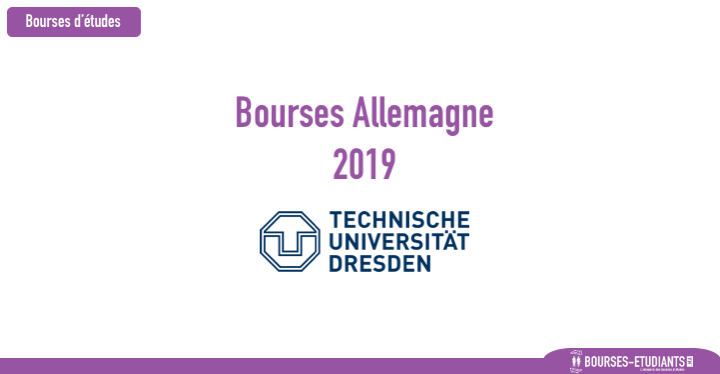 ---
Bourses d'étude : Allemagne 2019 – Technische Universität Dresden
Bourses Maroc 2019
Location: 
Technische Universität Dresden is one of only eleven German universities distinguished as a "University of Excellence" in 2012. TU Dresden, among the largest universities in Germany, is more than 185 years old and has about 35,000 students. Around 14 per cent of the students are international, coming from approximately 120 different countries. The university consists of five schools in the fields of Engineering, Sciences, Humanities and Social Sciences, Civil and Environmental Engineering and Medicine.
The city of Dresden is the capital of Saxony and home to more than half a million inhabitants. It is located on the Elbe river and renowned for its splendid city centre including the Dresden Zwinger and Frauenkirche, the Semper opera, various concert halls, theatres, and world famous museums and art galleries. Students can also enjoy a large variety of pubs and cafes as well as a vibrant nightlife. Dresden is surrounded by wide forests and mountainous areas, offering a plenitude of opportunities for hiking, biking, mountain climbing, swimming and skiing.
Course focus:
The graduate programme focuses on the transdisciplinary fields of water and natural resources management and engineering in different climatic zones. It is designed to enable the participants to acquire and expand their professional and methodological qualifications. This programme meets international standards required to pursue and develop careers within national and international authorities and organisations, engineering and consulting enterprises as well as research work.
The M.Sc. programme conveys knowledge about protection and management of water resources in different climatic zones as well as design and construction of water supply and wastewater treatment. The programme is divided into basic and advanced courses during the first three semesters. A final semester is dedicated to the Master thesis.
During the basic courses, students attend lectures on statistics, climatology, hydrology, geodesy, and soils. Students with background in natural or environmental sciences need to take classes in hydromechanics and hydraulic engineering. Students with background in civil engineering need to study ecology and water chemistry.
Target group :
Graduates in natural or environmental sciences or engineering disciplines (For DAAD applicants, two years of professional work experience are required.).
Entry requirements:
Applicants must hold at least a Bachelor's degree in natural or environmental sciences or civil engineering incl. environmental engineering and prove sufficient proficiency in English. The most widely recognised tests are:
• IELTS: required level Band 6.0 in all categories
• TOEFL: required level 550 PBT, 213 CBT, 79 IBT
• Other tests of equivalent standards showing evidence of C1-level according to the European Reference Framework are accepted.
Degree awarded Master of Science (M.Sc.) in Hydro Science and Engineering
Application deadline For DAAD applicants : 15 October 2018 at TU Dresden.
Dossier de candidature
---
Informations de contact
---