Bourses d'étude : Angleterre 2018 – London South Bank University
---
Type de bourse
Bourse d'études Pays
Royaume Uni Niveau d'études
Master Date début de candidature
03 mai 2017 Date fin de candidature
30 juin 2017
---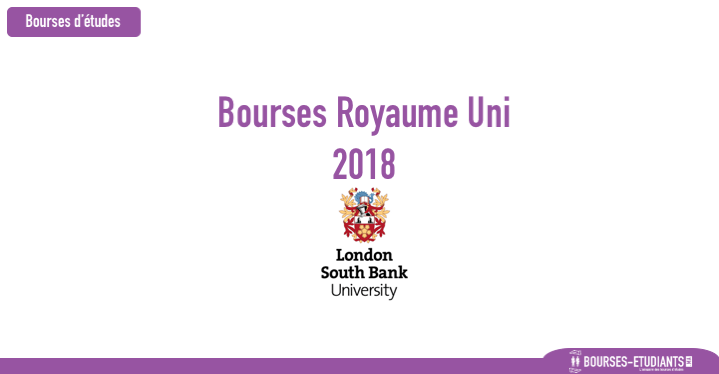 ---
Bourses d'étude : Angleterre 2018 – London South Bank University
London
We are currently updating our scholarship offer for 2018/19 entry; please check back early in 2018 for details.
At LSBU, we understand how important a postgraduate degree is to career progression and professional fulfilment. We're also aware that we don't want the cost of further study to deter students and our alumni from a potentially life-changing opportunity. As a result, we're keen to create opportunities that make a difference to our students.
Award criteria:
Award
Fee waiver, not exceeding £8,000 in total, for a postgraduate programme at LSBU.
Minimum selection criteria: A first-class honours undergraduate degree (or international equivalent), plus evidence of key academic, professional and practical achievements. Achievements should be at national or international level and demonstrate local impact.
Eligibility
If you are an EU or international student and hold a conditional or unconditional offer from one of LSBU's postgraduate programmes, we invite you to apply for a scholarship. Study can be either full- or part-time. Courses taken across more than one year will be paid on a pro-rata basis, with the total amount not exceeding £8,000.
Criteria
Academic excellence (qualifications obtained from outside the UK will be assessed for equivalency using Enic-Naric)
Evidence of an applicant's commitment to their future career and previous practical or academic achievement.
If you do not currently hold a conditional or unconditional offer simply apply to one of our postgraduate taught courses or a research degree.
How to apply
You can apply online via email after you firmly accept your unconditional or conditional offer to study at LSBU. We recommend you apply for your place at LSBU as soon as possible to ensure you have been made an offer and have time to complete your scholarship application.
The application deadline for September 2017 entry is Friday 30 June 2017.
To submit your application, complete the application form (PDF File 337 KB) and send via email to [email protected] along with scans of your university transcripts/certificates evidencing your degree classification. Your application will not be considered without these.
Selection process
All applications for September 2017 entry must be received by Friday 30 June 2017. Scholarships are awarded primarily on academic merit and evidence of applicants' commitment to their future career and their previous practical or academic achievement. Selection is made by a scholarship panel. Their decision is final and no appeals will be received.
Dossier de candidature
---
Informations de contact
---