Bourses d'étude: Australie 2018 – Federation University Australia
---
Type de bourse
Bourse d'études Pays
Australie Niveau d'études
Bac Date début de candidature
02 oct. 2017 Date fin de candidature
01 janv. 2018
---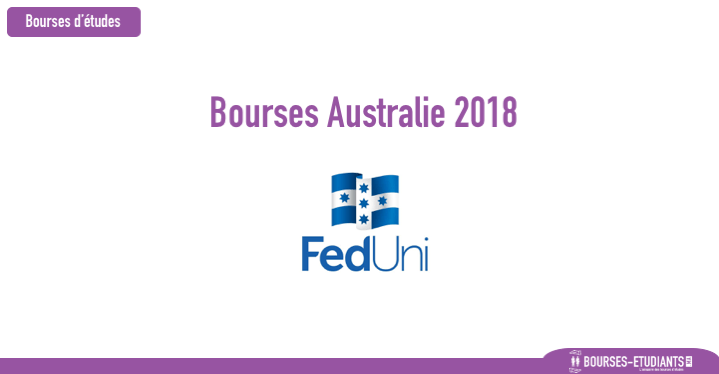 ---
Bourses d'étude: Australie 2018 – Federation University Australia
International Student Accommodation Scholarships
All International students commencing studies with Federation University Australia in 2018 are eligible for an accommodation scholarship covering full accommodation fees for their first year.
Terms and Conditions
Federation International Accommodation Scholarship – for full time undergraduate and postgraduate students.
Duration :
The international accommodation scholarship will apply for the first full academic year term (40 weeks) or 2 consecutive full time semesters of study if commencing mid-year.
Amount :
The International student accommodation scholarship is equivalent of up to 100 % of academic year
accommodation fees at our Melbourne, Ballarat or Gippsland Campus excludes Brisbane and partner provider
teaching locations.
Eligibility Criteria :
To be eligible for a scholarship, you must:
Be a new prospective international student;
Be eligible to study in Australia with a student visa;
Have Confirmation of Enrolment (COE) issued by Federation University;
Be enrolling full time in an eligible program (excluding OS exchange and Study Abroad);
Be studying full-time at a home campus of Federation University Australia. Home campuses are located in Ballarat, Gippsland and Melbourne.
Advise FedUni if you will be in receipt of any other scholarship, bursary or reduced fee arrangement at the time of entry to the University;
Eligible programs
To be eligible for a scholarship you must be enrolling in an eligible degree program which is:
Delivered on campus at Federation University Australia;
Registered on CRICOS.
Students enrolled in a FedUni EAP program are also eligible for an accommodation scholarship, provided the student's EAP program is packaged with an eligible degree program.
How to apply
There are a limited number of accommodation scholarships available, which will be allocated according to the order in which applications are received. Students are encouraged to apply early via the FedUni Campus Life portal
Students will be automatically assessed for eligibility when applying for an on-campus program at Federation University Australia.
In order to be eligible for a scholarship you must compete your formal accommodation application through the Campus Life portal by the due date.
Dossier de candidature
---
Informations de contact
---