Bourses d'étude Australie 2019 : Association of Firearm and Tool Mark Examiners Scholarship – Curtin University
---
Type de bourse
Bourse d'études Pays
Australie Niveau d'études
Licence Date début de candidature
21 mars 2019 Date fin de candidature
01 avr. 2019
---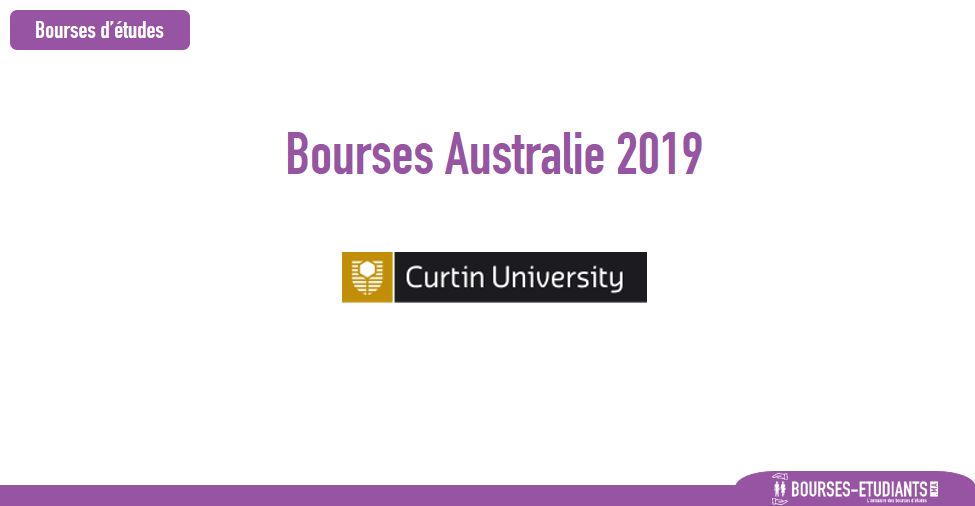 ---
Bourses d'étude Australie 2019 : Association of Firearm and Tool Mark Examiners Scholarship – Curtin University
At Curtin University, candidates can get the opportunity to carve a rewarding career in a highly flexible and friendly environment. It supports the professional development and training of the candidate through courses, academic performance, and Work Planning processes.
Two merit-based scholarships are open for the candidate to pursue the undergraduate and postgraduate degree program in the field of Science & Engineering.
If you need help to pay for the study in Australia, here is 2019 – Association of Firearm and Tool Mark Examiners Scholarship available to encourage the high achieving Australian and international candidates.
As the largest university in Australia, Curtin University is an Australian public research university. It is ranked in the top 1% of universities worldwide in the highly regarded Academic ranking of world universities 2018 and widely recognized for its achievements in applied research.
Degree Level: Scholarships are available for the undergraduate and postgraduate degree program
Scholarship Benefits: The scholarships will be awarded worth up to $2,000
Eligible Nationalities: Australian and international candidates are eligible to apply for this scholarship
Available Subjects: The scholarship will be awarded to pursue an undergraduate and postgraduate degree program in Natural, Physical, or Biological Science.
Eligibility Criteria: The applicant must meet the following eligibility criteria:
To be eligible for the scholarships applicants must be entering their third year or higher of a Bachelor's degree or enrolled in any year in postgraduate degree (MS, PhD, MD, or comparable) program. Candidates must be enrolled as a half-time student or greater, majoring in a natural, physical or biological science.  Applicant must be enrolled in an application program on or about 1 September of the award year.
Application Procedure: The eligible candidates can download the scholarship application form through the given link: https://afte.org/resources/scholarship-program 
As part of the application, the applicants must submit all the following required documents:
Transcript Form
Letter of Recommendation Form
Candidate must need to submit all supporting document in PDF format, and under 5MB per document.
Must be submitted in English.
To be considered for the scholarships applicant must need to apply for admission at the university.
The university will provide all the following:
The successful scholars will receive the amount worth up to $2,000
How it Works: The scholarships will support the study fee of the Australian and international candidates
Deadlines: 
The scholarship deadline is April 1, 2019
Dossier de candidature
---
Informations de contact
---