Bourses d'étude : Australie 2019 – Bachelor of Economics Honours Scholarships
---
Type de bourse
Bourse d'études Pays
Australie Niveau d'études
Licence Date début de candidature
01 sept. 2018 Date fin de candidature
20 déc. 2018
---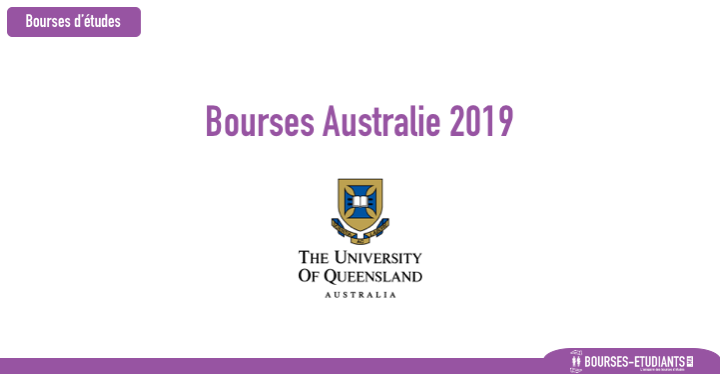 ---
Bourses d'étude : Australie 2019 – Bachelor of Economics Honours Scholarships
Bourses Maroc 2019
The scholarships are open to all students who have met the Bachelor of Economics (Honours) entry requirements and gained a GPA of at least 6.0 in the specified courses.
The purpose of the Scholarship is to encourage and reward the study of Economics at The University of Queensland.
Available to:
Future Student
Current Student
Level of study:
Undergraduate
Postgraduate Coursework
Citizenship:  Australian citizens, Australian Permanent Residents and NZ citizens & International student
Duration: 1 year
Applications open:  19 July 2018
Applications close:  20 December 2018
Eligibility for award
All entrants to the Bachelor of Economics (Honours) program will be automatically considered for this scholarship.
Students must have obtained an overall GPA of at least 6.00 in specified courses.
Award and value of scholarship
The School may award scholarships each year on the recommendation of the Head.
The value of the scholarship will be determined each year by the Head, but will not be less than $7,500.
Conditions for Scholarship
The recipient of a scholarship holds the scholarship for 1 year, subject to the recipient –
continuing to be enrolled full-time in the Bachelor of Economics (Honours); and
achieving a GPA of at least 6.00 in semester 1 in the year in which the scholarship is held.
If a recipient fails to satisfy rule 6(1) the recipient must show cause to the Head why the scholarship should not be cancelled.
The recipient may not hold another scholarship that the Head considers to be similar.
The Scholarship cannot be deferred.
Selection process
For the selection process, the Head must establish a selection committee, comprising-

the Head, or nominee, as chair of the committee; and
the Honours Coordinator in the School of  Economics.

The scholarship is awarded to the applicants showing greatest merit as demonstrated by academic achievement in specified courses in the Bachelor of Economics.
How to apply :
Consideration for this scholarship is automatic upon enrolment into the Bachelor of Economics (Honours).
Applications close: 20 December 2018
Before you apply:
You are encouraged to read the definitive rules for this scholarship prior to application, in particular any specific eligibility conditions and check the FAQs if you have any questions.
Contact :
Administrative Officer Honours Programs – School of Economics
Dossier de candidature
---
Informations de contact
---