Bourses d'étude Australie 2019 : Curtin University
---
Type de bourse
Bourse d'études Pays
Australie Niveau d'études
Licence Date début de candidature
26 févr. 2019 Date fin de candidature
08 mars 2019
---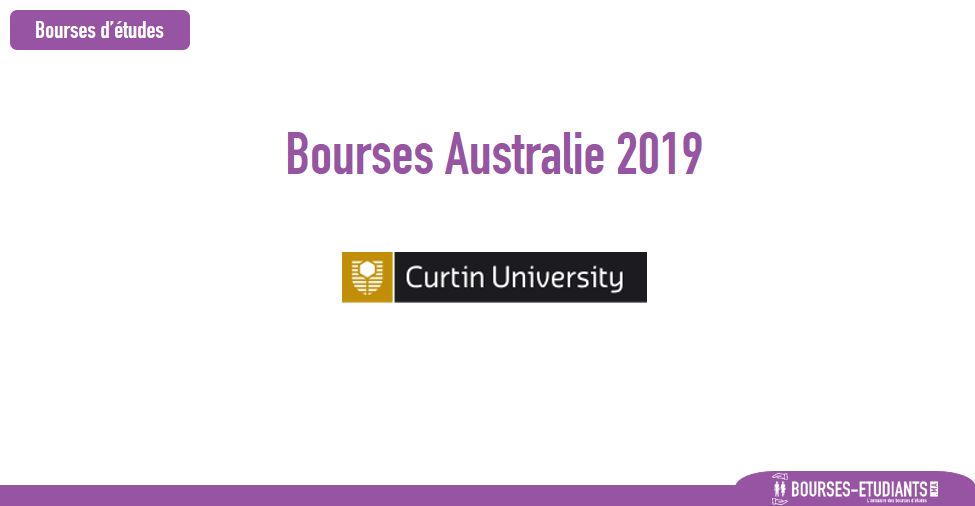 ---
Bourses d'étude Australie 2019 : Curtin University – Digital Agriculture Honours Scholarship
Curtin University is offering the 2019 – Digital Agriculture Honours Scholarship for an international student. This scholarship is open to the applicants who are enrolled full-time in their Honours program at Curtin University.
The aim of the scholarship is to support and encourage those students who are doing a respected program in the fields related to the research direction of CSIRO in Information Science and Agriculture.
Scholarship Provider: As an Australian's largest public research university, the Curtin University was established in 1966. It comprises five main faculties with over 95 specialists centres.
Degree Level: The scholarship is open for an undergraduate degree program
Available Subject: The scholarship will be awarded in the field of Engineering and Science.
Scholarship Benefits: A total value ranging between $5,000 – $10,000 paid as a cash stipend in two installments over the honours year. The amount can be used at the recipient's discretion to contribute towards the payment of their course fees, or for other education-related expenses such as textbooks and/or general living expenses
Eligible Nationalities: Permanent Humanitarian Visa, International students, New Zealand Citizen, Australian Citizen, Australian Permanent Resident are eligible to apply.
Entrance Requirements: Applicants must meet All of the following criteria to be considered for the Digital Agriculture Honours Scholarship:
An Australian citizen, Australian permanent resident, the holder of an Australian permanent humanitarian visa, New Zealand citizen or International Citizen
Be enrolled full-time in their Honours program at Curtin University
Take up the Honours Scholarship within one year from the date of application
Undertaking research during their Honours program in a field aligned to CSIRO's research direction in information sciences and agriculture
Not be subject to an obligation to a third party to provide that third party with rights to any IP created in the course of their degree
Application Procedure:
All applicants need to follow all the given steps:
Step 1: Access application form 
Application form can be accessed via the 'My Studies' tab in OASIS or via the 'Apply Online' button on the top right-hand side of this page
Step 2: Complete
Complete the application form online
Application form can be saved at any point of the process
Multiple scholarships can be applied for at one time
Tips on how to complete your application can be found under the 'Application Advice' tab on the scholarships website
Step 3: Submit
Closing date is listed at the top of the page and within the Scholarships Channel on OASIS
Incomplete applications will not be assessed
Once submitted, application status will change to submitted
Step 4: Receipt: Application receipt will be sent to student email once the application has been submitted
Step 5: Assessment: Applications will be assessed by an assessment panel using the following criteria:
Academic merit
Responses provided in the application form
The relevance of research to CSIRO's direction in information sciences and agriculture
Step 6: Outcome: Successful and unsuccessful applicants will be notified of their outcome via the Scholarship Channel (Student OASIS) within approximately 4-6 weeks of the scholarship closing date
Step 7: Acceptance: Successful applicants must accept the terms and conditions via the Scholarship Channel (Student OASIS) by the deadline
Dossier de candidature
---
Informations de contact
---