Bourses d'étude : Australie 2019 – Curtin University
---
Type de bourse
Bourse d'études Pays
Australie Niveau d'études
Licence | Master Date début de candidature
16 juill. 2018 Date fin de candidature
15 nov. 2018
---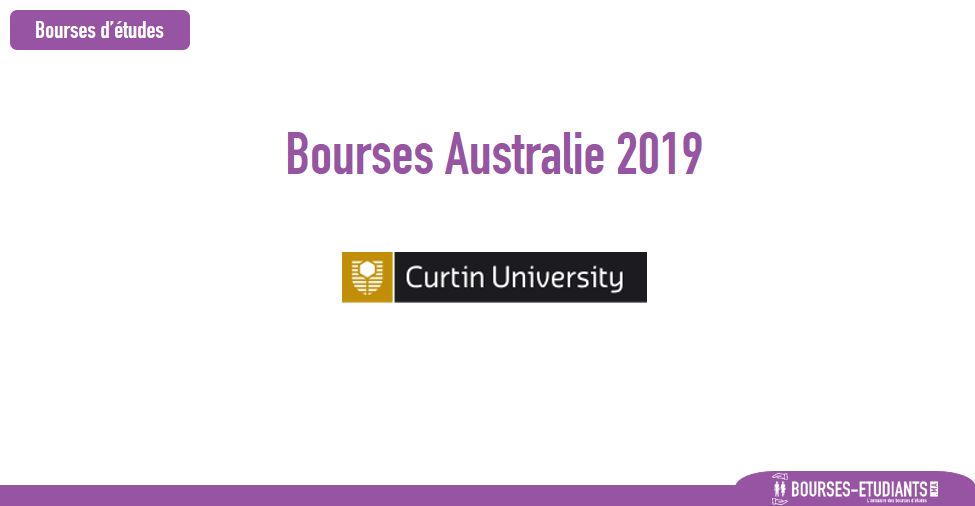 ---
Bourses d'étude : Australie 2019 – Curtin University
Curtin University strives to give high achieving students around the world the opportunity to pursue their ambitions and gain a world-class education. Through the Merit scholarship, Curtin welcomes eligible students of any nationality except Australian.
This scholarship category awards eligible students 10% of their first year of tuition. Curtin University acknowledges the importance of being one of Australia's most multicultural university campuses and this scholarship aims to grow the trust and confidence in Curtin University as a place for students to further their studies, careers and life experiences.
Additionally, eligible students who enrol in a Curtin English ELB (English Language Bridging) program before undertaking their study at the University will receive a 10 per cent discount on Curtin English fees.
Student type
Faculty
Faculty of Business and Law
Science & Engineering
Health Sciences
Humanities
Course type
Undergraduate
Postgraduate Coursework
Gender
Nationality
Scholarship base
Value
This scholarship provides eligible students 10% of their first year tuition fee, up to a maximum of AUD$4,000.
Eligible courses
Eligibility criteria
This scholarship is only for:
International, full fee-paying, non-sponsored students
Students commencing studies at Curtin's Western Australia campuses in 2019
Students commencing a full Curtin undergraduate or master by coursework program
Students who have accepted their mainstream course offer by the 15th of November 2018
Please note that this scholarship:
Is NOT available to Australian citizens
Is for students granted CRL (Credit for Recognised Learning) and enrolled in min 300cpt
Covers a maximum of 10% of the first-year tuition fee up to a MAXIMUM of 200 credit points only
Only covers tuition fees and does not cover any other international student expense
Will be credited to recipient's fee account at commencement of studies and cannot be accessed by them
Will not be extended beyond its prescribed duration or amount unless notified otherwise by Curtin
Can be revoked at the discretion of Curtin if recipient already has a scholarship or sponsorship
Can be revoked if the recipient does not accept their Letter of Offer or enrol in their course by the date specified
Cannot be retained if a recipient defers their studies beyond a 2019 start date
Cannot be transferred to a Curtin campus or partner outside Western Australia, or to another university
Offer must to be accepted by the 15th of November 2018
Additional note for master (coursework) students:
Can only be applied in full to master degrees of 400 credit points
Will only amount to 10% of the first semester tuition fee for master degrees of less than 400 credit points
Conditions that need to be met to keep your scholarship
To prevent the scholarship being revoked, the recipient:
Must remain enrolled in initial course and major of study unless approved by Curtin International
Must maintain a full time enrolment of 100 credit points each semester or study period
Cannot breach the scholarship conditions outlined in their acceptance document
Cannot take a leave of absence or withdraw from their units or course of study
Cannot be terminated from studies
---
Informations de contact
---