Bourses d'étude : Belgique 2018 – Katholieke Universiteit Leuven
---
Type de bourse
Bourse de Stage Pays
Belgique Niveau d'études
Master Date début de candidature
01 nov. 2017 Date fin de candidature
01 févr. 2018
---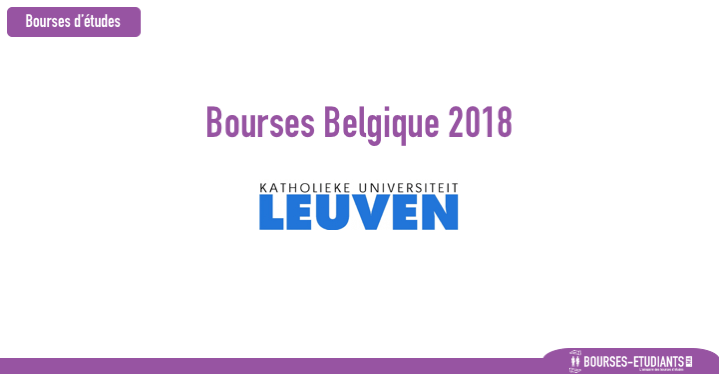 ---
Bourses d'étude : Belgique 2018 – Katholieke Universiteit Leuven
Leuven
Applications are invited for the newly open call i.e. VLIR-ICP Master Scholarships at Katholieke Universiteit Leuven in Belgium. The call is open for the African, Asian and Latin American countries for a 2018-2019 academic year.
The Katholieke Universiteit Leuven, also known as KU Leuven or the University of Leuven, is a Dutch-speaking university in Leuven, Flanders, Belgium. KU Leuven is a research-intensive, international university that performs both basic and applied research. It is highly interdisciplinary and multidisciplinary focused and committed to international excellence. She actively works on this together with its research partners at home and abroad.
APPLICATION PERIOD
The 2018-2019 call is open from November 1st until February 1st.
1. GENERAL ELIGIBILITY CONDITIONS
Please check your eligibility before applying! You must meet the following two conditions in order to apply for the VLIR-ICP Master's Scholarships at KU Leuven.
The applicant must be a national and resident of one of the 31 scholarship countries (not necessarily the same country) at the time of application:
Africa: Benin, Burkina Faso, Burundi, DR Congo, Ethiopia, Guinea, Cameroon, Kenya, Madagascar, Mali, Morocco, Mozambique, Rwanda, Senegal, Tanzania, Uganda, Zimbabwe, South Africa, Niger
Asia: Cambodia, Philippines, Indonesia, Palestinian Territories, Vietnam
Latin America: Bolivia, Cuba, Ecuador, Guatemala, Haiti, Nicaragua, Peru
The applicant must be eligible for admittance to the selected Master programme at KU Leuven. Please click on each of the following five programmes offered at KU Leuven* to check the admission requirements for the programme of your choice:
*To see the full list of eligible programmes at Flemish universities for the VLIR-ICP scholarship please click here.
The maximum age for a Master programme candidate is 35 years for an initial masters and 40 years for an advanced masters. The maximum age for a training candidate is 45 years. The candidate cannot succeed this age on January 1 of the intake year.
Application for admission in one of the VLIR ICP programmes listed below leads automatically to a VLIR UOS scholarship application. No further action is needed if you meet all the prerequisites.
2. SUBMIT YOUR ONLINE APPLICATION
To start your application at KU Leuven, login to the web application and complete your personal data (personal data, addresses, curriculum and languages). Fields marked with * are obligatory. After saving your data, return to the main page ('<' button on top of the page) and check the completeness of each section.
LOGIN TO THE WEB APPLICATION             KU Leuven account
3. SEND THE CERTIFIED HARD COPIES OF YOUR DIPLOMAS AND TRANSCRIPTS OF ACADEMIC RECORDS
After completing your online application, please send the certified copies of your diplomas and transcript of records and their translations (if applicable) in hard copy to:
Mr Mathias Groenweghe
Admissions Office KU Leuven
Naamsestraat 63 – box 5410
3000 Leuven
Belgium
Please add a photocopy of the identity page of your passport and clearly mention the application number(s) on this copy. Every application you submit is identified by a unique application number that can be found on the web application.
4. FOLLOW-UP OF YOUR FILE
ONLINE FOLLOW-UP
After you have successfully submitted your online application, you can follow up the status of your application in the web application.
By the end of May 2018
VLIR UOS will directly contact applicants who are awarded the scholarship.

Please note that if you are awarded the VLIR UOS scholarship you are automatically admitted into the programme.

You will be contacted directly by the KU Leuven Admissions Office if you are admitted into the programme without the scholarship.
During the application period the following statuses may appear in the overview of the application you submitted:
Submitted (application will be checked for completeness)
Application complete (evaluation in process)
Incomplete

The Admissions Office will contact your by email and inform you which document(s) is/are missing.
---
Kindly refrain from contacting our Admissions Office about the progress of your application. If anything is lacking in your file, we will certainly contact you. If you do not hear from us in the meantime, that means your file is in order.
5. REGISTRATION AT KU LEUVEN
You will receive further instructions upon accepting the admission offer.
Upon arrival you will need to pass by our Admissions Office and show all your original post-secondary school diplomas. Afterwards, you can proceed to the Registrar's Office at your campus to confirm your registration and obtain your student card.
Dossier de candidature
---
Informations de contact
---